Exercising contributes to improving the health status of diabetics, who may be exposed to serious complications, as diabetes affects various parts of the body, such as the eyes, limbs, nerves, heart and blood pressure levels.
According to a report published on the website, Dr healthbenefitsExercising may enable us to reduce fat levels, increase muscle mass and reduce stress levels, thus contributing to lowering blood sugar levels, reducing the body's need for insulin and protecting against diabetic foot..
Walking plays an important role in controlling disorders resulting from diabetes, such as mild ulcers and gangrene.
Here are the most important health benefits of walking for diabetics:

1. Increases insulin sensitivity
A regular walk every morning is known to increase insulin sensitivity, especially before breakfast and anti-diabetic medications.
2. Helps regulate blood sugar
Walking contributes to better blood sugar control in the body, as fatty acids are one of the factors that inhibit insulin performance, and walking can also reduce blood sugar production in the body, and helps muscles absorb more sugar in the blood.
3. Muscle strengthening
Walking helps strengthen muscles for diabetics and thus protects you from developing diabetic foot, so try to walk for at least an hour on a regular basis.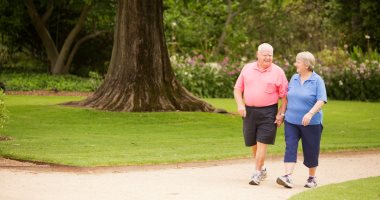 4. Maintain a healthy heart
A complication of diabetes is heart problems, so regular walking avoids the risk of blocked blood flow, and always avoids complications that are inherent when you have diabetes.
5. Burn calories
Walking for long minutes a day can burn your calories which improves diabetes levels and controls insulin hormone at normal levels.
.