Between the new co-head of Operation Libero Sanija Ameti and the new party president of the FDP Thierry Burkart, the tatters are flying on Twitter.
the essentials in brief
Sanija Ameti is the new President of Operation Libero.
In the interview when she took office, she attacks the FDP head-on and criticizes it heavily.
The new party leader of the FDP does not put up with that and reacts violently.
Sanija Ameti is the new President of Operation Libero. She is already giving full throttle – and shooting loudly against the FDP. After she described the liberals as a "problem child" at "CH Media", their party president Thierry Burkart is now shooting back personally.
Ameti accuses the FDP that the liberal-progressive wing is becoming weaker under Burkart's leadership. The party will no longer have a constructive role in the negotiations with the EU. Operation Libero is therefore all the more important to enable liberal negotiations.
FDP President Thierry Burkart counters Operation Libero
Thierry Burkart, on the other hand, does not need another invitation to respond to these allegations. He expresses his displeasure via Twitter and counters with his own accusations against the new Operation Libero President.
From the FDP president's point of view, Operation Libero is no longer what it used to be. The feud is primarily about negotiations with the EU. According to Burkart, the FDP is an important negotiating partner in the room. However, Ameti does not let the FDP chief's answer sit uncommented.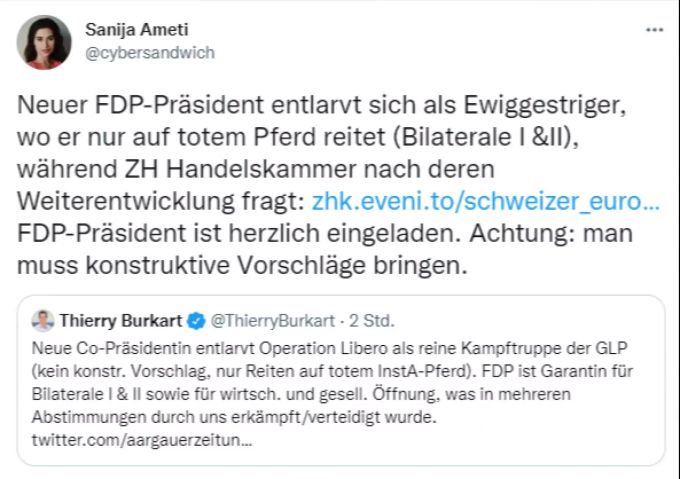 Ameti himself is by no means a blank slate when it comes to party politics. She is a member of the party leadership of the Zurich Green Liberals. She advocates an innovative and socially liberal Switzerland.
More on the subject:
Thierry Burkart Twitter EU FDP

---
.