Since the coronavirus appeared in our lives back in 2020, many aspects of our lives have changed forever. Possibly, one of the most successful globally is the settlement of telework as a widespread way of developing any professional activity whenever possible, changing the office by our house.
A way that many consider much more comfortable, and sometimes even more effective. However, it is necessary to have the right workspace to develop this activity more efficiently. And among all the perfect elements to create the ideal space, the Aldi product that we will talk about today stands out.
Aldi solves your paperwork problems at home
Much of the work that can be done from home has as a fundamental factor the great paperwork management what needs to be done. And beyond the infrastructure, such as computers or printers, at Aldi they have opted to protect all our files, and for this they have launched their document laminator from the QUIGG brand, a perfect option to take maximum care of every last detail.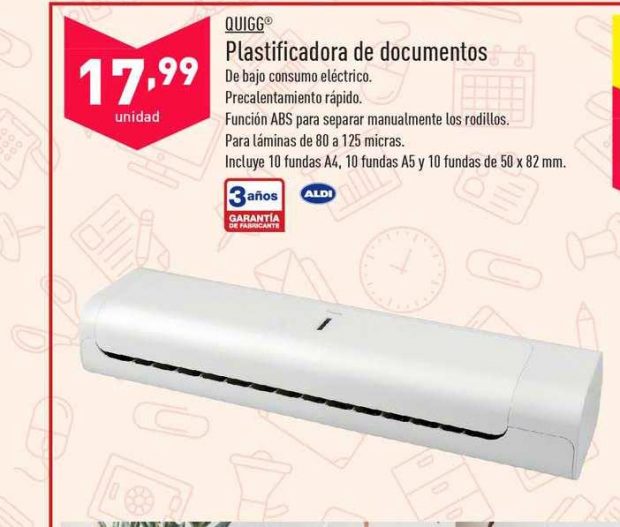 It is a laminator that stands out from the vast majority of products like this, first of all, in that it has a rapid preheating system, which allows us to be able to use it in a matter of minutes from when we turn it on. In addition, if saving on the electricity bill is a priority for you, you should not worry, since it has a low power consumption compared to other products of the same style.
But the main factor to take into account of this product is its enormous versatility, since this laminator is perfect for sheets ranging from 80 to 125 microns, offering a huge variety when it comes to use. In addition, it is extremely effective, thanks to a ABS function that allows you to separate the rollers, which translates into faster and more effective use.
A product with which we can keep all our work items safe in the first place, but it is also perfect for printing photographs that we want to keep as a souvenir, laminating a card… A product with which Aldi offers us great versatility with everything type of documents, and that you can find in your nearest center for a price of only 17,99 euros.