Key facts:
Cooling is achieved with water inside plates that replace the fans.

The refrigeration equipment consumes the same as a computer, they say.
From Argentina, more precisely from the south of the city of Buenos Aires, a novel method to cool Bitcoin mining ASICs is disclosed. It is a liquid cooling system, but not immersion, but with an installation inside the miner itself.
The equipment, developed by two young Argentine engineers, is similar to the equipment Hydro that are marketed by manufacturing companies such as Bitmain, and that have been reported in CriptoNoticias in previous publications. However, the particularity of this case is that it is possible to adapt them to any type of miner available on the market.
The minds behind the idea
Ignacio Montserrat is 22 years old and is a mechatronics engineering student. His partner, Federico Zabattaro, is 26 and close to graduating as an electromechanical engineer. His thesis was based on the design of vats for immersion liquid cooling for Bitcoin miners. Both work on the development of the equipment with another partner, who is a specialist in electronics.
Ignacio and Federico's business is called Crypto Bros. For more than three years, they have been dedicated to the sale, assembly and maintenance of mining rigs and ASICs.
While Ignacio spoke exclusively with CriptoNoticias, an ASIC with the hydro refrigeration that they make worked next to him and almost in silence. It was a 104 TH/s rig and it was mining at 125 TH/s. This excess capacity, a method called overclockingit is easier to set up thanks to its cooling system, he says.
The universal liquid cooling system they designed
On the one hand, the proposal of these young people consists of a set of aluminum plates that sit inside the ASIC and replace conventional heatsinks. The water circulates there, which is cooled in an external unit "smaller than the external unit of an air conditioner".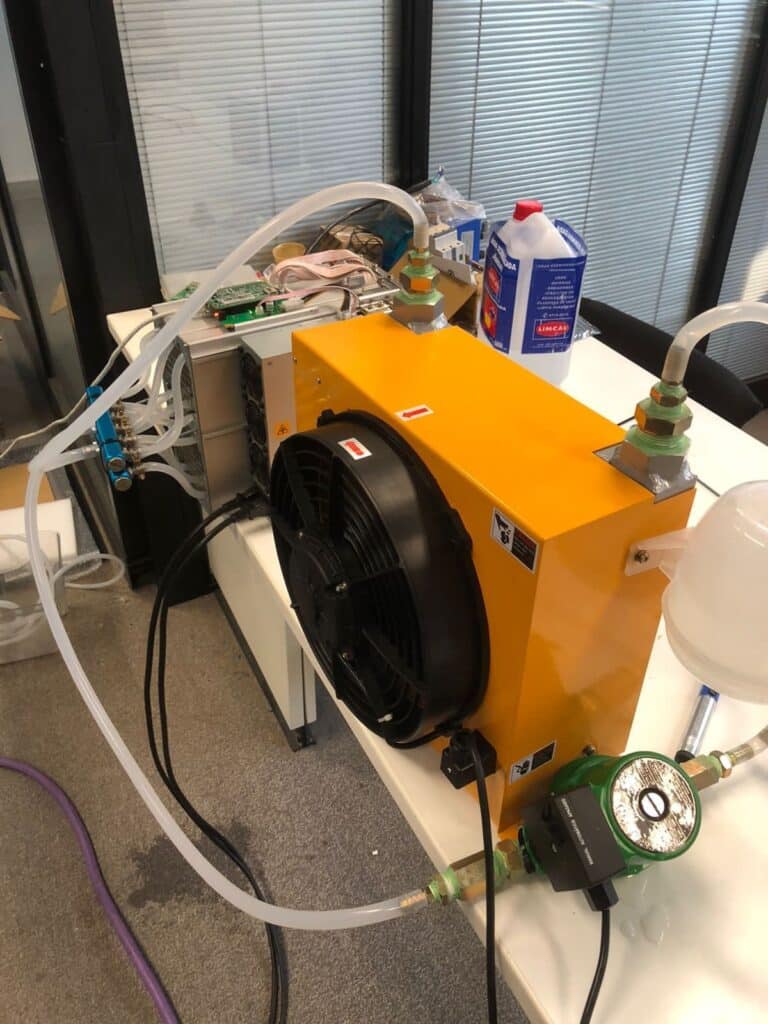 The system is similar to water cooling (liquid cooling) that is used in video cards or computer processors, we based ourselves on that idea", says Ignacio. Besides, claims it can be developed for any miner, "but everything needs a design". Some compatible equipment are the S19J Pro, S19 Pro, S19, S19J, T19, S17 Pro, T17 and L7 (all from Bitmain); the M31S, M20S and M21S (from Whatsominer); the Avalon 1066, 1126 Pro and 1346; and the Innosilicon A10pro 720M.
The prototype of the refrigeration system was devised by Ignacio and Federico. Of the components, only the boards are imported from China., "although we are evaluating the layout to do them here," he says. The other elements they use are domestically manufactured.
Equipment is designed by prior order. Although they have stock of the plates for most of the equipment, he assures, what is personalized are the outdoor units "because each client has a specific need".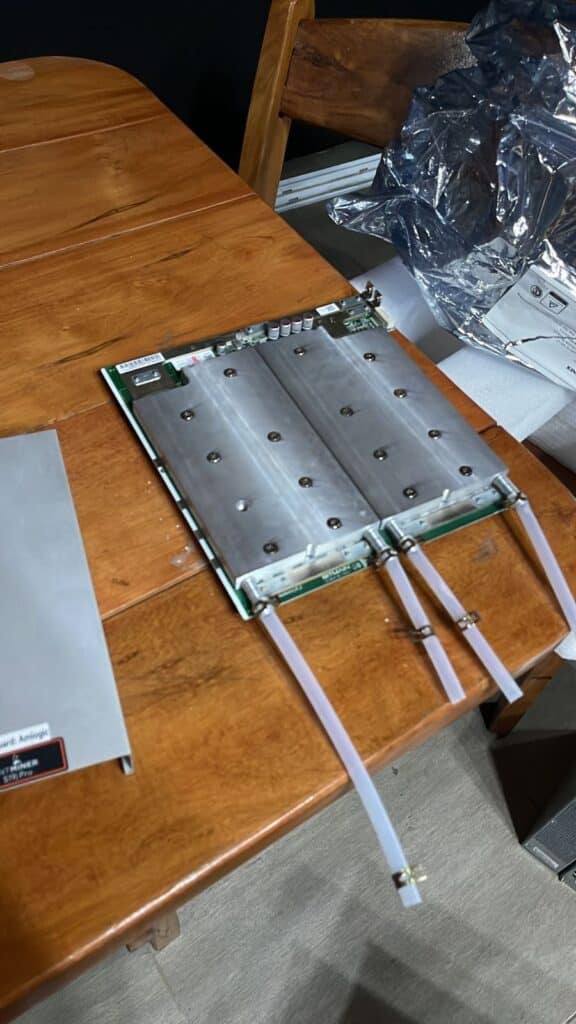 Power consumption is about 350 W for each refrigeration unit, which "is what a computer consumes". Therefore, it is perfectly suitable for a home installation.
The system appears as more practical and cleaner than other known liquid cooling methods. For example, Ignacio recounts that the rafts "solved the problem of noise and overclocking, but they have their own problems: they take up space, they demand good oil and they give rise to possible liquid losses". In addition, "by not having direct contact with the parts, more cooling power is needed."
Apart from the drawbacks mentioned, he said that another problem with the rafts is that leaks can occur in them. "Many users began to use the oil from the electrical transformers seen on the street in the trays, but it is not ideal because it is made from petroleum and attacks plastics. This affects the material from which the trays are made and leaks occur".
How much does it cost and what advantages does it offer?
The cost of the equipment starts at USD 1,500 or USDT 1,500. "From there, it goes up," says Ignacio, who explains that "the cost is significant, because ASICs are cheap today." "However, this allows the equipment to have a longer useful life and frees you from maintenance, which takes time and money, because you need to shut down the machines when doing it," he adds.
Of course, for its creators, it is worth the investment. This system "provides solutions to those who want to mine bitcoin at home, with equipment without noise," he says, and "it is also useful for large industrial facilities" that can do without oil from the vats. This oil, he details, "today it is very difficult to obtain".
Instead, the equipment they designed uses distilled water, "which is available at any service station", with additives to prevent corrosion and algae. "Using water is more practical and, in the event of a leak, it does not stain," explains one of its designers.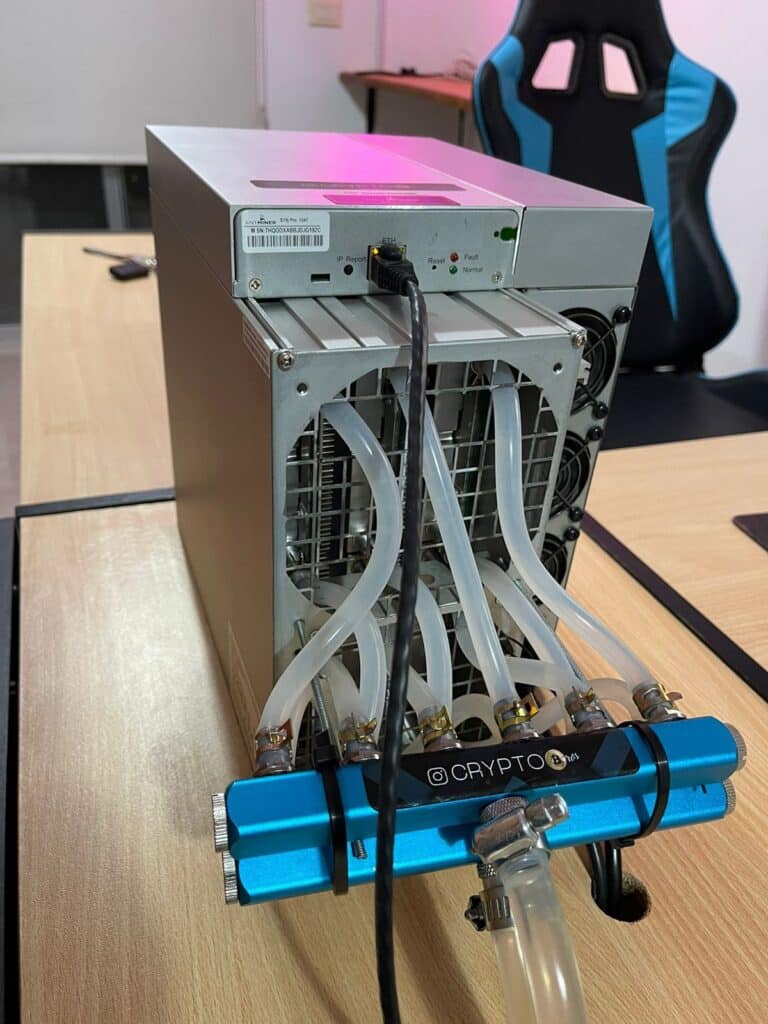 Another of its advantages is that a user with basic knowledge can install it. "We market it as kit so that a client who has some knowledge can put it together on their own. We are working on a user manual", says Montserrat.
Market and future perspective
In dialogue with this medium, Ignacio Montserrat explained that he and his partner have been working on this refrigeration system for a long time, but that they launched it recently (at the end of April) "because this cannot fail, many tests must be done" .
Y many bitcoiners reacted with interest to his idea. Since they shared it in the Bitcoin Argentina Facebook group, they received "many inquiries", even from the United States.
Regarding the work ahead in terms of development, he said: "Now we are testing the sources of different miners to see how far we can overclock without breaking them."
On the other hand, there is also the need and obligation to serve your business and meet the customers you already have. "We work a lot with large facilities. In those cases, we evaluate the customer's electricity rates to tell them what is best for them, "he says. The differential that they offer is precisely in the technical support and the after-sales service, he concludes.