"Woo Young-woo's whale appeared on Sevit Island in the Han River!"
A large humpback whale appeared on Sevit Island. Of course, it is a large sculpture that reproduces an actual humpback whale.
Seoul Tourism Foundation (CEO Gil Ki-yeon) has rolled up its sleeves to revitalize tourism in Seoul by utilizing K-content. The Han River K-Content Festival 'Stunning Han River' was planned and opened on the 8th.
The foundation planned this festival with the goal of allowing both Seoul citizens and tourists to enjoy the combination of the Han River, Seoul's representative tourist resource, and K-content, which domestic and foreign tourists are passionate about.
The installation of the humpback whale from last year's hit drama 'Weird Lawyer Woo Young-woo' as the main sculpture attracted attention, and the response was increased by allowing people to directly experience traditional games that appear in the drama, such as 'Squid Game'.
The 25m long humpback whale becomes more 'active' at night. After turning on at 5 PM every day, a 5-meter-high water fountain spouts out every 30 minutes from 6 PM to 9 PM, and its fins and tail move vigorously.
Younghee from 'Squid Game' and heterosexual cells from 'Yumi's Cells' were each created as 4m high sculptures. These sculptures also come on from 5 p.m.
At the opening ceremony on this day, a pre-performance and lighting performance were held. At the opening event, Seoul Mayor Oh Se-hoon and actress Joo Hyun-young, who appeared in 'Weird Lawyer Woo Young-woo', attended and participated in the performance.
About 200 people visited the Sevit Island area during the first weekend of the festival alone. There were a significant number of not only Koreans but also foreigners.
A foreign tourist who visited Sebitseom with his friends to see the Banpo Bridge Rainbow Fountain and happened to see the event gave a favorable review.
He said, "I had no idea that I would actually see content that I only saw on Netflix. I feel lucky to have been able to visit Seoul during this period. Interesting events are held here and there, so it feels even more real to be in Seoul, which I've only seen on screen." reported.
At the event venue, a variety of K-content themed programs were held, including luminous face painting, making an eco-friendly whale doll, and Rose of Sharon in Bloom.
'Squid Game' In front of the Yeonghui sculpture, about 50 citizens enjoyed the Rose of Sharon in Bloom and a squid game was also played in a tournament format with 16 citizens.
Kim Mi-jeong (pseudonym, 17), who participated in the festival that day, said, "It was nice to be able to experience the traditional Korean game featured in the drama in real life."
During the festival, the area around Sebitseom is still full of life. In particular, on weekends during the festival period, a variety of experience programs are offered, including making dalgona, which appeared in 'Squid Game', and flying a whale kite, reminiscent of the whale that appeared in 'Weird Lawyer Woo Young-woo.' You can participate in both experience programs on a first-come, first-served basis at the general information center.
Every Sunday, the 'Jamsu Bridge Tubeok Tubeok Festival' is held.
The Jamsu Bridge Ttubeok Ttubeok Festival will be held every Sunday until November 12th. Operating hours are from noon to 9 p.m. However, in October, the operating hours are shortened until 8 p.m.
During the festival, vehicular traffic around Jamsu Bridge will be controlled, and various experience programs such as food trucks, Jamsu Bridge Reading, Jamsu Bridge classes, and playground will be held.

Meanwhile, as part of ESG management practices, the foundation supplies electricity using eco-friendly power generation vehicles during the festival and operates a crafting experience program using eco-friendly materials. On the day of the opening ceremony, a program called 'Making an Eco-Friendly Whale' was held.
Those who experienced the program unanimously said, "Making a whale using a kit that reprocesses waste plastic waste collected from the sea into fiber not only gave us fun, but also gave us an opportunity to think about the environment."

The event runs every day until September 30th. Program operating hours are from 5 p.m. to 9 p.m.
Gil Ki-yeon, CEO of the Seoul Tourism Foundation, said, "Through this Hangang K-Contents Festival, we were able to confirm once again the power of the Han River and K-Contents as a waterside tourism resource." He added, "To make Seoul an attractive special city that can be enjoyed all year round, the Han River, "And we plan to prepare a variety of programs centered on K-content."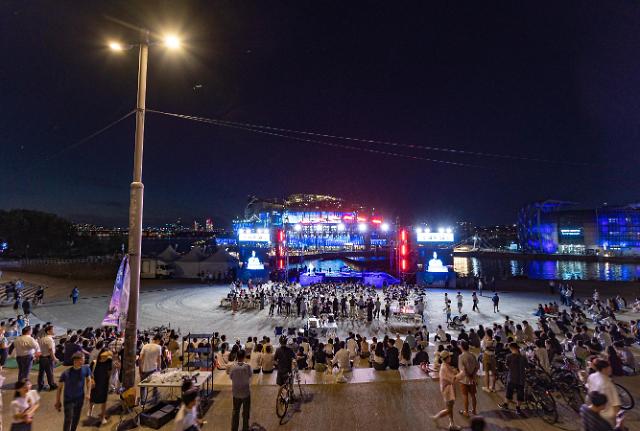 ©'Global economic newspaper in 5 languages' Aju Economic Daily. Reproduction and redistribution prohibited.