Sport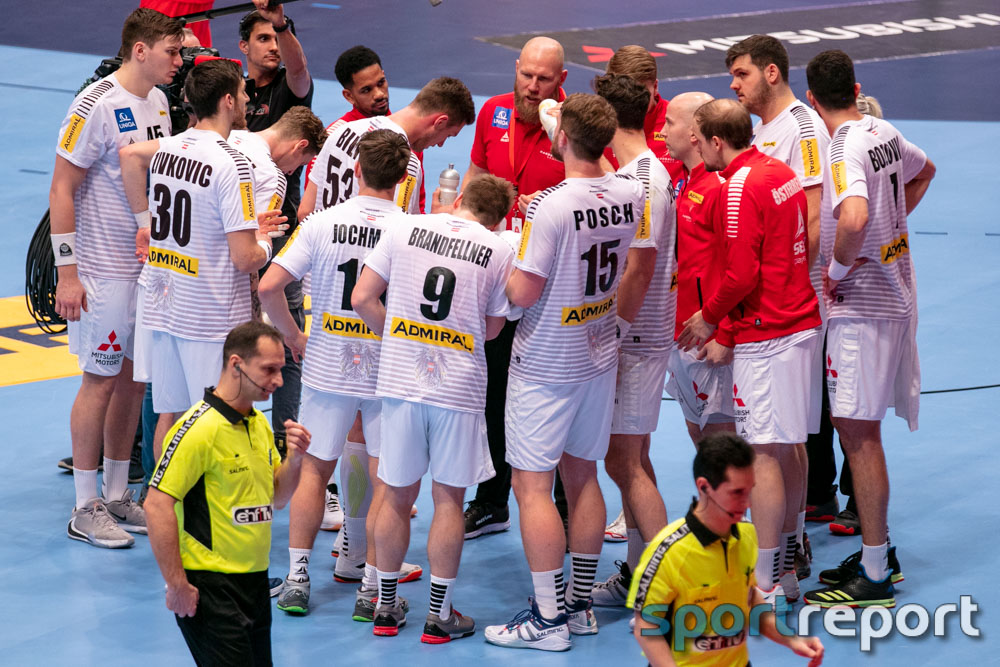 © Sportreport
It could be a crucial week for Austria's national handball team. After the start of the qualification for the EHF EURO 2024 won against both Romania and the Faroe Islands, two more victories this week against Ukraine, on March 9th in Coburg (GER) and March 11th in Linz, will give you an early EURO ticket.
Both games will be live on ORF Sport+ broadcast, the home game will also be broadcast via LAOLA1 streamed. Remaining tickets for March 11th in the Sport NMS Kleinmünchen are over ÖHB Ticketshop available.
Team chef Aleš Pajovič emphasizes for the EHF EURO 2024 mission: "It won't be easy, but if we perform like we did against Romania, we can get the points. I'm optimistic that we can do it."
Ukraine are proving to be a well-coordinated team, with most of the squad made up of players from HC Motor Zaporizhzhia. Due to the war at home, the club is playing in the second German Bundesliga this season, where it is in 17th place the team bosswhich, however, represents a generational change among the opponents: "They have a lot of young players with them."
Ukraine celebrated a 29:25 win against the Faroe Islands in the first week of qualifying, before Romania was beaten 26:34. Austria was able to take the two points against both Romania and the Faroe Islands and is thus in first place with the maximum number of points. If you remain flawless in the EURO qualifiers, you will already have the final round ticket after this week and can no longer do it be ousted from 1st or 2nd place.
The last meeting with Ukraine was on January 12, 2020. At the home EURO they won 34:30 in the preliminary round, team captain Mykola Bilyk was the best thrower with ten goals.
Qualification for the EHF EURO 2024

Austria vs. Romania 36:32 (18:11)
Thursday, October 13, 2022, 6:00 p.m., Graz
Faroe Islands vs. Austria 28:30 (14:14)
Sun., 16 October 2022, 19:00 Uhr, Torshavn
Ukraine vs. Austria
Thursday, March 9, 2023, 7:00 p.m., Coburg (GER)
Live on ORF Sport+
Austria vs. Ukraine
Sat., March 11, 2023, 8:25 p.m., Linz
Live on ORF Sport+und LAOLA1
Romania vs. Austria
Wed, April 26, 2023 at 4:30 p.m., Bucharest
Austria vs. Faroe Islands
Sunday, April 30, 2023, 6:00 p.m., Bregenz
| GROUP 4 | GP | W | D | L | GOALS | DIFF | PTS |
| --- | --- | --- | --- | --- | --- | --- | --- |
| 1. Austria | 2 | 2 | 0 | 0 | 66 : 60 | 6 | 4 |
| 2. Romania | 2 | 1 | 0 | 1 | 66 : 62 | 4 | 2 |
| 3. Ukraine | 2 | 1 | 0 | 1 | 55 : 59 | -4 | 2 |
| 4. Faroe Islands | 2 | 0 | 0 | 2 | 53 : 59 | -6 | 0 |
Kader AUT
| | | | | | | | |
| --- | --- | --- | --- | --- | --- | --- | --- |
| Nr. | family name | First name | Association | Date of birth | LSP | Tore | Pos |
| 53 | BILYK | Mykola | THW Kiel / GER | 28.11.96 | 91 | 397 | LB |
| 7 | BOZOVIC | Janko | Al-Sulaibikhat SC / KUW | 14.07.85 | 170 | 472 | RB |
| 45 | DAMBÖCK | Eric | HC FIVERS WAT Margareten | 06.09.99 | 17 | 16 | LW |
| 40 | EICHBERGER | Thomas | Förthof UHK Krems | 20.08.93 | 25 | 2 | GK |
| 20 | FRIMMEL | Sebastian | MOL-Pick Szeged / HUN | 18.12.95 | 88 | 280 | LW |
| 26 | HERBURGER | Lukas | Cadets Schaffhausen / SUI | 19.12.94 | 57 | 43 | PV |
| 72 | HUTECEK | Lukas | TBV Lemgo-Lippe / GER | 02.07.00 | 32 | 93 | LB |
| 16 | KAIPER | Florian | SG INSIGNIS Handball WESTWIEN | 26.05.95 | 16 | 1 | GK |
| 99 | KATIC | Marko | SG INSIGNIS Handball WESTWIEN | 03.12.01 | 7 | 1 | LB |
| 50 | KOFLER | Elias | SG INSIGNIS Handball WESTWIEN | 09.08.00 | 10 | 5 | CB |
| 86 | BALLAST | frank | SG INSIGNIS Handball WESTWIEN | 13.04.03 | 10 | 8 | RW |
| 97 | MISKOVEZ | Michael | Sparkasse Schwaz Handball Tirol | 29.08.97 | 10 | 3 | LB |
| 34 | MITTENDORFER | Moritz | SG INSIGNIS Handball WESTWIEN | 21.10.96 | 8 | 9 | LB |
| 55 | WAGNER | Tobias | Fenix ​​Toulouse / FROM | 26.03.95 | 83 | 184 | PV |
| 8 | WEBER | Robert | Foxes Berlin / GER | 25.11.85 | 209 | 920 | RW |
| 30 | ZIVKOVIC | Boris | Azoty Pulawy / POL | 02.05.92 | 53 | 87 | RB |
Presseinfo
Handball Austria/ÖHB
06.03.2023