After several years of success, the time for restyling is approaching for the Peugeot 3008, which hit the market in 2017. It will be accompanied by an update to stay on the market until 2023. The new appearance of the 3008 has already been seen leaked online.
The images, according to the Peugeot Forum, would have been discovered by one of its users in a firmware update (NAC) of the Peugeot multimedia system that is about to fall. And while they are 3D renders, they are quite revealing images of the future design of the 3008.
As expected, the SUV will adopt a front in line with the rest of the models in the range, such as the Peugeot 208, 2008 or 508, for example. Thus, we will see the vertical LED daytime running lights, like fangs, that flank the headlights and the entire front. The calender will also be wider than in the current model.
The new 100% LED headlights do not integrate the three claws that mark a connection with the model of the upper segment, that is, the 508. On the other hand, the spoiler or louver on the lower part of the front bumper is similar to that of 2008.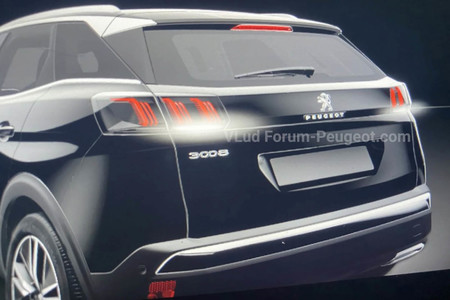 In the rear, the pilots debut design. Each of the three claws is made up of LEDs and is accompanied by two other small claws. The set will form a single optical group, as in the 508.
Inside, the few changes in colors and materials will be accompanied by a new 10-inch panoramic touchscreen, while the multimedia system should include the latest updates.
A mechanic that does not change
On a mechanical level, changes will be rare. The gasoline range will be based on the 1.2 PureTech with 130 CV and the 1.6 PureTech with 180 CV. In diesel, only the 1.5 BlueHDi 130 CV will remain, since the 2.0 BlueHDi 180 will make room for the 225 CV plug-in hybrid system.
The hybrid range will no longer be captained by the 300 HP 3008 Hybrid4, as there is talk of a Peugeot Sport Engineered or PSE version of around 350 HP. It will be the halo model of the range that will arrive in 2021.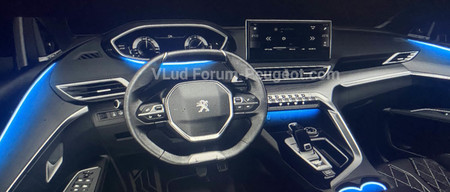 We should officially see the restyling of the Peugeot 3008 throughout the summer, since the intention of Peugeto is to start its commercialization in the last quarter of the year. It will come at a time when its rivals are also updating, such as the Seat Ateca, whose restyling was unveiled recently.
In addition, Nissan will launch the new Qashqai in the spring of 2021. Peugeot should thus endure with the 3008 until 2023, the year in which the new generation would arrive, this one with a 100% electric version included.
In Motorpassion | We tested the Peugeot 3008 Hybrid4, a 300 HP plug-in hybrid SUV that bets on comfort | This Peugeot 3008 is a unique SUV designed for adventure, as an off-road camper