Putting solar panels on the water, the concept may seem preposterous. But floating PV farms have several advantages, including that of not occupying land areas that could be used for other things.
It is the size of 45 football pitches, yet Singapore had no trouble finding space for its giant new solar farm: it was built entirely on water. The site built by Sembcorp Industries was inaugurated Wednesday July 14 and should provide all the energy required by the water treatment plants of the city-state, specifies Reuters. Singapore has already planned to develop four more such farms in the coming years.
The use of floating photovoltaic panels is growing around the world (several projects have already emerged in the Netherlands and Germany is very interested in them). This is not surprising: this technology has several advantages. The most obvious is that these panels do not take up space on earth. This is practical, because solar energy is usually quite greedy in land. Of course, it is possible to install photovoltaic panels on the roofs of buildings. But the yields are much better when it is possible to position panels over large areas.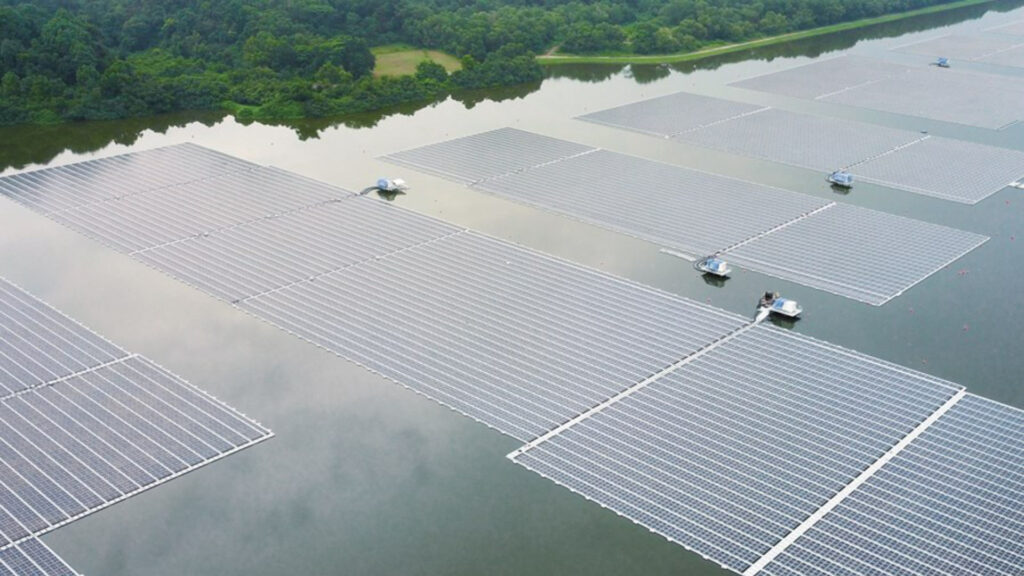 Find room for solar panels
In small countries – like Singapore – finding land for such projects can quickly become a headache. Floating farms give these states the possibility of benefiting despite everything from the advantages of solar energy (low carbon impact, increasingly competitive cost of energy). But even in larger countries, floating solar can be useful: it allows not to monopolize surfaces that can be used otherwise (natural spaces, agricultural crops, etc.)
Initial studies suggest, moreover, that floating solar panels offer better yields than their terrestrial counterparts, because they are better cooled. Indeed, when the panels heat up, their performance decreases. The proximity to water, in the case of floating photovoltaics, ensures their cooling.
Monitor the impact on flora and fauna
The design of solar panels as well as the location and size of floating farms, however, must be carefully considered, as such infrastructure can have a significant impact on aquatic flora and fauna, if improperly calibrated. This is what this study, published in May 2021, shows. The authors of the publication however highlight that if the projects are well designed, they can conversely have a beneficial impact on the surrounding ecosystem, by protecting it from rising temperatures caused by climate change.
Early simulations carried out by a team at Lancaster University suggest that the change in water temperature, driven by solar farms, may help " offset that of global warming On these bodies of water.
« Farms designed to shade the lake rather than cover it – reducing the amount of sun more than that of the wind that hits the lake – are those that have the most pronounced cooling effect ", explains one of the publication's co-authors, Giles Exley. Conversely, he warns, solar farms, which prevent the wind from reaching the surface of the water will tend to increase the warming of the water. All these parameters must therefore be carefully evaluated to identify cases where floating solar would be a suitable solution.
The continuation in video