Smoking cigarettes is the main cause of lung cancer. However, not all heavy smokers develop cancer. Why ? A recent study, published in Nature Genetics, suggests that the explanation lies in the DNA of the cells that line the lungs. Indeed, in some heavy smokers, these cells are less likely to present mutations and turn into tumours. Explanations.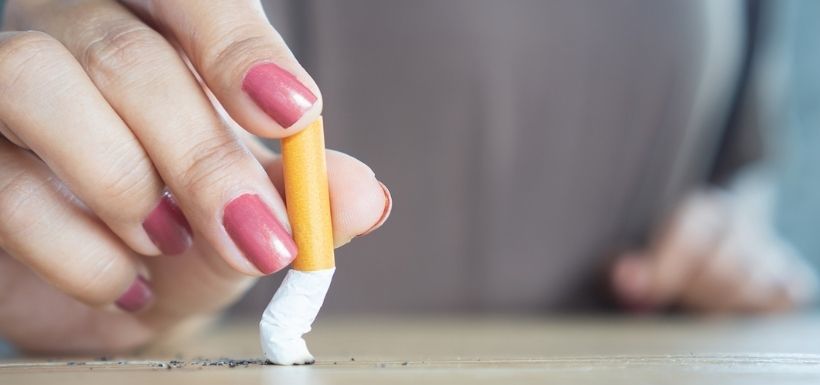 Lung cancer in France
According to Santé Publique France, lung cancer is the second most common cancer found in men (after prostate cancer). Yet it is the one with the highest mortality rate of all cancers. In women, it is the third leading cause of cancer (after breast cancer and colorectal cancer). But, it is the second leading cause of death due to cancer (after breast cancer).
The fact of to smoke cigarettes is the leading cause of lung cancer. Indeed, studies estimate that 90% of deaths from lung cancer are related to tobacco consumption. However, not all heavy smokers develop lung cancer. How to explain it?
DNA repair may reduce cancer risk
Scientists have wondered for several years why some heavy smokers develop lung tumors and others do not. A recent study, published in Nature Geneticssheds new light on this heterogeneity.
The scientists took samples from the bronchi of 33 participants. They are aged 11 to 86 and are non-smokers (14) and smokers (19 including occasional smokers and heavy smokers). By "heavy smokers," the authors refer to people who smoke at least one pack of cigarettes a day. The researchers established the genetic profile of the cells that line the participants' lungs. Indeed, these cells survive for years, even decades, by accumulating mutations linked to age and/or exposure to tobacco smoke. Of the other cell types, they are most at risk of becoming cancerous.
The study shows that the mutation rate of cells that line the lungs increases with age in non-smokers. Also, this rate is significantly increased among people who smoke. However, after 23 years of smoking a pack a day, this risk seems to be leveling off. Thus, among the study participants, the heaviest tobacco users did not necessarily have the highest mutation rate. These data suggest that people who survive for a long time with such heavy smoking may have a genetic advantage. It would be successful in suppressing the accumulation of cellular mutations. This would induce a stabilization of mutations due to a better detoxification of cigarette smoke in the lungs or a more efficient DNA repair system.
#Viesanstabac, quitting smoking the best solution against lung cancer, but not only!
For the authors of this study, these conclusions would make it possible to develop new screening tests for lung cancer. Indeed, measuring the ability of the cells that line the lungs to repair DNA damaged by smoke would be a reliable indicator for assessing the risk of lung cancer.
It is nevertheless undeniable that the best protection against lung cancer is not to to smoke or stop. On the occasion of the tobacco free day which will take place on May 31, 2022, all health authorities and associations are mobilizing to remind people how and why to quit smoking. The Tobacco Info Service website references an information and assistance device for quitting smoking.
Indeed, if tobacco is often associated with an increased risk of lung cancer, it is also a risk factor for many diseases:
Cardiovascular diseases and hypertension;
Fragility of the respiratory tract and significant risk of COPD;
Significant risk of severe form of Covid-19;
Increase in asthma.
Alexia F., Doctor in Neurosciences
Sources
– Single-cell analysis of somatic mutations in human bronchial epithelial cells in relation to aging and smoking. nature.com. Consulté le 30 mai 2022.