Not everyone trusted him. overwhelming success of the Summer Grand Prix presented by Ramón García, but it has undoubtedly been one of the great successes of the summer and it is practically taken for granted that it will be renewed for a new season for next year, because not only must the audience success be counted, but also the excellent criticism of a format that is liked by all audiences. Tonight, he celebrates his grand finale.
In the three years since the separation of Ramón García and Patricia Cerezo, in July 2021, life was not conducive to the popular Ramontxu personally, but not professionally, since he is one of the greatest stars on television. region of Castilla La Mancha. We are not referring, of course, to his daughters, Natalia and Verónica, aged 19 and 16, with whom he has a very close relationship, not even his ex-wife, now one of the most requested television collaborators.
We talk about the loss of two of your most loved ones, His parents. The first to die was his father, Ramón, in November 2019, at 89 years of age, and then his mother, in the same month, in 2021, at 88. That was also the year in which that she separated. They were two blows in a row for which she found the best balms in her daughters and in his work, which has now taken on an even greater dimension due to the phenomenon that has become one of the most classic television formats in Spain in the 1990s, which has returned renewed and has not suffered from the absence of a key element, the real heifer, since times have changed and sensibilities are now very different.
Paula Vázquez, another great signing of public television
We have contacted different figures from television and show business to analyze this phenomenon and we have not wanted to overlook the return in style of a presenter that the general public missed in a generalist. We are referring to Paula Vázquez, who has also reaped notable audience success on TVE with the contest program El puente de las mentiras, of which two installments are still pending.
«The Summer Grand Prix, endorsed by Europroducciones, was a sure success. Besides, Ramon Garcia, is completely fit, because I know that all these years he has continued working on the regional television of Castilla La Mancha. Those of us who are part of that generation of presenters that today are called nostalgic, are delighted with this revival that we are all experiencing a little », he tells us, laughing.
Hopefully there will be another new edition. It has been an absolute surprise and TVE has made a very brave, very risky bet and it has worked very well for them in general. As I am part of it, I couldn't be happier. To Ramon I wish you all the success of the world and hopefully we will see him again in Las Campanadas. I would love to. Long live 90's TV! What happiness that there is more and more diversity! May there be a television once again that brings together different generations, one telling why they liked the Grand Prix and another young woman explaining the virtues of this type of format! It has surprised me a lot and has excited me for the unexpected and for the beauty. There is no one in Spain who does not like Ramón García well and who does not wish him all the success in the world », he concludes.
Agustín Bravo, unforgettable television couple of Carmen Sevilla, and Nieves Herrero, history of TV
We also spoke with a key figure on television at the time, one of the most popular presenters in our country, Agustín Bravo (how can we forget his work at the helm of Telecupón with the inimitable Carmen Sevilla). «The return of a classic format that has always made us enjoy is always good news. No longer the return of the format but the return of the person who gave life to that format. The driver, my dear Ramon Garcia. It is very good news for those of us who have been in communication for two or three months », she affirms with irony.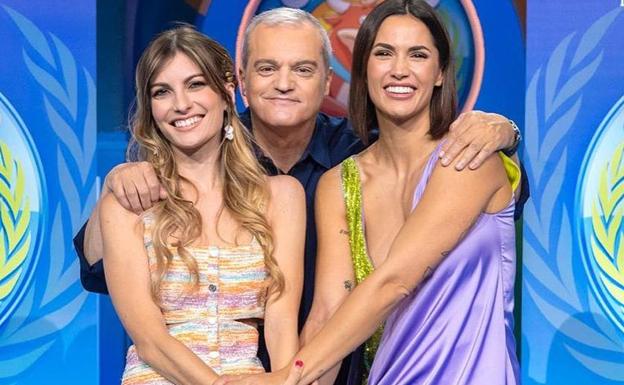 Ramón García, Cristinini and Michelle Calvó. / instagram
«I mean that it worked years ago does not have to be reviled and think that there are outdated formulas on television. Entertainment, thank God, is very well preserved. As long as you give it a spin and format it, as those responsible for The Summer Grand Prix. It's a way of rescuing the formats that worked and if they had something special years ago, they still have it, their DNA is there. Congratulations to TVE for having recovered it and to Ramón for the success », he assures.
Another of the legendary figures on television is Nieves Herrero, who highlights that «what has made me most excited is seeing Ramón García again on screen, also with a format that I saw with my daughters and with which we laughed a lot. I was very excited this summer to see him again as a family and meet again with the crazy trunks, with that variant of the heifer, which has been a success, with Ramontxu himself, which is a joy. It's pure wonder. I had a great time, we laughed a lot. The tests are barbaric. I don't even know how they manage to walk around in those penguin and chicken costumes. It has been a success for TVE and I am very happy to see a professional like Ramón on the public channel. It also shows that great professionals always shine. I'm looking forward to seeing another edition."
Belinda Washington, a contestant without much success, and the always amazing Karina
Belinda Washington also has a brilliant career on the small screen, as an actress and singer, the latter facet perhaps less well known. She tells us that "the return of this program has been to confirm that it is a great format, with spectacular audience figures after 18 years, demonstrating that it is neither outdated nor obsolete."
Regarding her passage through the TVE space, she comments that «I did not hit the ball, I have never been so disoriented. It's about playing, not a life and death test. I felt very bad for not being able to help, which is one of my favorite things to do in life, but you have to accept that we are human and we make mistakes. The bottom line is participate, have fun, make mistakes, which is when the public has the most fun, and take things more with humor. We should do it more often."
Karina, that beyond singer and almost winner of Eurovision, she has a lot of television experience, she is also enthusiastic about the return of this program and in a very exclamatory tone she sends us a very funny audio, as she is, ideal to conclude this report and that gives meaning to all the previous answers: «Congratulations for that lap of the Grand Prix! I am very happy with all her successes! They say that second parts were never good, I think the second parts, the third parts are good… Anything that is successful is good».