For some it will be poisoned but we cannot speak of talent. We are chasing a 27-year-old footballer whose limits are very evident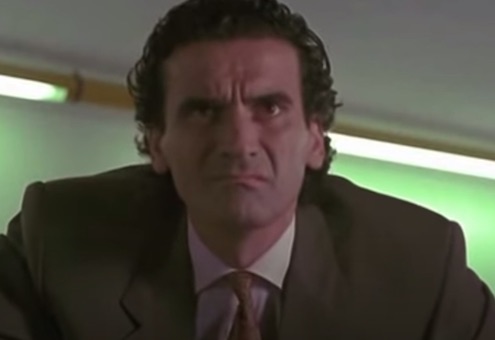 Here I am, I am the one who threw himself in lavish praises to Jorginho and his football greatness well before his public praises (also on "Il Napolista") and the "said / unspoken" on the possibility that he will win the football. gold, in short, when we still thought that selling it for 50 million euros had been a large outgoing market operation, almost as if it were the most classic of "parcels" trimmed in a remote motorway restaurant on the Autostrada del Sole.
Yes, yes. Of course.
I mean, it's still me.
Well, I am writing to get rid of a boulder, one of the biggest that I have had to manage in football in recent years.
I often experience the sensations, to assume the bodily postures and mimic expressions of Massimo Troisi in the film "I thought it was love but it was a gig" when they take him to see the new boyfriend of his ex, Francesca Neri, and it is revealed to him in front of that great (but I don't want to, ugly) actor by Marco Messeri and he is dismayed at the fact that, despite the evidence to the contrary, everyone tells him that he is cute, that he is fascinating.
As bewildered in front of the loneliness of the truth: but how…. that is clearly ugly, and you tell me that it is beautiful (today's declension of the ancient adage: "But comme … je come from 'or die and vuje say ca is alive?".
It often happens to me I said, even with respect to the judgments of the multitude on some players.
Here, the times when I happen to hear myself close to that unreachable genius of Troisi, to those expressions and mimics of disbelief and amazement caused by not knowing whether others tell him lies, or not knowing how to grasp the essence of truth (the ugly instead of the beautiful) are those in which I run into judgments on Zielinski.
Judgments that, admit it, have always been at first flattering (the boy has extraordinary talent and football skills), then you wait (the boy has these qualities, but he is discontinuous because he is young and therefore we must wait for him) and now a little closer to true (but will it be as strong as we envisioned it?).
As usual, to express my opinion with a minimum of scientific semblance, I went to review the meaning of talent: "Natural disposition, aptitude to do something" (it can be read in the most common Italian language dictionaries).
Let's try, then, to put this concept down and decline it concretely: that is, first to the game of football, then to Zielinski.
To any attentive observer of football matches, who has a minimum of experience in this sport (I have practiced it for 35 years, and I have come to do it in the highest amateur / pre-professional levels, for example: in short, the mine is not a judgment from 1 to 1, just to bother expressions so much in vogue now that we have relied on the "technicians" as a lifeline with respect to the collapse) cannot go unnoticed that the "Natural dispositions, aptitudes to do something" of Zielinski are essentially three.
And mind you, three that would also be of considerable level:
1) the way of treating the ball with both feet with almost identical results (it is a natural right, however ambidextrous of those of the "best result", which in practice you recognize when the player goes to conclude with the foot that is not his, after appropriate fake, kicking in a coordinated and violent way: as Inler was in this sense, for example);
2) the first oriented control that almost always succeeds (indeed: it would succeed, the conditional is a must) to unmark it from the first opposing pressure;
3) followed by (indeed: it would follow, the conditional is always a must … ..) an acceleration in the first 15 meters able to leave the opponent in place.
I'm not talking about shooting from outside (I already know where you would like to go …), because I should / could talk about the shot from outside if the numbers were in the sense that the person concerned showed me 7/8 goals a year with which he breaks the nets with shots from at least 20 meters, and it does not seem to me that this has happened. In short, such a dowry presupposes continuity of success, and this is not the case. No?
These listed above are the gifts, not common, which to be understood the Eternal Father has left him.
Now, having said that, two spontaneous questions should nevertheless arise in the attentive football observer:
Is this enough to make those who have them a footballer, a sportsman of an appreciable level in the context in which they practice the sport they practice?

and if not, why?
The answers, to the attentive football observer in question (if it really is) they come spontaneously.
1) No, that's not enough, because the game of football is made up of so many deeds that are required of the player, in this case with the role of the person concerned (outside a 3-man midfield, when it is "used" there; or outside of a 3-man attack, when it is "used" there; or under the 3 behind the center forward, when it is "used" there – we are not even talking about when it is "used" in the middle 2 in 4 2 3 1, because in that case the boy seems almost disoriented for how much in my opinion he moves not with the right synchronisms), that those indicated above as gifts they rise much more specifically to pre-conditions.
Mind you, "pre-conditions", not gifts (those, to be clear, that should qualify a high-level politician, such as "he's a good person": and God forbid he wasn't …)
Which is to say, in essence, that we would need nothing more than one who requires that type of game at certain levels (which are presumed to be high: do we say or don't we say that our squad is strong? do you want to aim to win the Scudetto and the other 2 competitions in which you participate? do you say or do you not say that the boy is very strong?) did not have these gifts indicated above.
If it didn't, we would be talking about something else, we would be wasting time.
2) And here you can hook to the second answer (automatic / spontaneous).
I am gifts which are not enough not only because they are pre-conditions, but also and above all because they must be flanked by completely different characteristics and qualities that make (in a minimally appreciable way) a player able to effectively affect the team he belongs to and in the overcoming of the opponent's sport.
And here we come to what really qualifies the person concerned.
Zielinski seems to be almost lazy in the middle of the field while the other teammates in the middle of the field throw their blood, each in their own way, to withstand the effort that the competition requires (especially in flashes of the match in which the opposing pressure is felt. ).
Zielinski, in the darkest days, half of the times he receives the ball instead of taking advantage of what I have described above in points 1) and 2) if he makes it steal in advance, moreover often starting dangerous counterattacks because in a phase of negative transition ( while we are setting up with half the team in front of the ball line, and the other half just behind it).
And if he does so steal because he does not even try to make movements to receive the ball in front of the opponent (at least three quarters) and he does not even seem to use the so-called "peripheral" (in essence: the preventive look to the right and left to see if, and how many opponents, in the meantime they are going to close it) before getting it.
Zielinski does not steal a ball from an opponent even if San Gennaro intervenes, and I have never seen him win a tackle by standing with the ball, after having slammed his opponent to the ground in the now five years.
Zielinski doesn't have the timing and vision to dictate short game (to Jorginho, so to speak).
Zielinski doesn't have the vision and timing to dictate long game, that is, he does not have among his plays neither the high pocket (to Pirlo, to be clear, and that he forgive me the comparison), nor the low pocket (to the Rui Costa, to be clear, and that he too forgives me the comparison) comparison) above and behind the opposing defensive line to put the teammate face to face with the goalkeepers: in short, he does not have the last pass.
Zielinski never scores more than 5/6 goals per year on average.
Zielinski does not take a header from our defenders (or those of the opponents).
Zielinski never goes to take a foul with malice, to make us breathe when we are in trouble.
I could stay here for hours talking about what Zielinski doesn't have, but I don't want to, because for the attentive football observer what has already been written is enough.
And advances.
Although no one talks about it and no one writes about it, and although I must therefore continue every Sunday to look at what I look at, with an astonished gaze, while all the others tell me what they were saying to Troisi about Neri's new boyfriend.
In the meantime, however, know two things.
The first is that the "boy" is now 27 and a half years old, and that you will all end up like Balotelli admirers, other para-soccer phenomena who had not realized that he had nothing of the great footballer who was thought to be (a center forward who does not have the characteristics of a robbery score, who does not have a header, who does not plant the man on the ground in one on one, who has never had anything capable of identifying him as such if not a great set piece and a very good basic technique – but on the pre-requisites I have already expressed myself before): that is, it will be too late when the judgment on wasted talent (?) will have to be replaced by that on serious qualities never had.
The other is that we continue to play every Sunday with at least "2 missing": the usual Mario Rui and, in fact, Zielinski, and look that with "2 missing" sooner or later you end up behind in the standings, much more behind where we are ( otherwise, as Catalano would say, we would play 9: or not?).
I hug you all tightly.
Long live Troisi, long live the truth.