The application of WhatsApp UWP for Windows 10 and 11 keeps getting better, and now adds a useful unread message filter, among a total of four filters for chats. An interesting detail that will make it easier for us to manage conversations on the PC.
Let's remember that WhatsApp UWP (Universal Windows Platform) is a different app from the traditional PC app. For now it is in beta (testing), but it is being completely redesigned, and it has more and more functions. It is compatible only with Windows 10 and 11, as it is distributed from the Microsoft Store.
How to record voice calls on WhatsApp
Although the filters are not an essential feature (they are not in the main mobile app), it is interesting to see how WhatsApp for PC is becoming more powerfuland is not limited by smartphone versions.
These are the four possibilities to filter messages:
Not read.
Contacts.
Unsaved contacts.
groups.
has been placed a new icon in the upper left area of ​​the app, with three lines forming a kind of funnel. This is what the new function looks like:
If we choose the "Unread" filter a list of unread messages will appear: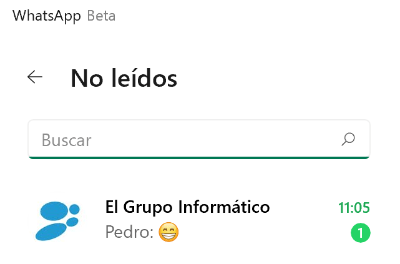 Chat filters initially debuted on WhatsApp Business for mobile, where they make the most sense as businesses talk to tens or hundreds of customers at the same time.
For personal use, the unread filter maybe the most usefulin case we receive a lot of messages and we have a forgotten conversation at the bottom of the chat window.
We have already explained how to install WhatsApp Beta on Windows, which is very simple, since it appears directly to download from the Microsoft Store. At this rate, the WhatsApp UWP version shouldn't take long to come out of testing and become the official version, since it already works much better than the traditional program, based on WhatsApp Web.
In the end, the chat filters in WhatsApp we will only use them in a timely mannerbut the interface of the app on PC has room to include more elements, so it is good that these types of extras arrive.
How to have WhatsApp without phone number