There's nothing better than fresh weekend tips from CityCrunch to have a great weekend.
Yes, the heat wave will be there, but good humor too, so there's no question of taking refuge in an air-conditioned place: we're taking advantage of the events that are available to us in the coming hours.
Friday, June 17, 2022
16 h 00 >
Lyon 7

> Inauguration
The City of Les Halles, who had ambienced a wasteland in the 7th arrondissement of Lyon last summer, returns for a most delightful season 2. The doors open this Friday; on site you will find a huge terrace with deckchairs and barbecue, but also an art gallery, a second-hand shop and DJ sets. It's from 4 p.m. to 1 a.m. and it's going to cost you the annual membership instead: €4.
More informations
---
18 h 00 >
Villeurbanne

> Musical aperitif
The team of Radio Nova settles at Rayon time for a musical and relaxed evening. On the program: concerts by David Walters (afro-electro) and de Fahron (rap). The live will be followed by a DJ set orchestrated by the Nova team. It's from 6 p.m. to 11 p.m. and it's FREE (on reservation).
More informations
---
19h00 >
Lyon 7

> Stand up
Want a good time of poilade? Direction the Patchork Café and the party Cosy Comedy Club. A nice skewer of comedians will come and swing their best punchlines. There is a first session at 7 p.m., another at 9 p.m. and admission is FREE (hat at the end to pay the artists).
More informations
---
20 h 00 >
Lyon 9

> Rock karaoke
You didn't get tickets for Hellfest? Come and shout your anger and your disappointment with your peers during the Karaoke Till Death organized by the bar Rock'n Eat. It's from 8 p.m. to 1 a.m. and it's FREE.
More informations
---
An incredible summer at the Grand Hôtel-Dieu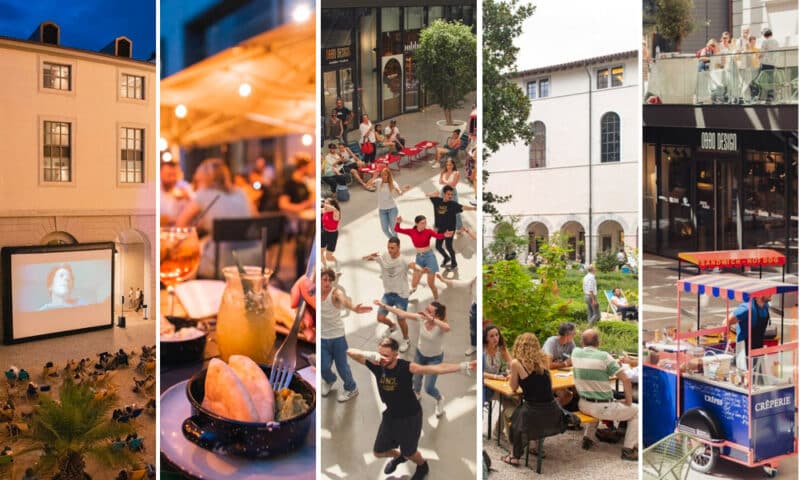 Open-air cinema, brunch-barbecues, wine and deckchair after-works, gourmet open air, jazzy dinners, workshops, entertainment and many other surprises, summer promises to be wonderful in the sublime and refreshing framework of the courses of the Grand Hotel-Dieu. In addition, a large number of events are free. Quickly take a look at the program, find the events you like and register!
More informations
---
20 h 00 >
Lyon 1

> colorful evening
Good sound, glitter, DJs, disguises and divinatory tarot, this is what awaits you at Collision with the evening Masquerade. The female collective Venus Factory will do everything to make sure you have a good evening. It's from 8 p.m. to 1 a.m. and it's FREE.
More informations
---
Saturday, June 18, 2022
9 h 00 >
Lyon 5

> Village gourmand
After 3 years of absence, the Village of Petit Paume returns to Vieux-Lyon for 2 days. 25 stands of art and food artisans will be there to share with you animations around their know-how and make you taste their products. It's 9 a.m. to 10 p.m. (and it's also Sunday) and it's FREE.
More informations
---
10 h 00 >
Lyon 7

> Vide-dressing
Nugget and his second-hand clothes are settling in this weekend at Sofffa Guillotiere. In addition to beautiful pieces to unearth at attractive prices, you will also find plants and accessories, designer jewelry and cakes. It's 10 a.m. to 6 p.m. (and it's also Sunday) and admission is FREE.
More informations
---
10 h 00 >
Lyon 2

> Braderie
Le People Relief do this Big Fair chez Heat this Saturday. In addition to second-hand clothes, you will find the usual food court stalls, but also games (molkky, pétanque, table football, etc.) and DJs from 3 p.m. It's 10 a.m. to 5 p.m. and the entrance is FREE.
More informations
---
10 h 30 >
Lyon 7

> Poster scholarship
Another cool thing to hunt for this weekend: movie posters! the Comedythe brilliant cinema in the 7th arrondissement of Lyon, is making its Poster Scholarship. The posters of the films released since December 2021 will be on sale at a nice price. Proceeds will go to Secours Populaire. It's from 10:30 a.m. to 4 p.m. and the entrance is FREE.
More informations
---
14 h 00 >
Lyon 5

> Concert under the trees
Imagine the picture: a grand piano and a cello in the middle of the archaeological garden of Estrées, all accompanied by regional wines and croque-monsieur. This is the nice moment proposed by Lyon Particle. It's from 2 p.m. to 8 p.m. and it's FREE.
More informations
---
14 h 00 >
Villeurbanne

> Open Air
Solstice, the new collective to follow closely, organizes its very first open air. It happens on the side of the Fabulous Canteen, in the heart of the Ferme des artisans in Gratte-Ciel. On the program: a great line-up with Xanart, Equinoxe, Pin Perdu et Nav but also cool things to eat with burgers, planks and anti-waste sandwiches. It's from 2 p.m. to 10 p.m. and it's FREE.
More informations
---
20 h >
Lyon 5

> choir evening
Looking for a bit of freshness on this hot Saturday night? Head to one of the coolest places in Lyon: the crypt of the Basilica of Fourvière. On site, you can listen to the concert of the choir Blok'Notes and you Lyon Metropole Orchestra. Chills and emotions guaranteed! It's at 8 p.m. and it costs 10 € in pre-sale.
More informations
---
Play for a chance to win a car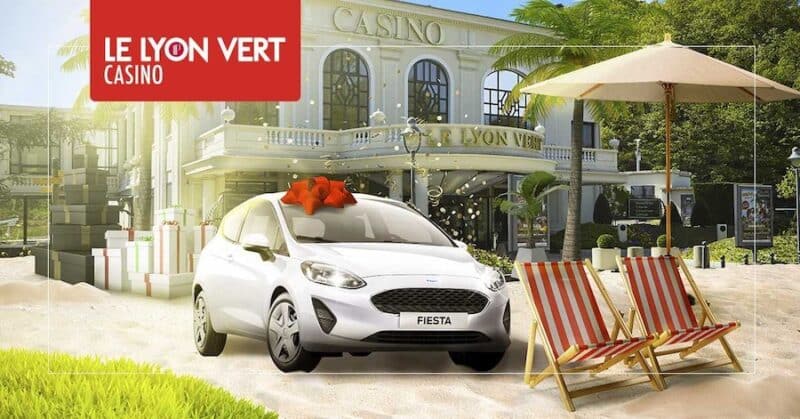 Throughout the month of June, the Casino Le Lyon Vert has set up a contest where you can try to win all sorts of things such as a dinner in their starred restaurant La Rotondea night in their Hotel Spa ***** or even a car ! To participate, nothing could be simpler: just edit a ticket with your carte Players Plus, on their terminal available in the casino. Put the ticket in the urn located at the entertainment center and you're done. The draw is Friday, June 24, you still have a little time to see if luck is with you.
More informations
---
23 h 00 >
Lyon 2

> Big party
Parties Artjacking are back at Sucre! This event which explores the new facets of hip-hop has no equal to drive us crazy! On the program for this edition: Lazuli, Young Thumb, Madijuwon, Louis Romeo et Name. It's from 11pm to 5am and it costs €12 if you arrive before midnight (€16 after).
More informations
---
23 h 59 >
Lyon 1

> Big party
And for a good session of house and disco, we end the night at Terminal and the party Disco House Session. Collective Dusty Nation will ignite the dance floor of the mythical club at the bottom of the Pentes de la Croix-Rousse with Saint Louïs, Pyxide & The Laughing Ben, Florent.Vt et Grooverneur. It's from midnight to 7am and it costs 7€.
More informations
---
In Lyon: the night has its charter!

Because celebration, music and conviviality can be combined with respect for others, the City of Lyon is relaunching its Charter for the Quality of Nightlife. Result of a collaboration between the various actors of the night, from the City of Lyon to the establishments of exits while passing by the prefecture, this device aims to reconcile the night activity essential to any large city and the tranquility of the inhabitants. However, the approach goes further than the simple subject of nocturnal noise since it also aims to protect night owls from possible risks (drugs, sexist and sexual violence, discrimination, etc.). In short, it's a great tool for imagining a more peaceful but equally festive night.
More informations
---
Sunday, June 19, 2022
10 h 00 >
Lyon 4

> Creators Market
L'Summerit is the large market of creators which settles on the Place de la Croix Rousse at the beginning of summer. About forty creators will exhibit their marvels. It's from 10 a.m. to 7 p.m. and it's FREE.
More informations
---
11 h 00 >
Lyon 6

> Creators market
Another market for creators, that ofLyonnaise stopoverin the 6th with a universe 100% Made in Africa. It's 11 a.m. to 7 p.m. and the entrance is FREE.
More informations
---
12 h 00 >
Lyon 7

> Creators market (yes again)
Like every last Sunday of the month, the Commune transform into bohemian market and brings in a dozen creators and craftsmen from Lyon. You can also eat at the food court stalls. It's from 12 p.m. to 5 p.m. and it's FREE.
More informations
---
14 h 30 >
Lyon 8

> Cult movie
Are you planning on going to the movies on this scorching Sunday? And if you go toLight Institute see the cult again on the big screen Thelma & Louise by Ridley Scott. This feminist road movie has not aged a bit. Susan Sarandon and Geena Devis are still great and we see Brad Pitt in one of his very first films. It's at 2:30 p.m. and it costs €8.50.
More informations
---
Notice to young businesses in Lyon: discover the LYVE-IN program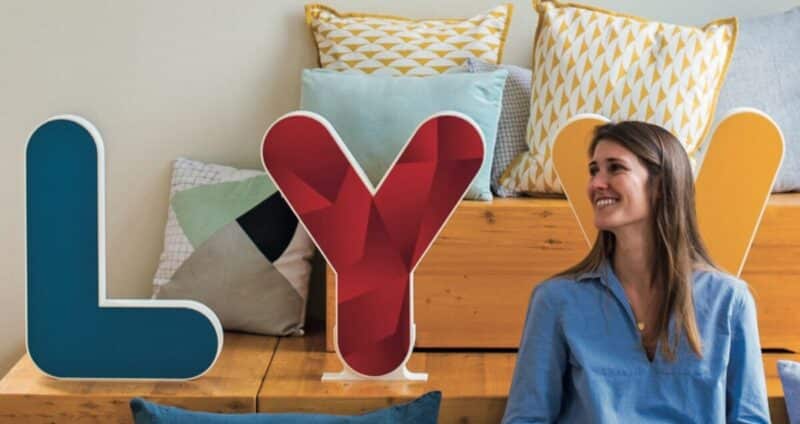 We have already told you about LYVE Festivalbut this time we would like to share with you one of their devices: LYVE-IN. This is a 4 month support program for companies already created or in the creation phase, intended to develop their commercial strategy, with the help of experts. In short, LYVE-IN will bring you a new networkpersonalized methodologies, a reserved place in their workspaces, concrete workshops and online training provided by EM Lyon.
To find out more, see our article
---
15 h 00 >
Lyon 2

> Open air
EDIT: the event has been postponed due to the heat wave We end the weekend with a beautiful open air on the side of the Molting station, the unmissable open-air party spot in La Confluence. The bars Madonna et GigThey will celebrate their birthday there in a Dolce Vita atmosphere. On the program: good sound, spritz and pizzas. It's from 3 p.m. to 10 p.m. and it costs €8.
More informations
---
Save the date: an unusual and danced tour of the Abode of Chaos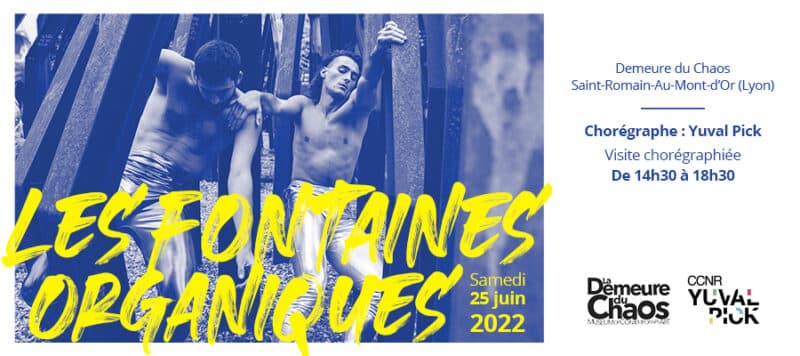 The Abode of Chaos and the National Choreographic Center of Rilleux invite you to live a unique moment on Saturday June 25 with the event Organic Fountains. To an original choreography by Yuval Pick, the CCNR dancers will take you on a tour of the legendary Monts d'Or contemporary art museum. Let yourself embark through the mazes and works of this exceptional building for a total sensory experience. It's this Saturday, June 25 from 2:30 p.m. to 6:30 p.m. (there will be 3 performances at 3 p.m., 4 p.m. and 5 p.m.). The show and admission to the Abode of Chaos are FREE.
More informations
---
Total cost for our tips: €49.50 (you should have enough left to buy an air conditioner!)
---
A few good links to finish
☕️ If you are looking for a brunch idea, here is our TOP 20 brunches in Lyon.
🌲 If you are looking for an idea for a walk around Lyon, we have what you need in our Walks section.
🎨 If you want to have an exhibition, take a look at our Culture section.
👶 If you have kids, head over to FamilyCrunch for our pick of cool things to do with the family this weekend.
📺 And you can also find our weekend tips on TV every Friday at 5:45 p.m. on BFM, in the show Top Outputs.