The Academy of Medicine, the High Authority of Health are scientific institutions of reference: however one can worry about the poverty of their arguments which seem more political and dogmatic than scientific.
Omicron, a more circulating variant despite vaccination coverage
The evolution of the more transmissible nature of the variants is observed in the contamination rates of households in contact with a sick case (or index) thanks to an indicator which is the secondary attack rate (SAR). The latter is, despite the high level of vaccination coverage, 42.7% for Omicron (7 studies) while it was 36.4% for Alpha (out of 11 studies), 29.7% for Delta (out of 16 studies) and 22.5% for beta (out of 3 studies).
Does an infected vaccinated subject contaminate his relatives less than a non-vaccinated subject? This central question is not explored by either the Academy of Medicine or the High Authority for Health in their opinion and argument on the question of the reinstatement of suspended caregivers…
Vaccinated as much contaminants as non-vaccinated
Part of the answer is given to us by a series of recent works. A study conducted using a PRISMA methodology tells us that of the few studies available, no significant difference in attack rate was found according to the vaccination status of the index case for the Delta and Omicron variants.
Vaccinated persons not significantly less contaminated than non-vaccinated persons
This meta-analysis of 4 studies during the Omicron period tells us that the attack rates according to the status of the subject, this time contact subject, vaccinated or not, although lower, were not significantly different: [non vaccinés (43,9 %) par rapport aux contacts vaccinés par rappel (32,7 %)] (P =0.16).
Infected vaccinees: a higher concentration of virus?
The quantitative value of the RT-qPCR threshold (Ct) of a SARS-CoV-2 infection represents the inverse of the viral load and is correlated with the culturable virus; thus, it can be used as an indicator of SARS-CoV-2 infectivity. Consequently, low Ct value implies high infectivity. A Qatari study published on May 27, 2022 studies the viral load by comparing vaccinated and unvaccinated over the Omicron period: this study reveals that a higher average viral load is found in vaccinated infected (Ct = 23.47) and this even with 3 doses (Ct = 24.21) whereas it is on average a little lower in infected non-vaccinated (Ct = 25). This observation is confirmed in a work published in the New England Journal of Medicine on July 21, 2022: people infected with the Omicron variants of SARS-CoV-2 not only excrete cultivable virus beyond 5 days after an initial positive test and especially with no difference observed according to vaccination status.
Infected vaccinated young people cough more than non-vaccinated ones!
A study published in The Lancet compared disease profiles, including symptoms, of 12- to 17-year-olds vaccinated with one dose, compared to those not vaccinated. During the Omicron period, most general symptoms had a lower prevalence in young vaccinated (n=2,882) compared to unvaccinated (n=707), but persistent cough and in adolescents, rhinorrhea, sneezing were more frequent.
And in hospitals, 100% vaccinated, the situation is deteriorating in 2022
While vaccination has been compulsory for the staff of hospitals and medico-social establishments since September 2021, while the second booster is now recommended by the DGS, certain indicators are deteriorating. Indeed, the Covids contracted in hospitals and the proportion related to care do not regress despite 100% vaccination coverage, with an expensive vaccination pass controlled at the entrances which seems ineffective. The Public Health France report from the end of June 2022 indeed reveals, in the first half of the year, " an increase in the proportion of transmissions during care and linked to visitors. These findings suggest a drop in vigilance within the health establishments that made the reports.
If the report notes fewer caregivers contaminated within the hospital, it already notes 360 grouped cases (22% of cases) in less than 6 months compared to around 347 grouped cases over the whole of 2021 (13% of cases) . When we know that an average grouped case includes 10 contaminations, we are around 3460 contaminations over 6 months declared in connection with care alone. The break in the application of barrier measures (41%), especially when caring for and welcoming families/visitors a major cause of nosocomial COVID identified in this report.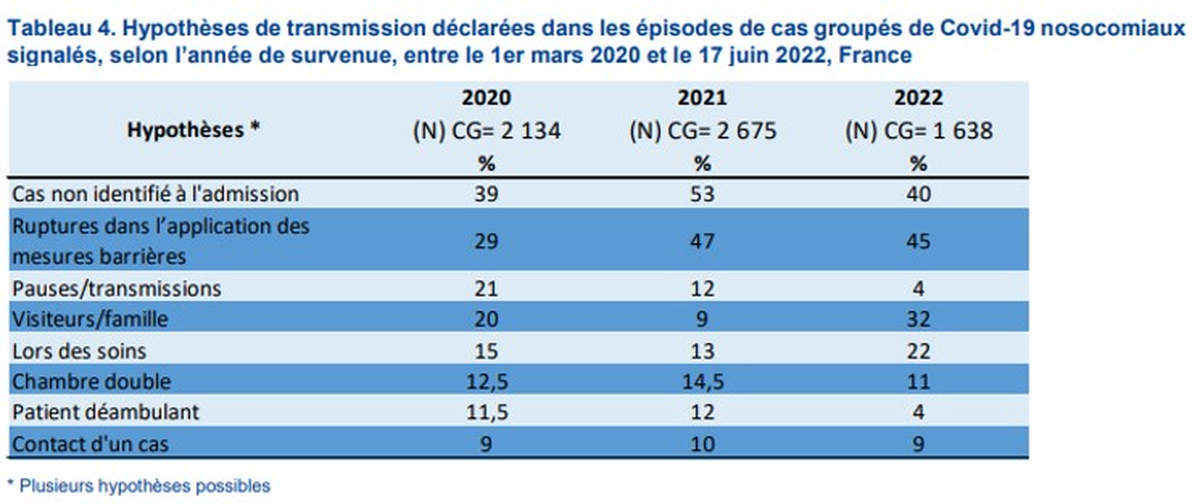 99.4% of UK population immunized
Too many experts reason in a binary way vaccinated/unvaccinated. Gold the protection of the population is intrinsically dependent on its immunization. Caregivers suspended like the rest of the population have been confronted with successive waves of COVID. In March 2020, they were on the front line and paid a heavy price, with the vaccine not available and the protective equipment missing…. In July 2022, how many encountered one of the versions of the virus in France? Mystery… ? Top secret… ?
The transparent data from the United Kingdom Health Security Agency (UK-HSA) shows that the presence of antibodies (positive anti-S serologies) in the population of blood donors is almost 100%. In fact, vaccination and natural infection made it possible to find antibodies in precisely 99.4% of donors over the age of 17 over the period studied, from January 31 to March 27, 2022. N, proof of the encounter of the whole virus, would concern about 45% of the population.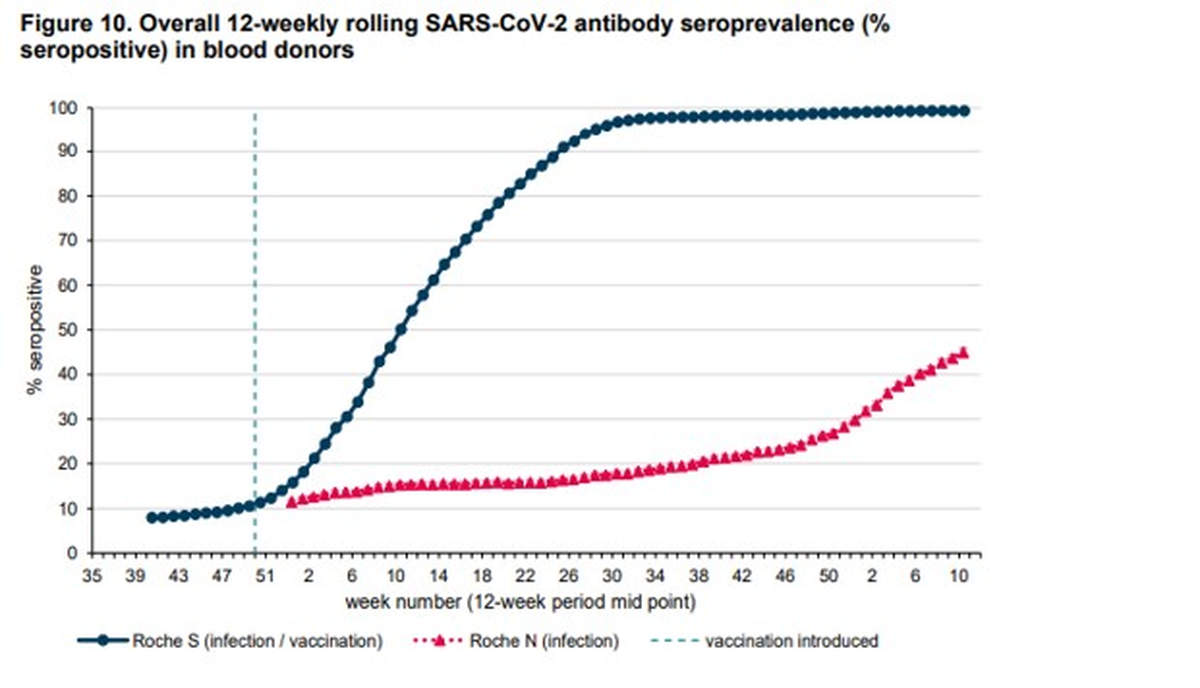 Immunity by natural way promotes mucosal immunity
We now know that natural infection, if it does not prevent reinfection by a recent emerging variant such as BA.4 or BA.5 (like vaccination, for that matter), strongly promotes mucosal immunity, which is essential to form a barrier to transmission. Thus, a study published in March 2022 shows that the neutralizing activity of saliva involved 45% of unvaccinated infected subjectsbut was only detected than in 10.3% of vaccinated subjects : it is however 92.6% in vaccinated and infected subjects. Infection likely plays a crucial role in first line immunity which is located in the oropharynx.
Natural immunity protects against subsequent severe forms
Natural infection also generates high-level protection against severe or fatal reinfection, according to the latest pre-published Qatari study. Thus, a suspended caregiver who has already contracted COVID would be both less likely to transmit, but also less likely to have a serious or severe form. The effectiveness of primary infection against severe reinfection, critical or fatal by COVID-19 was 97.3% regardless of the variant of primary infection or reinfection, and without evidence of decline over more than one year.
More scientific rationale for excluding the unvaccinated
Stigmatizing in 2022 non-vaccinated people who have mostly encountered the virus is ethically unacceptable. Leaving caregivers hanging out of the dying healthcare system should be questioning. At the same time, having infected positive caregivers work is worrying. Whether it be Antoine FLAHAUTworld renowned epidemiologist, Patrick PELLOUXpresident of the Association of hospital emergency physicians of France or the cardiologist of the CHU of Grenoble and LR deputy of Isère, Yannick Neudermany doctors, scientists and politicians openly plead for the reintegration of caregivers, because there is no longer any scientific justification for their exclusion.
The United Kingdom suspended the vaccination obligation in March 2022 for caregivers: the decision to suspend was validated by 90% of the 90,000 participants in a public consultation on the subject. In a statement, Health Minister Sajid Javid said at the start of the year "that with a better immunized population and lower hospital admission rates, it was the right thing to do".
Why wouldn't France follow…?
1/3 – Maintaining the suspension of unvaccinated caregivers is no longer scientifically sound. There is in fact no reason to require the vaccine among caregivers because it does not avoid or sufficiently reduce contamination with the new variants of the #SARSCoV2

— Antoine FLAHAULT (@FLAHAULT) July 20, 2022