Taxation andreported this Saturday afternoon that a single body was found, dismembered and charredand that the parties were in a burlap bag and scattered in some grassland in the vicinity of Magaldi and Benteveo, in the far west of Rosario.
After noon, staff from the Radio Command who was patrolling the area of ​​Benteveo and Magaldi, in the area known as Villa Fantasma, found the charred remains of a person inside a burlap bag. According to what was reported to The capitalof the body only the head and some other anatomical parts could be recognized.

They find a charred body and look for another corpse in a pit of a precarious house

Four arrested and a large amount of bronze seized in a raid on a junkyard
The policemen were alerted by some boys to the discovery of human remains while they were playing in an abandoned house that is presumed to be an aguantadero.
As detailed by the Prosecutor's Office, the box -located in the eighth of Benteveo and Magaldi- It consists of a room and a window without enclosures. It was also determined that the house had an illegal connection to the power line and that a water pump was in operation.. The police officers entered there, and noticed a strong nauseating odor coming from a burlap bag.
>> Read more: They find a charred body and look for another corpse in a pit of a precarious house
Inside the bag were found remains of a charred human body. In a subsequent survey of the surroundings of the box they were found human bones, which were later determined to be a match for the missing remains of the body found.
The first data provided to the investigation reported the disappearance of two people -a man and a woman- from the area, who would have some kind of connection with drug dealing.
hallazgo cadaver west zone.jpg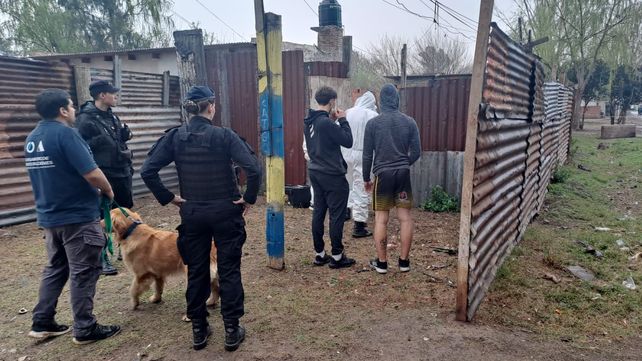 Police personnel work in the area where the charred corpse of a man was found, in Benteveo and Jacobacci.
Even finding a big pit motivated that the Homicide Prosecutor Patricio Saludttiwho was present at the place, arranged the revision of the same before the possibility that there was another body there. Volunteer Firefighters and the Canine Brigade participated in the search operation.
After the inspection, the presence of other bodies or human remains in the area was ruled out..
No testimonies from residents of the area were provided at the site and there are ongoing measures to determine the motivation, mechanism of the act and identification of the aggressor(s).
The found body was sent to the Legal Medical Institute of Rosario to perform an autopsy and expertise to determine its identity.