We are currently in a bear market that has led bitcoin to trade, today, between USD 28,000 per unit. This has generated uncertainty among buyers and investors, but for the top executives of the industry it does not seem to be a situation to be alarmed. Rather, they believe that it is a necessary action to get rid of the "bad actors".
In the interview shared by CNBC last Friday, May 27, they discussed the fall in the cryptocurrency market with a group of businessmen from the industry. For them, the market crash is happening because of the massive sale of stocks, such as those of the NASDAQ and S&P 500 and to the collapse of the TerraUSD (UST) stablecoin and its Luna tokenfacts reported by CriptoNoticias.
"We are in a bear market. And I think that's good. It's good, because you will eliminate people who were there for bad reasons," said Bertrand Pérez, executive director of the Web3 Foundation, an organization that seeks to advance the new stage of the internet.
Bertrand adds that during bull markets (that is, when everything is green), no one thinks of building. They all have their eyes set on making a fortune, which is completely wrong.mentions the businessman. If you invest for pure euphoria, with the idea of ​​becoming a millionaire overnight, you can make a serious mistake.
Crypto market liquidation is "necessary"
Polygon company co-founder Mihailo Bjelic echoed the sentiment, calling the crypto liquidation "necessary."
The market, in my personal opinion, got maybe a little bit irrational, or maybe a little bit reckless to some extent. And when times like this come around, a correction is usually needed, and at the end of the day it's healthy.

Mihailo Bjelic, co-founder of the Polygon company.
The massive sales of the two main cryptocurrencies, such as Bitcoin and Ether, it was triggered by a much broader drop in stock markets. In particular, the technological market. The decline was made worse by the crash of the dollar-pegged stablecoin TerraUSD (UST).
Brett Harrison, president of cryptocurrency exchange FTX US, mentioned that big institutional investors are also involved in the cryptocurrency market crash, as reported by CriptoNoticias. This is one more cause of the recent liquidation.
He added that there was a much broader decline in risk assets such as stocks, but that it is also affecting the price of digital currencies. This happens because there is much more institutional money in the cryptocurrency market than in the past. Major investors include MicroStrategy, Tesla and Square.
A long-term vision
Ripple CEO Brad Garlinghouse urged crypto investors to take a longer-term view.
"Bitcoin about two years ago, right now, was around $8,000. Now it is at USD 30,000. So yes, there has been a crash and a trillion dollars has gone out of the market. But when you zoom out a bit further and look at the long-term trends, I think you see that cryptocurrencies are here to stay."

Brad Garlinghouse, CEO of Ripple.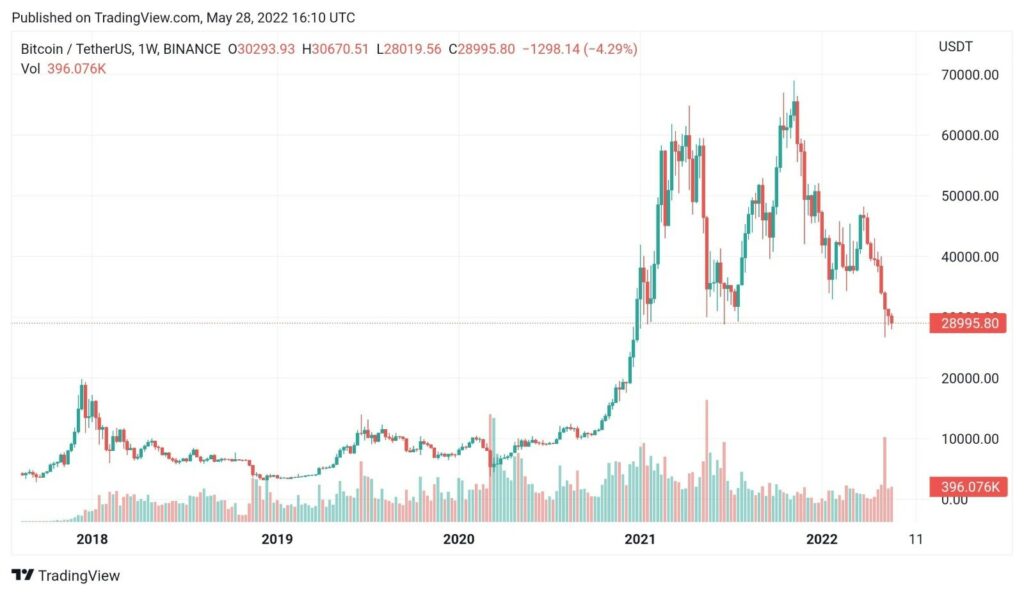 Recently, MicroStrategy CEO Michael Saylor was interviewed by Fox News where he spoke of Bitcoin as "the safest thing in a very uncertain world", as reported by CriptoNoticias. Saylor is one of the most influential institutional investors in the cryptocurrency market who, despite his bearish trend, claims that he continues to buy BTC as he considers it highly profitable.