The Stoltman brothers, two participants in the world strongman championship, traveled to London to challenge the Harlequins. Hot in front!
Yes, rugby players are known to be big and strong. Only when two of the strongest men on the planet come to challenge them, the notion of strength and greatness can quickly be revised. There, the Stoltman brothers, participants in the world strongman competition, came to London to face the Harlequins on different games. Those of the squat, athletics, goal (against Marcus Smith) or even the scrum. And in this last exercise, the two colossi fell on one of the strongest pillars on the planet at the push. In this case Wilco Kouw, this beautiful 125kg poulagasse, international with the Springboks and also passed through the RCT in 2019.
For the challenge, the 28-year-old pillar had to push the yoke with the two brothers on it, or 345kg of load all the same. Well unlike his teammates on the front row, Louw managed the exercise without flinching, thanks to the power of his thighs and his well-sheathed back. Impressive ! When we tell you that the future Bulls player is one of the most powerful pillars on the planet in melee…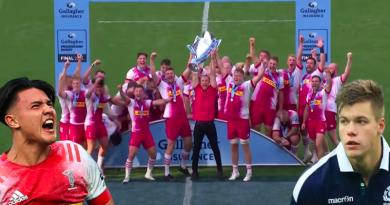 CHAMPIONS CUP. Do Harlequins have the most enticing 3/4 line in Europe?