Sport This Saturday, March 11 in London, the French three-quarter line was the source of an anthology test.
At the 70ᵉ minute, France are under pressure and must find a little air to maintain their large lead. If the victory seems acquired at Twickenham, the Blues know very well that the goal average will be decisive for a hypothetical title, in the event that Ireland loses against Scotland this Sunday. Consequently, you must not concede points, but above all, you must score them. However, the English push in front of the French in-goal. When they recover the ball, the Tricolores get carried away and confuse, which allows the English to negotiate a scrum, then a touch in the French camp. At that moment, the French try to play in the English defense and the light will come a few seconds later.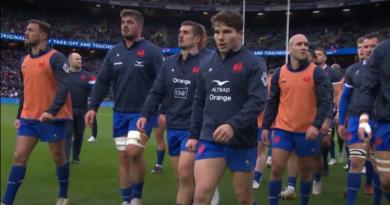 RUGBY. France "ruthless" and England in "absolute ignorance", here is the press review of the spanking of Twickenham
After a messed up ball by the local attack, Ethan Dumortier gets his hands on the leather. But the English are defending hard and rising quickly. It must be said that the score already peaks at 10 to 41, the locals do not want to aggravate the already announced humiliation. While Romain Ntamack recovers a ball that drags, Owen Farrell tries to defend on his blue vis-à-vis. Nevertheless, the Saracens opener does not bend down to tackle and Romain Ntamack slaps him. With only one free hand, he sends a chistera to Thomas Ramos. Subsequently, the latter transmits the precious object to his defense captain.
At that time, Gaël Fickou had few options: attack the line, pass to Moefana or kick it. Although the defense is disorganized, the center decides to play on foot. If he seems to take information on the bottom of the field at first, we see Damian Penaud making calls to him and preparing to run. Neither one nor two, the former Stade Français player adjusts a kick at the edge of the touchline. The rebound is favorable to Damian Penaud and the latter only has to adjust the number 8 Dombrandt facing him. After eliminating him, he runs to the Promised Land and dives there to bring a little more magic to the evening of the XV of France.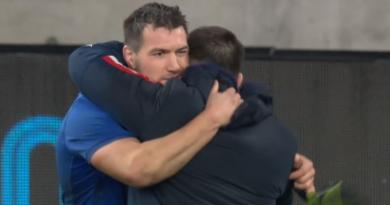 FRANCE RUGBY. Returned to the legend, the Blues affirm it: "We wanted to write our history."

It's completely crazy 🤯🤯🤯
#SixNations | #ENGvFRA pic.twitter.com/uMbaLyp6rY

— Six Nations (FR) (@SixNations_FR) March 11, 2023
With a smile as a bonus 😁
#SixNations | #ENGvFRA pic.twitter.com/4UUJpqilrj

— Six Nations (FR) (@SixNations_FR) March 12, 2023