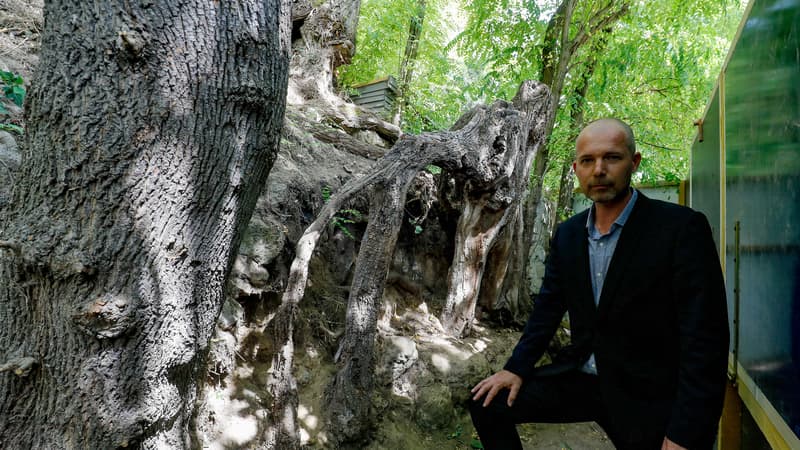 We know a little more about the last moments of Vincent Van Gogh, thanks to a postcard discovered by the scientific director of the Van Gogh Institute in Auvers-sur-Oise during confinement.
Roots, the last painting Vincent Van Gogh painted on the day of his death, revealed its secret: an old postcard was found showing a thicket with the same roots, revealed Tuesday the scientific director of the Van Institute Gogh from Auvers-sur-Oise.
The discovery was made while he was quietly filing documents at home during lockdown in April, Wouter van der Veen said. "My eye was caught by a detail on a postcard, a detail that appeared on Van Gogh's last painting". "The configuration of the roots and trunks on the postcard matched that on the painting."
On the postcard dating from 1900-1910, there is a hill covered with a thicket with trunks and roots. This Van Gogh expert then backed up his find in a book, Attacked at the root. It took a few weeks for the Van Gogh Museum in Amsterdam to validate the find.
"All kinds of theories"
Tuesday, took place in Auvers-sur-Oise, in the presence of Emilie Gordenker, Director General of the Van Gogh Museum, the inauguration of the exact site of the realization of the masterpiece, which will be protected by a temporary wooden structure , and could become a place of pilgrimage, 150 meters from the inn where the painter resided, suffering from fits of madness.
This canvas "had given rise to all kinds of theories, on the fact for example that he would have signed a painting marking the beginning of abstract art, of new art", noted the researcher.
"This picture, painted shortly before he shot himself in the stomach, on July 27, 1890, was indecipherable, because the place of the realization was impossible to locate".
Some "wanted Van Gogh to be the victim of society rather than the author of his life and death," he observed.
"Farewell letter"
But this painting is "a testament, a farewell letter. For him the thicket symbolizes the struggle of life. The trunks are harvested and, from the stump, new shoots appear".
"There is a consistency: it is the theme of life and death. For a year, suicide was an option for Van Gogh. It eliminates all these crappy theories, which did not do him any good. memory, such as the one claiming that he was accidentally killed by kids wielding a pistol, the Dutch expert said.
"What is extraordinary is that the main stump that we find on the painting is still visible today in the thicket", 130 years later, wonders Wouter van der Veen.