Published:
8 sep 2021 18:30 GMT

In the United States, a successful demonstration of combat drone swarm control was carried out by fourth and fifth generation fighter pilots in mid-flight.
The company General Atomics Aeronautical Systems (GA-ASI) announced on September 3 that it had conducted a demonstration with pilots of fourth and fifth generation fighter aircraft who piloted advanced semi-autonomous attack drones, such as the drone, in mid-flight. Loyal Wingman, developed by the American company Boeing to perform in groups.
During the test, which took place in Southern California on August 25, the pilot of a specially configured twin-engine Beechcraft King Air 200 turboprop that played the role of a fourth or fifth generation fighter aircraft and acted as a surrogate from a fighter jet, he was able to issue commands to a stealth General Atomics Avenger drone through a software application installed on a tablet-like device.
The company statement notes that the test demonstrated the ability to control unmanned aircraft "by providing increased awareness [situacional] and effectiveness to the combatant ".
"This flight builds on previous tests of passive long-wave infrared systems and continues to validate that Group 5 UAS aircraft [sistemas de aeronaves no tripuladas] they can perform a moving airborne target indication (AMTI), "Mike Atwood, director of advanced projects at GA-ASI, said in the statement.
Group 5 refers to the highest level in the US Army's drone categorization system and includes any drone weighing more than 1,320 pounds (about 600 kilograms) and having an operational ceiling of at least 5,500 meters, clarified the specialized portal The Drive.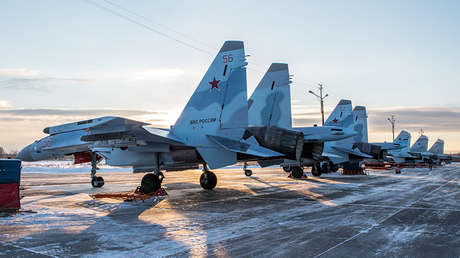 The portal indicates that judging by indicated, Atwood refers to multiple tests of drones equipped with infrared search and tracking equipment (IRST) for space tracking with different degrees of autonomy.
Thus, in August this year a fourth-generation American F-15 fighter for the first time used the new Legion Pod infrared sensor to shoot down an F-16 aerial target with a long-range AIM-120 missile, according to a statement from the Department of Defending.
The IRST infrared search and tracking system is a passive system, that is, it does not emit any type of radiation. A great advantage when it comes to making it difficult to detect.
However, this same characteristic reduces its scanning range, unlike radars that do emit detectable radio waves but have a greater range.