The Theater Museum celebrates two decades since its inauguration, being the reference of the Museums of the Caesaraugusta Route dedicated to the Roman past of Zaragoza. This Saturday he celebrates it with an open day in which a special audiovisual is inaugurated
Since its birth in 2003, by the Theater Museum by Caesaraugusta 866,406 visitors have passed, highlighting 2019 with 52,650 people. To celebrate, This Saturday, May 13, admission will be free and a special audiovisual production will be inaugurated.where both the discovery of the archaeological remains and the subsequent construction of the museum are explained.
The Roman theater of Caesaraugusta, whose archaeological remains were discovered during works in 1972, was declared Asset of Cultural Interest (BIC)in the category of Monumentby the Government of Aragon in 2001. It was the last to be built of the four Roman heritage site museums that make up the Ruta Caesaraugusta: Forum (1995), Public Spa (1999), River port (2000) and his own theater. It is estimated that she reached a height of 25 meters (the same one that is currently on the cover), with a capacity of 6,000 spectators and was the third largest in Hispania.
museum activities
The Theater Museum hosts a large number of activities in its facilities, since it is the space with the largest capacity of municipal museums and the only one with an outdoor area (in it Pulpit), as well as its own cafeteria.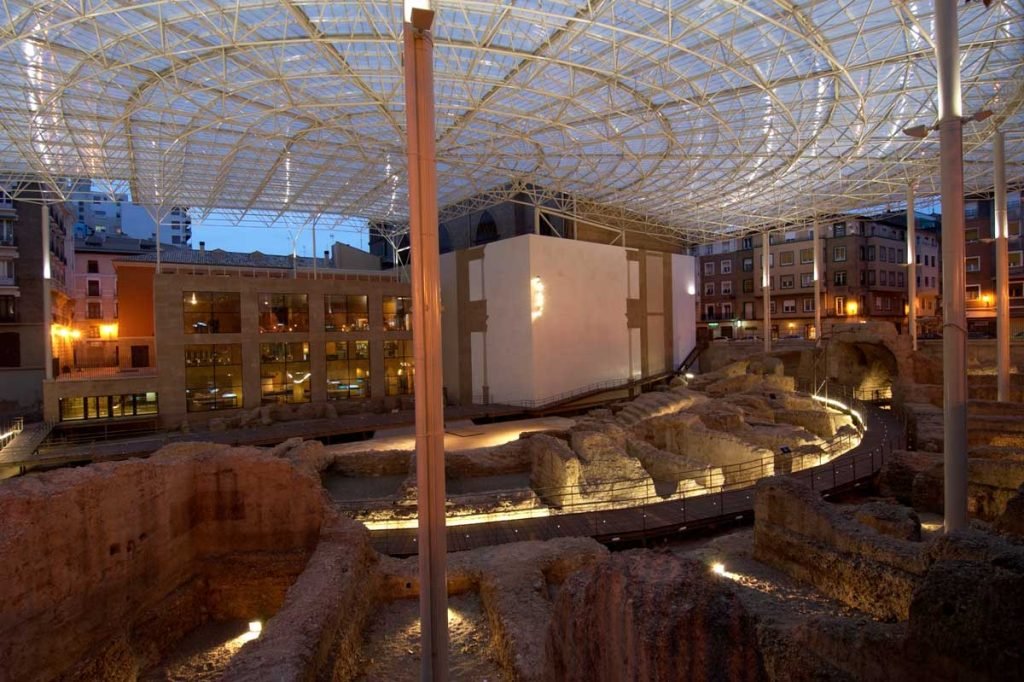 In the assembly hall, open meetings between authors and the public of the Caesaraugusta Reading Club are held, as well as live recordings of the podcast of the museums of the Route ("Historias Romanas") and the conferences of the cycle "Cooking Cultures", with a subsequent tasting on the terrace. Besides, the museum has become the headquarters of the Zaragoza International Film Festival and Saraqusta History Series.
These activities of the museums of the Caesaraugusta Route are joined by those included in other programs, such as "Museums and women" (in the theater the visit "Goddesses and mortals" is carried out, where the power of some Roman women is discovered), "To the museum with the family" (The protective bells) and the educational activities for schoolchildren.