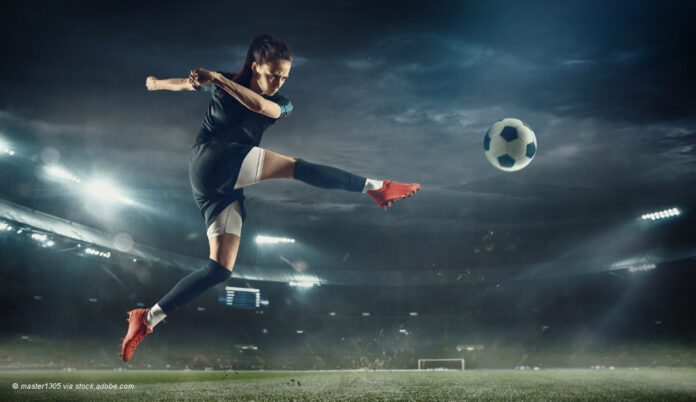 DAZN is expanding its live soccer portfolio around the Champions League and Bundesliga, Serie A, LaLiga and Ligue 1 with one of the most prestigious women's soccer tournaments.
advertisement
There will also be top European women's football live on DAZN during the summer break. In July, DAZN will broadcast the entire UEFA Women's European Championship 2022 live in Germany for all fans, bridging the gap until the start of the Bundesliga season.
DAZN has been granted the relevant broadcasting rights by SportA, the sports rights agency of ARD and ZDF, with the approval of UEFA. In addition to all live games of one of the most prestigious European women's football tournaments, DAZN will also make all highlight clips available to all fans on the platform and in social networks immediately after the final whistle. After 2005, the tournament is being held in England for the second time.
Germany meets Spain, Finland and Denmark in Group B
DAZN will be there live on July 6th at the opening game between England and Austria and will of course also broadcast the games of the German national team around national coach Martina Voss-Tecklenburg live. ARD and ZDF will also show the games of the German national team live. In Group B, the German team meets Spain, Finland and Denmark. The Danes are also the opening opponents of the Germans on July 8th. Kick-off is at 9pm at the Brentford Community Stadium in London. The final will take place on July 31 at Wembley Stadium in London.
Alice Mascia, CEO DAZN DACH, says: "We are delighted with the agreement for UEFA Women's EURO 2022. Women's football has enormous potential, as shown by the consistently positive response to our broadcasts in the first season of the UEFA Women's Champions League. We are very proud to be part of this positive development and to advance the sport towards a more diverse future."
DAZN vision: treat men's and women's sports equally
Women's football currently has unprecedented momentum both in Germany and internationally. Since this season, DAZN has been broadcasting the UEFA Women's Champions League worldwide (DIGITAL TELEVISION reported). In addition to increased media attention, the increased visibility of the competition helped, among other things, to several record crowds in the stadiums of the participating clubs. Just recently, FC Barcelona welcomed more than 90,000 spectators to two consecutive home games in the UEFA Women's Champions League. More than 20,000 spectators also came to the semi-final second leg of the Catalans at VfL Wolfsburg in the Volkswagen Arena and gave the Wolves a home game record crowd. The acquisition of the broadcasting rights for the UEFA Women's European Championship 2022 is further proof of DAZN's long-standing global commitment to women's sport.
The European Women's Championship now enriches DAZN's football offer with the Champions League, Bundesliga and international leagues such as LaLiga, Serie A and Ligue 1.
Source: DAZN
advertisement