The celebrations for the July 9th, they had, in addition to incidents around the central events, a curiosity that occurred in the independence square, located in the center of San Miguel de Tucumán, in front of Government House.
The historical revaluation carried out through works in the place was culminated with a marble plaque that exhibited the names of the three leaders, in order of hierarchy, belonging to the executive powers around the square: the president Alberto Fernandez, the governor of Tucumán, Juan Manzur, and the mayor of San Miguel de Tucumán, German Alfaro.
Alberto Fernández: "I apologize to the Bolivian people"
However, next to the name of the governor Juan Manzur An almost imperceptible error was noticed when writing his position: the plaque read "Governor of Tucumam."
As reflected in the local newspaper The Gazette, There were not many people who noticed the mistake at the time, but when reviewing the images of the day it had been recorded.
The plate was removed after 48 hours, according to information from the same medium.
What the full text said
"Plaza Independencia, Historical Revaluation (1685-2021). Hierarchy and enhancement Plaza Independence and surroundings. July 9, 2021. Alberto Fernández, President of the Nation. Juan Manzur, Governor of Tucumam. Germán Alfaro, Mayor of San Miguel of Tucumam ".
That final "m" describing the position of Juan Manzur did not go unnoticed. The plaque was eventually removed from the plaza.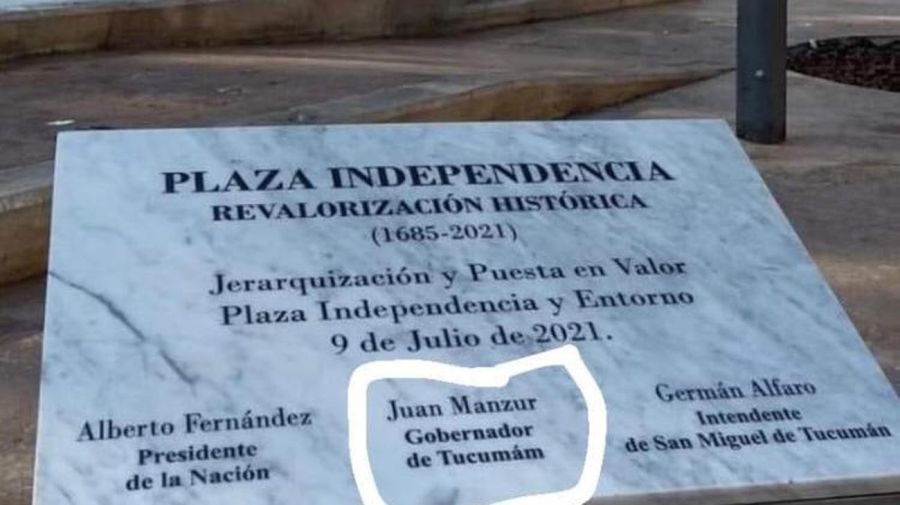 LC/FL