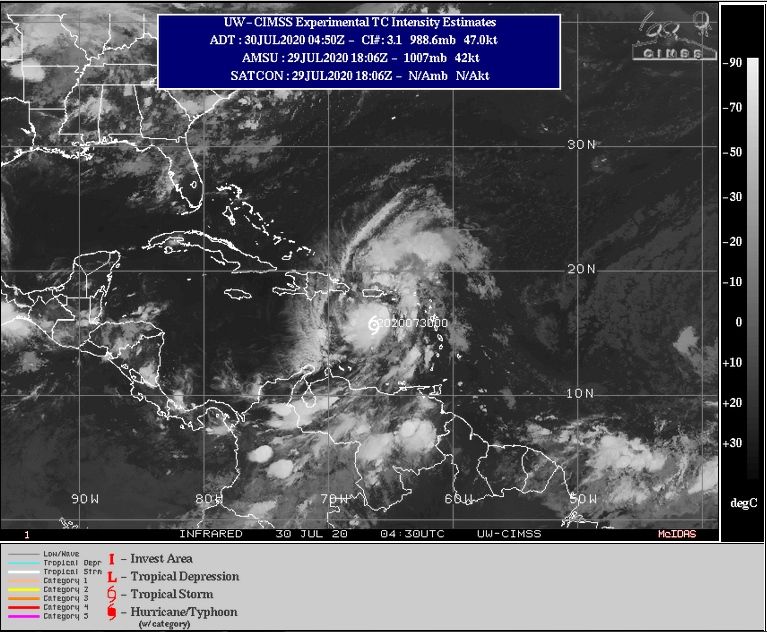 Isaías comes from INVEST 92L, which later generated the Tropical Cyclone Potential 9 with a very broad tropical low pressure system. The center of the tropical low was organized by concentrating and increasing its intensity and for this reason, the CNH / NHC classified the system as a tropical storm Isaías again in the late hours of July 29, 2020, when it was southwest of Puerto Rico.
Isaías was formed in the eastern Caribbean and is the first tropical storm with the ninth name, "I" of the Atlantic, recorded in July. The previous record was Irene on August 7, 2005.
Isaías has associated heavy rains organized in convective bands and storms, affecting the Leeward Islands, the Virgin Islands, Puerto Rico and the Dominican Republic. The rains will be well received in large areas as they are subject to significant drought.
According to the NHC, Isaías will produce heavy rains, floods and landslides in Puerto Rico, the Dominican Republic, northern Haiti, and southeastern Bahamas. All of these effects are a threat to human life and property in these areas.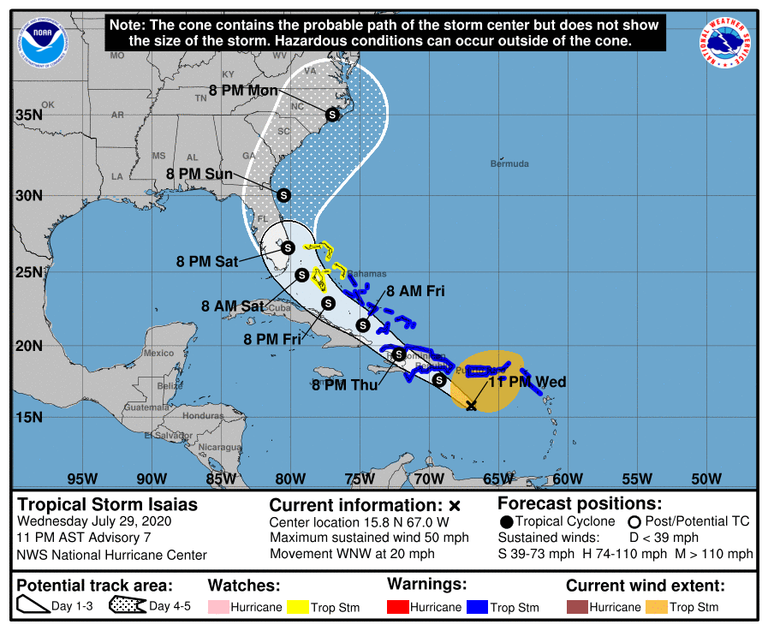 The system could bring heavy rain and wind to areas of Cuba, the northwest Bahamas, and Florida by the end of the week.
Isaiah's high uncertainty
The displacement and future intensification or weakening of Isaías has high uncertainty for several days. Several factors are linked to it:
The incipient tropical storm could interact with another group of convective foci in its trajectory.
There are orographic obstacles in its path that could weaken it and even destroy it.
A possible scenario in its displacement could take it to areas of moderate vertical wind shear that would not favor its development, for example, Cat. 1 hurricane.
Of course, it moves over very warm waters that favors its development.
The uncertainty of Isaías' behavior is high in his trajectory and intensity.
On his way north, and for this weekend, he could head to Florida or take a further west road and enter the Gulf of Mexico. Other scenarios would take Isaias further east and over the Atlantic in open water over Bermuda, as indicated in the figure above.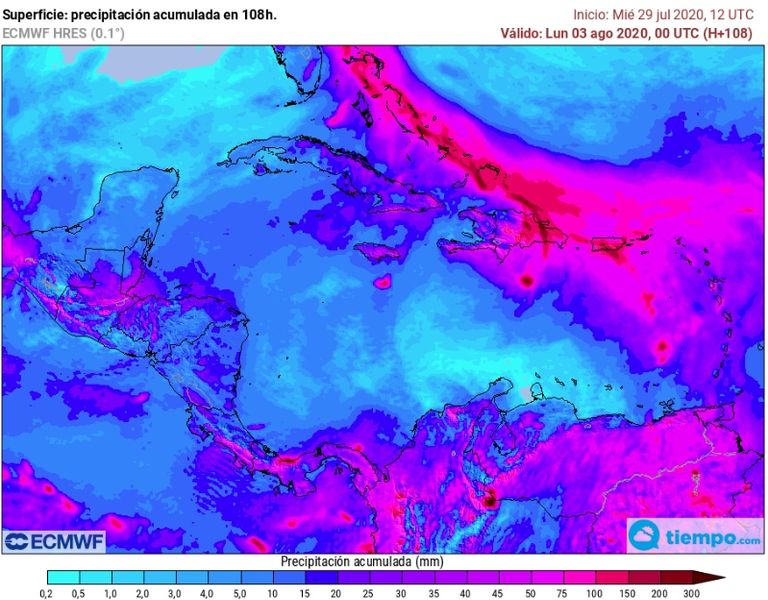 Predictions of an active season of this year 2020 are being fulfilled for now, as a cyclone named with the letter I It should be formed in the first decade of August, from the climatological point of view.
COVID-19 and 2020 hurricane season
An added problem to the effects of Isaías, or any tropical cyclone or hurricane in the area, is related to the social distancing imposed by COVID-19 in areas such as Florida or other Caribbean areas with infections, when people have to go to community shelters and be grouped together. Measures will have to be taken to prevent further spikes in contagion.
This entry was posted in News 30 Jul 2020 by Francisco Martín León.
.