Toyota Camry 2021 LE price drops by 22% in year-end offers. Camry Standard occupies one of the top three positions in the list of best-selling cars in the Kingdom; This is due to the distinctive equipment and additions in the car, which are rarely found in the Standard category in one of the competing car models. The 2021 Camry LA class is considered the best economic car ever from Toyota, knowing that the engine is a normal gasoline engine, not a hybrid, and the price is very suitable compared to the specifications. Today we are discussing with you the specifications of the 2021 Camry LE and its lowest price within the end of the year sale.
Toyota Camry 2021 LE-Class Specifications and Prices
This category is characterized by a 2500 cc 4-cylinder engine that generates 202 horsepower, and despite the engine's power, Toyota Camry LE 2021 Standard is the most economical car among competitors with an excellent rating, as it gives you the ability to walk 18.3 km using one liter of 91 gasoline, automatic transmission Eight-speed tiptronic and front-wheel drive. The price of the 2021 Camry Standard has decreased to 84 thousand and 900 riyals within the offers of the Abdul Latif Jameel Motors Company, instead of 108 thousand and 500 riyals.
The 2021 Camry LA-Class comes with a huge black chrome grille that is more distinctive than the previous year's model, with full LED lighting, high and low LED lights, as well as rear fog lights and side mirror signals. The 16-inch electric wheels backed by the Auto Hold feature are made of iron. The 2021 Toyota Camry Standard also features four rear sensors and chrome trim on the entire window frames, but there is no integrated rear camera.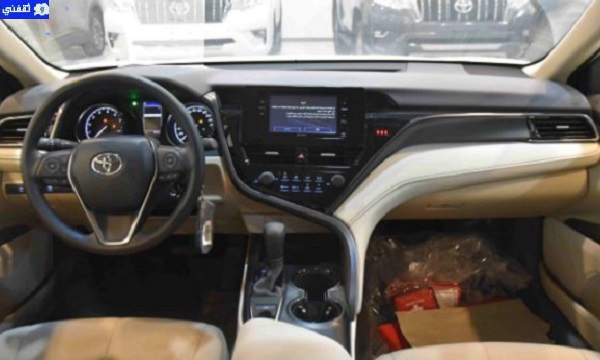 Camry 2021 Standard Class
Toyota Camry LA 2021 comes with a beige interior design with velvet fabric seats with center bolster for the rear seats, and features remote entry, automatic door locks, and electric one-touch auto glass. It also features an information screen that supports Apple CarPlay and Android Auto, charging and power outlets and a manual air conditioner with rear air conditioning vents. You can control the audio system and cruise control in addition to the trip meter via the steering wheel. The car has ABS brakes with electronic stability system and tire sensor, as well as two front airbags and five seat belts in the 2021 Camry LE.