Joaquin Oviedo would please the RCT very much, which would like to secure the services of this very promising player and the salary claims which are still very affordable.
Whether you are a USAP enthusiast or just a fan of the Top 14, you know the fair value of the boy. Joaquin Oviedo, 21-year-old Argentinian, is still only on a hopeful contract in Perpignan and yet many clubs are fighting for him. He may not be the player with the most media coverage in the championship, but he is nevertheless on track to be, one day, one of the very best 3rd lines in France, and more if you like. And that, an armada like that of the RCT understood it well, she who would like to bring him to the Rade next year, according to the Midi Olympique.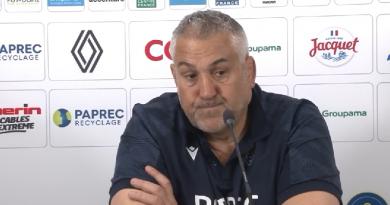 RUGBY. TRANSFERS. Urios made a choice, 8 PLAYERS should leave Clermont at the end of the seasonIt must be said that Oviedo is still at a good price on the market (yes, that also counts…) and could represent the future in Mayol, well surrounded by his compatriot Facundo Isa. If the Puma (1m91 for 113kg) is tracked by several teams, it is the Toulon club which would be the most determined to afford its power and especially its impressive activity in defense. So what will the former Jaguares choose for his first professional contract? Of course, staying at USAP is also an option for him, even if the Catalan club must also get rid of some non-JIFFs for next season. One thing is certain, whoever obtains the boy's signature will make a big splash, even if many are not yet aware of it!