Epic Games Store has been updated by offering two new free games for PC on the occasion of its already traditional promotion that offers one or more weekly gifts, specifically every Thursday at 5:00 p.m. (Spanish peninsular time). This time, it offers these three games for free, which will be available at zero cost. until May 11:
No the Kangaroo

(29,99 )

Horizon Chase Turbo

(15,99 )

Against All Odds

(Free)
with permission of Horizon Chase Turbothe great driving arcade that the Epic Games Store has already given away on previous occasions, No the Kangaroo is the most notable of this selection of free games: in our analysis we told you that "it doesn't try to innovate and it shows, but even so it manages to offer a fun and visually very stimulating experience". Finally we have Against All Oddsa multiplayer platformer thug that has been released for free on the Epic Games Store.
How to get this free game for PC on the Epic Games Store?
Get the game for free from the Epic Games Store it only requires that we have a user account open on the platform, and if we don't have it we can always create one for the occasion. We do not need an active subscription or a paid account, but simply access the store and purchase this game without paying for it. Next we explain this simple process Step by Step:
Sign in or register on the Epic Games Store.
Access the page of No the Kangaroo.
Click on 'Get' and the 'Checkout' window will open.
Agree to share your email address with the game publisher.
Click on 'Place order' and then on 'I accept'.
Follow the same process from the page of Horizon Chase Turbo and the page of Against All Odds.
Done, you already have the new free game of the week on the Epic Games Store.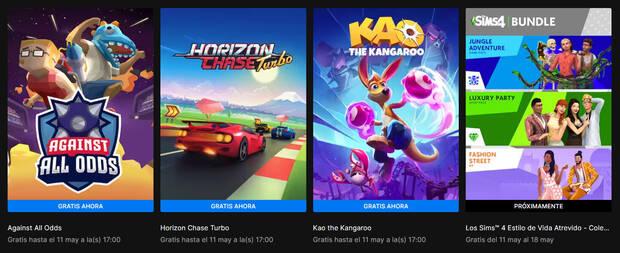 In addition to these three new free games, the Epic Games Store has announced that next week it will offer a bundle for the sims 4 at no additional cost for those who wish to claim them from May 11 to 18. The simulator is now free-to-playso this promotion gives us the following extra content packages:
The Sims 4 Daring Lifestyle – Collection
The Sims 4 Jungle Adventure
The Sims 4 Glamorous Party Stuff Pack
Los Sims 4 Fashion Street – Kit