One of the best games released last year is without a doubt Assassin's Creed Valhalla. And if you haven't had the chance to play the game yet, now is the time to do so.
Because it is now possible to play Assassin's Creed Valhalla for only six euros. And that is obviously a very good deal to take advantage of.
Assassin's Creed Valhalla for six euros
There is only one small snag in the grass. This Assassin's Creed Valhalla deal is tied to Ubisoft Plus. That is the gaming service of the company that is comparable to the Xbox Gamepass. For a fixed amount per month you get access to a game catalog that you can go crazy with. And if you have not taken out a subscription to the service before, you can now try the first month for six euros. However, the service is only available on the PC, so it's useful if you have a powerful machine at home.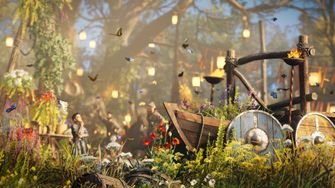 In addition to Assassin's Creed Valhalla, you will also get access to a number of other major games. I can wholeheartedly recommend Immortals Fenyx Rising to you. In addition, you can also get started with Watch Dogs Legion, Anno 1800, Rainbow Six Siege and many other titles. You only have a month to try them, though, so you'd be wise to really focus on Assassin's Creed and then see if there's anything else worth your time.
A top game
So going wild for six euros with Ubisoft Plus is a good deal. And if you like Valhalla, you can renew your subscription or eventually purchase the game yourself. Then you can take the progress you make and then get started with the first expansion of the game. You can read the review of it here.
Wrath of the Druids: Assassin's Creed Valhalla Continues