In today's market, every Porsche 911 is special, but when one is advertised with the attributes "Limited Edition" and "Exclusive", it must be something very special. Like this widowmaker going under the hammer at Silverstone on August 28th.
When the 911 "930" Turbo celebrated its world premiere at the Geneva Motor Show in 1973, it created a completely new set of rules for the "Supercar" category. At the time, Lamborghini was busy designing a successor to the Miura, while Ferrari released the latest exponent of the Ferrari 365 family, the 365 GT/4 Berlinetta Boxer with a twelve-cylinder engine that, unlike all did not wear its ancestor in the classic V-shape for the first time. Porsche had to show the world why Zuffenhausen was the top address for sports car construction in terms of performance and sophistication. And that's exactly what the 930 Turbo did.
The model with the characteristic rear spoiler in the shape of a whale fin still enjoys a legendary reputation today. And not just because it was unpredictable to drive and its rear tended to wag in winding passages. The Turbo was technologically a new beginning for Porsche, at least for the street models. Because its charging technology benefited directly from the Porsche 917/10 and 917/30 models used in the Can-Am series in 1972 and 1973 – albeit with a somewhat smaller "turbo lag". The 930 stunned the car world and was built until 1989.
Before production ended, Porsche created a very special "Limited Edition" for the occasion: the 930 LE. The 3.3 liter engine installed as standard from 1978 was used; but not with 300, but thanks to the factory performance increase (WLS) 330 hp. For optical tuning, the vehicles were then sent to the "Exclusive" department, where each of the 50 specimens was carefully completed by hand.
The result is really remarkable. To set it apart from the regular Turbo, Porsche offered numerous bespoke no-cost options. These include body-colored rims, a wider choice of interior and exterior colors, heated and power-adjustable seats, or a gold "Turbo" lettering sewn into the back of the seats, to name just a few. The air intake openings on the rear fenders, on the other hand, were reminiscent of the famous "flat-built" models of the 911 Turbo.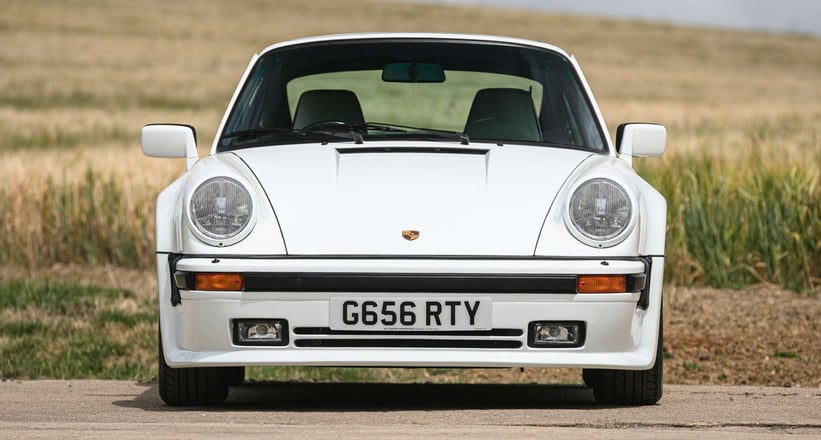 With first generation 911 prices skyrocketing and regular models of the 930 easily topping six figures, we're keeping the estimated £140,000 – £180,000 for this example, first registered to the Chairman of Newcastle United Football Club on 1st August 1989 Right-hand drive and a mileage of around 40,000 kilometers for a real bargain. Would you like to put it in your garage? Be sure to bid at Silverstone Auctions' Classic Sale at Silverstone on August 28th!