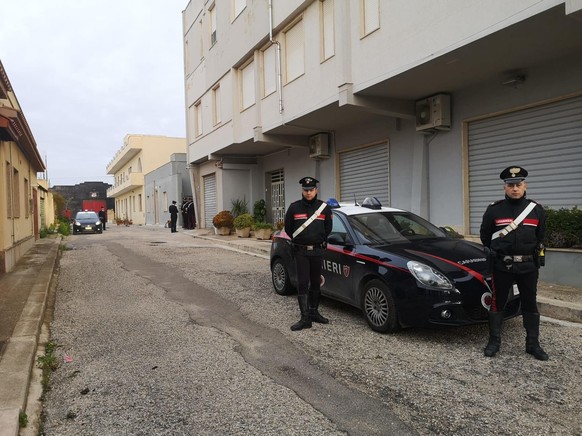 This is where Denaro hid.Bild: keystone
After the arrest of mafia boss Matteo Messina Denaro in a hospital in Palermo, investigators have also found his last hiding place.
The most wanted criminal in Italy for years was last in a residential building in the small town of Campobello di Mazara, not far from his Sicilian birthplace of Castelvetrano. During the night of Tuesday, Carabinieri and special forces searched the 60-year-old's apartment. As Italian media unanimously reported, the investigators secured luxury items such as expensive clothing or watches. However, no weapons were found in the two-story building.
With the searches, the security authorities want to gain further insights into the organization of the Sicilian Cosa Nostra. Above all, there was hope that Messina Denaro kept the so-called archive of Salvatore "Totò" Riina in the nondescript house in a residential area.
The mafia godfather was arrested in Palermo in 1993; but accomplices – including, according to investigators and key witnesses Messina Denaro – were able to remove documents and records from his apartment before the police arrived.
Matthew Messina MoneyBild: keystone
Whether the archive or parts of it are in the building was not yet known on Tuesday afternoon. The searches and police analyzes were still ongoing, and the street was cordoned off.
Denaro, who had been in hiding for 30 years and evaded arrest, was arrested Monday at a private clinic in Palermo. He had been treated for cancer there for about a year.
He was then flown out of Sicily on a military plane and taken to a high-security prison in the city of L'Aquila in Abruzzo, the Ansa news agency reported. The prison, around an hour and a half's drive from Rome, specializes in the incarceration and isolation of serious criminals from the mafia.
However, many Italians and top politicians demanded that even after the arrest of the Mediterranean country's most wanted criminal in the fight against the mafia, the support networks should be dismantled. Outrage was caused by the fact that the Cosa Nostra boss apparently hadn't left his home region for three decades, but the police still didn't catch him. (aeg/sda/dpa)
You might also be interested in:
In Paris, an original drawing of the comic adventures of "Tintin" by the Belgian artist Hergé is going under the hammer. The auction of the title page of the volume of "Tim in America" ​​is to take place on February 10th.