Madrid
Updated:
save

Related news
After cloning, tagging and expressing 26 of the 29 proteins from SARS-CoV-2, the virus that causes COVID-19, in human cells and identifying the human proteins associated with each, an international team has identified 69 compounds Pharmacological, some already approved for other diseases, that could become the treatment for COVID-19. The pharmacological agents that showed the most promising antiviral activity are: mRNA translation inhibitors and regulators of Sigma1 and Sigma receptors.
The data revealed today in « Nature »show more than 300 protein interactions involved in SARS-CoV-2 infections, of which about a fifth serve as targets for existing drugs. In the study, in which the Spanish researcher participated Adolfo García Sastre, co-director of the Global Health & Emerging Pathogens Institute and the Icahn School of Medicine at Mount Sinai in New York, it is claimed that some of the drugs that can act on these proteins have been shown to have antiviral action in laboratory tests.
These findings, Nevan Krogan of the University of California (USA) reported at a press conference, suggest that there is potential to develop treatments for COVID-19 by reusing drugs that are already approved or under investigation for other conditions.
This international team has located 332 interactions, including 66 human proteins that can be targets of 69 known compounds, including 29 US-approved drugs. and 40 compounds in clinical or preclinical trials.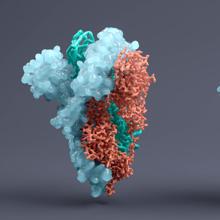 In a second step, they tested a subset of these agents to identify two groups that had antiviral activity in laboratory experiments, although, they note, they have not yet conducted tests on individuals with SARS-CoV-2.
Antiviral agents acted through two mechanisms: blocked protein translation (a key process for viral replication) or targeted specific receptors (Sigma1 and Sigma2) to interrupt virus replication.
Among the first, Krogan referred to zotatifin, a powerful in vitro inhibitor of SARS-CoV-2 that is already in phase I, or plitedpsin (Aplidina) the drug that the Spanish company Pharmamar is testing in a multicenter study to assess the safety and efficacy profile in patients with Covid-19 who require hospital admission in which three hospitals in the Community of Madrid participate.
Regarding those that target specific receptors (Sigma1 and Sigma2) to interrupt virus replication, Krogan pointed out some of the most significant: «antihistamines, such as chloperastine or clemastine; antipsychotics, such as haloperidol; antimalarials, such as hydroxychloroquine; hormones, such as progesterone; anxiolytics, such as syramesine, or others that are in the preclinical phase that are promising, such as PB28 or PD144418 ".
He also commented that drugs that interact with Sigma1 and Sigma2 receptors can also have an attack on the virus from different mechanisms, something that for this researcher is very relevant because, he pointed out, «We know that it will take a combination therapy, from different approaches, such as the combination with antivirals such as remdesivir, to end the coronavirus».
Experts believe that knowledge about the mechanisms of SARS-CoV-2 infection in humans and the identification of drug targets have the potential to guide new therapeutic pathways for the treatment of COVID-19. In addition, they recognized that all this scientific knowledge that is being generated thanks to the close collaboration between institutions will allow us to approach in the best possible conditions COVID-22 or COVID-24.
.