Updated:
save

On July 10, 2020, the Spanish Agency for Medicines and Health Products (AEMPS) authorized the first medicine for the specific treatment for SARS-CoV-2 virus infection (Covid-19) in adults and adolescents over 12 years of age and with a body weight of at least 40 kg. Specifically intended to treat those patients with pneumonia who require supplemental oxygen.
Remdesivir is really a prodrug, that is, a harmless substance that turns into a drug inside the body when it is metabolized. It belongs to the family of nucleotide analogues and works by inhibiting a virus enzyme indispensable for its multiplication. The studies carried out so far with this antiviral have confirmed that it has in vitro activity against SARS-CoV-2.
Expedited authorization
With this activity in mind, both the United States Food and Drug Administration (FDA) and the European Medicines Agency (EMA) accelerated their 'conditional authorization'. After all, in clinical studies this antiviral had shown a clinically significant effect in terms of the time required for recovery of Covid-19 patients with pneumonia who required supplemental oxygen.
Furthermore, it was found to be a well tolerated drug and that its adverse effects were mild. Consequently, the EMA decided that remdesivir's benefits were greater than its risks and recommended that it be approved for use in the European Union.
In the context of the public health emergency and the urgent need for effective treatments for Covid-19, remdesivir obtained a "conditional marketing authorization" in June. This approval modality implies that more information about the drug is expected to be obtained from the developer (Gilead Sciences), which is required to provide new clinical data to complete current information on the efficacy and / or safety of the medicine.
However, despite the speed of authorization by these regulatory agencies, the drug is not yet available through the usual channels. Specifically in Spain, remdesivir is only authorized, but not commercialized. Until the antiviral is effectively marketed, treatment can only be accessed through authorized clinical trials and through access to medications in special situations (compassionate use), in the same way as from the onset of the health crisis by the Covid-19 pandemic.
However, the incumbent laboratory has guaranteed the AEMPS that it has a sufficient stock of remdesivir in Spain to cover the current epidemiological situation. Likewise, it has informed the Agency that it is increasing its production capacity worldwide in order to satisfy higher needs if necessary.
Has there been any change since its approval?
In principle, there has been nothing new regarding its security profile. The most common adverse effect of remdesivir, in healthy volunteers, is increased levels of liver enzymes in the blood, a sign of liver stress, while the most common adverse effects in patients with Covid-19 are the sickness, which can affect 1 in 10 patients.
However, new recommendations from the Spanish health authorities have appeared. To avoid specific tensions in the supply of this drug, the AEMPS published on July 28 its recommendations for the treatment with remdesivir of patients with Covid-19. The AEMPS recommends using remdesivir only in situations where it has shown the greatest benefit, that is, in hospitalized patients with Covid-19 who require supplemental oxygen, but who are not receiving mechanical ventilation or oxygenation by extracorporeal membrane systems (ECMO).
This recommendation is based on the data provided by the NIAID-ACTT-1 randomized clinical trial in hospitalized patients with Covid-19. This study confirmed that severely ill patients who received remdesivir had a shorter recovery time than those who received placebo. However, no difference in recovery rate was observed between patients who were receiving mechanical ventilation or ECMO at the start of treatment.
On the other hand, although the regulatory agencies initially recommended a total treatment duration of at least 5 days, but not more than 10 days, the AEMPS has changed the pattern. She currently recommends a treatment duration of a maximum of 5 days. It is based on data from an open, randomized study in which the effect of two time regimens of treatment was compared. The results of this study showed that, in hospitalized patients with Covid-19 who did not receive mechanical ventilation or ECMO, treatment with remdesivir for 5 or 10 days had a very similar clinical benefit.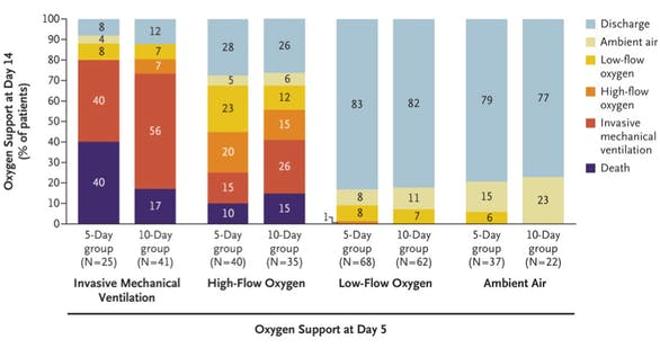 Finally, the AEMPS does not recommend the use of remdesivir in patients with mild or moderate Covid-19, since in the same study previously cited, no obvious clinical benefit was observed in them.
In the remaining cases of patients infected with SARS-CoV-2, the AEMPS considers that it is necessary to wait for more scientific evidence to be available, and indicates that its use should be framed within the scope of clinical investigations.
If remdesivir is authorized, why isn't it marketing for global use?
It may seem incongruous that a drug is licensed but not marketed. However, this is not an unusual situation. Authorization is an administrative act that allows the laboratory to start marketing, but sometimes, for different reasons, time passes between both acts.
In this specific case, surely this delay in the availability of stock has occurred due to a massive purchase, which makes the laboratory have to increase its production. To which is added the enormous controversy surrounding its high marketing price.
Even so, in our country we do not have to fear for the lack of this medicine, since hospitals have different mechanisms available to access it.
And what happens if the situation worsens? Spain ends a week marked by an increase in infections, which are approaching 1,000 in a single day, according to data reported by the Center for Coordination of Health Alerts and Emergencies. There are currently 361 active outbreaks of coronavirus in Spain, which have 4,100 associated cases.
Managing these numbers, and the percentage of patients who would require antiviral treatment, unless the severity of cases increases dramatically, a lack of supply of this drug cannot be expected for the subgroup of patients in whom remdesivir is indicated.
Francisco López-Muñoz. Full Professor of Pharmacology and Vice-Rector for Research and Science at the Camilo José Cela University, Camilo José Cela University.
José Antonio Guerra Guirao. Professor of Pharmacology and Toxicology. Pharmacy faculty. Complutense University of Madrid., Complutense University of Madrid.
This article was originally published in The Conversation.
See them
comments
.