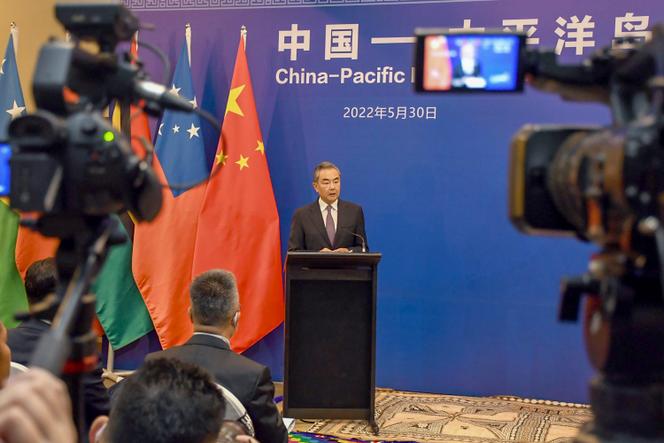 One of the smallest states in the world, Micronesia, has just inflicted an improbable diplomatic setback on the Chinese giant. While the Indo-Pacific is the new battleground between the United States and China, Beijing attempted a daring move: to have the South Pacific states sign cooperation agreements that would have placed them in its orbit. . Wang Yi, the Chinese foreign minister, is currently embarking on a ten-day trip to tour states less populated than a small Chinese city. Leaving on May 26, he was to successively go to the Solomon Islands, Kiribati, Samoa, Fiji, Tonga, Vanuatu, Papua New Guinea and East Timor. He also had to perform a " virtual visit " in Micronesia and have video interviews with his counterparts in the Cook Islands and Niue.
The Fijian stage, on May 29 and 30, was the most important. This is where a meeting was held between Wang Yi and all of his colleagues. Beijing's objective was to conclude agreements strengthening cooperation in various sectors, such as the economy, but also the mapping of the seabed, the exploitation of natural resources, and above all the training of law enforcement and the cybersecurity.
Read also:
Article reserved for our subscribers

China "ensures the security" of the Solomon Islands and imposes itself in the Pacific
But in a letter sent in May to his counterparts, the president of Micronesia sounded the alarm. The draft agreement, largely pre-drafted by China, aims to substitute a multilateral relationship – China on one side, the South Pacific on the other – for the current bilateral relations and to "steer the loyalty of the Pacific in its direction", he explains. In the summer of 2021, Micronesia signed an agreement with the United States allowing Washington to set up a military base there.
The "discussions continue"
On Monday, despite a message sent by President Xi Jinping, Pacific leaders said they did not accept the "common development vision" proposed by Beijing, due to the lack of regional consensus. In addition to Micronesia, Papua New Guinea and Samoa – as well as Palau, which diplomatically recognizes Taiwan and was not invited to this meeting – would have opposed China's designs. This must therefore be content with an agreement relating in particular to agriculture, climate change and the reduction of poverty. Beijing refuses to speak of failure and affirms that the "discussions continue" publishing, in stride, a « position paper » on its relations with the South Pacific. This includes a 15-point "vision" as well as 24 concrete commitments. None of these relate to security.
You have 48.62% of this article left to read. The following is for subscribers only.