DuckDuckGo, the search engine focused on preserving the privacy of its users, has announced the arrival of DuckAssist. This AI-powered service is reminiscent of ChatGPT.
The AI ​​war continues at search engines. After Bing ChatGPT and Google's plan with its Bard assistant, it's DuckDuckGo's turn to embark on artificial intelligence. The search engine announced that it too was going AI on March 8, 2023 in a blog postwith a new tool: DuckAssist.
« DuckAssist is the first in a series of AI-assisted search tools and search engine updates "says the company. " It's free (and no registration required!) and available today on the DuckDuckGo search engine. »
From the screenshots provided, DuckAssist works directly on the search page, not in a separate window. " If your question has a simple answer on Wikipedia, DuckAssis can appear and use artificial intelligence to anonymously generate a short, sourced summary of what it found on Wikipedia. »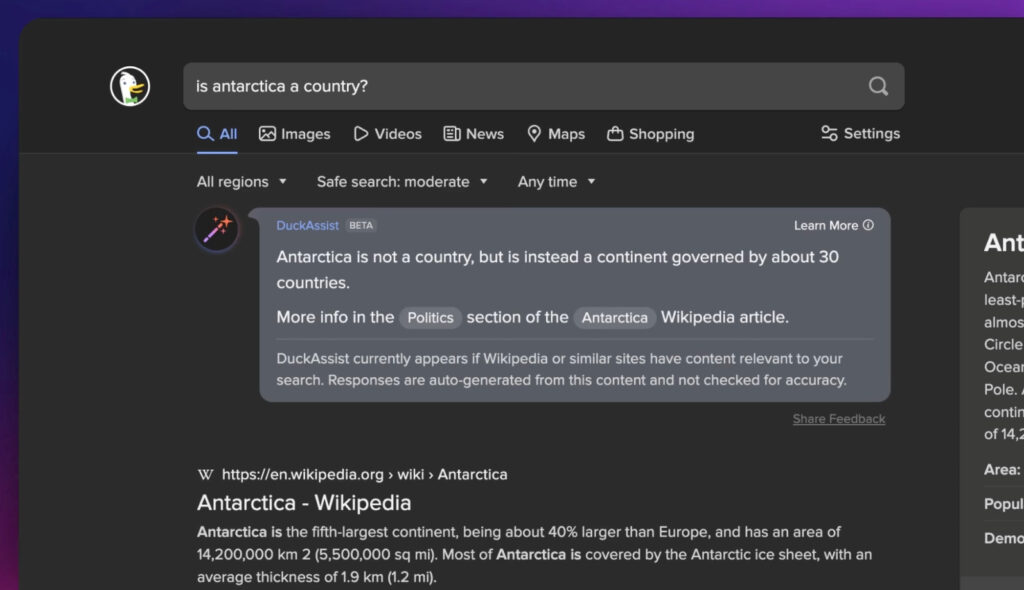 Another artificial intelligence based on OpenAI?
Specifically, how will DuckAssist work? The tool will answer the questions by scanning a group of specific sources ", indicates the site. " For the moment, he consults Wikipedia, and occasionally Britannica (the encyclopedia in English, editor's note). It is for this reason that users will have a better chance of getting help from DuckAssist if the answer they are looking for is clearly listed in the online encyclopedia.
What artificial intelligence is DuckAssist based on? DuckDuckGo's answer is unclear. In its publication, the search engine only says that its tool is based on " OpenAI and Anthropic technologies which isn't much help. It is NextINpact which provides the answer: DuckAssist reportedly uses OpenAI's Davinci model (a 2019 version of GPT-3) and Anthropic's Claude model.»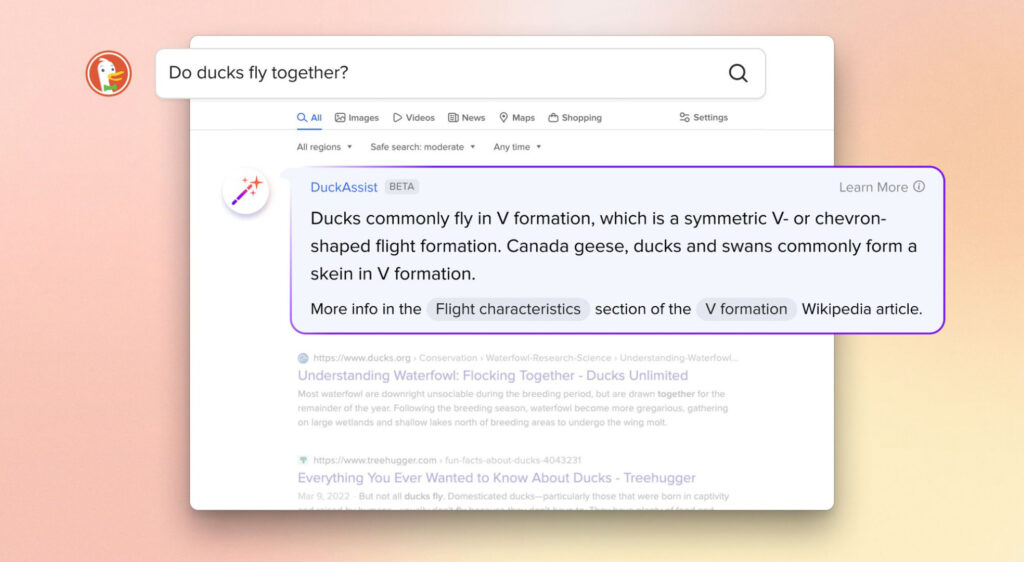 If OpenAI is known as the company behind ChatGPT, Anthropic is, conversely, still relatively unknown. Yet it was founded by OpenAI alumni, and recently received $300 million in investment from Google, according to NextImpact. The company could therefore be called upon to play an important role in the future in the AI ​​war between search engines.
But, can Anthropic's work prevent ChatGPT errors? TechCrunch, qui a pu tester Claudethe model developed by Anthropic, says his first impressions of AI are " good ". However, " like ChatGPT, the system suffers from limitation, and can give answers to dangerous questions (for example, how to make meth at home), and presents facts which are however false ". There is still a lot to do.
---
If you liked this article, you will like the following ones: do not miss them by subscribing to Numerama on Google News.