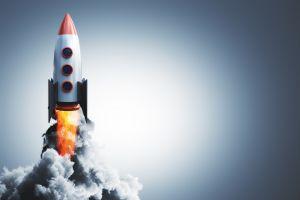 The price of Bitcoin returned Sunday July 26, 2020 above the symbolic $ 10,000 mark. The last time the price of Bitcoin exceeded $ 10,000 was on June 2, 2020, when it hit $ 10,200.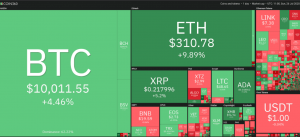 $ 10,195 is the price that the most famous cryptocurrency hit on July 26. According to a Cointelegraph article, it seems that one of the reasons for this increase is the massive close-out of short-term contracts (shorts).
It is indeed possible that BTC went from the $ 9,700 zone where it was stagnant to more than $ 10,000 in just a few hours due to liquidations. shorts.
It appears traders have taken advantage of recent surges in some altcoins that have been performing well recently and sought to protect their gains. As an example, Ethereum (ETH) went from $ 247 on July 23 to $ 322, which represents a gain of 30%.
As of this writing (3:30 p.m. UTC + 2), Bitcoin is trading at $ 9,878 according to CoinMarketCap.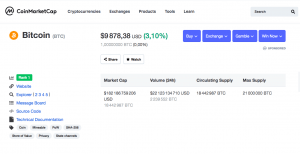 Also Read: Three Ways To Earn Bitcoin For Free.
A new resistance
Massive selloffs of long contracts at $ 10,000 also suggest that the $ 10,000-10,200 is an area of ​​strong resistance. Indeed, barely had Bitcoin reached $ 10,200, when its price dropped back below the $ 10,000 mark, putting an end to the rise.
Ethereum above $ 300
Ethereum is also on the rise. While it was dragging around the $ 250, it also posted a nice rise and hit as of this writing $ 306, according to CoinMarketCap.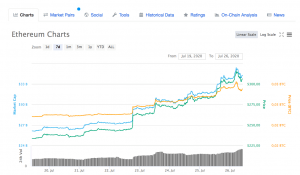 _________________________________
Follow our affiliate links:
To buy cryptocurrency; SEPA Europe zone and French citizens:
To buy cryptocurrency in Canada:
To buy cryptocurrency around the world:
To invest in mining or masternodes:
To transact your cryptos anonymously:
To generate interest from your bitcoins:
To secure or store your cryptocurrencies:
To accumulate crypto while playing:
In poker on the CoinPoker gaming platform
To world fantasy football on the Sorare platform
________________