The Finns beat the Germans in the semifinals. The decisive meeting will take place on June 6
Photo: Match Finland – Germany (Global Look Press)

The Finnish ice hockey team beat Germany 2-1 in the semifinal match of the World Championship in Riga. The meeting took place at the "Arena-Riga".
As part of the winners, the goals were scored by Iiro Pakarinen (14th minute) and Hannes Bjorninen (19). The losers were scored by Matthias Plachta (32).
In the final match, the Finnish national team will play against the Canadian team, which was stronger than the Americans in the first semifinal (4: 2). The final and the match for third place will take place on June 6.
The Canadian national team reached the final of the IIHF World Championship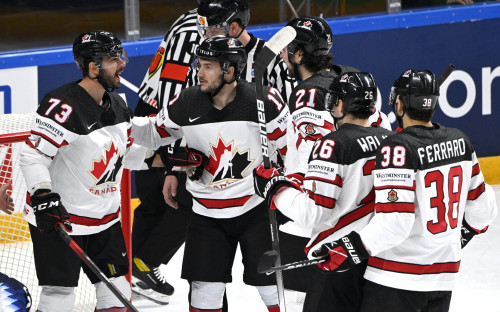 In the quarterfinals, the Finns beat the Czechs (1: 0), and the Germans defeated the Swiss in a shootout (3: 2). The last time the Germans reached the semifinals at the 2010 World Cup, then they finished fourth. In total, the FRG national team has won two silver and two bronze medals in the world championships in its history.
The Russian national team finished the fight at the quarterfinals stage, losing to the Canadians in overtime (1: 2).
The current world champion is the Finnish national team, which beat the Canadians in the final of the 2019 tournament. In 2020, the tournament was not held due to the coronavirus pandemic. The Canadian national team has won the world championships 26 times, the Finns have won three times.
You can find more sports news in our Telegram channel.
.