News hardware The most expensive TV in the world is out and costs the price of a small apartment
For 100,000 euros, you can afford a lot of things … like an LG OLED TV R: this is a very high-end roll-up model, which is not intended to be sold in stores, as we can 'imagine.
In January 2018 at CES in Las Vegas, the LG brand presented an ambitious prototype TV witha 65-inch OLED display flexible enough to roll up completely in a cabinet. The kind of high-tech device that feeds the fantasies of technophiles, moviegoers and gamers, and which, today, is a reality in the catalog of the South Korean manufacturer: it is the
LG SIGNATURE OLED R, sold the trifle of 100 000 euros.
LG OLED R, a TV like no other
This colossal price for a television set can be explained by the concentration of innovation it contains: flexible OLED screens are still rare on the market and apart from a few smartphones from Samsung, few products are available to the general public. The LG OLED R's 65-inch ultra-thin screen features self-emissive pixels which offer a very wide viewing angle, contrast and optimal colors. In addition, it allows the screen to be very thin, which is particularly useful for it to roll up without getting damaged. The piece of furniture in which it is "stored" is none other thana 100 Watts sound bar which acts as Home Cinema 4.2.
Otherwise, it is compatible with many multimedia systems including Google Assistant, Amazon Alexa, Apple AirPlay 2, and Apple Homekit. This makes it possible to transform this astonishing TV into a hub allowing the home automation of the home in which it is installed to be controlled.
Far from being the best LG TV for video games!
In addition to having to pay 100,000 euros to buy the LG OLED R, you have to be patient to take advantage of it. Indeed, like all pioneering and expensive high-tech products, this TV is made to order by the manufacturer, which announces a delivery time of eight weeks. A situation which also explains its exorbitant price, because it is generally the mass production that allows to lower the costs of consumer devices.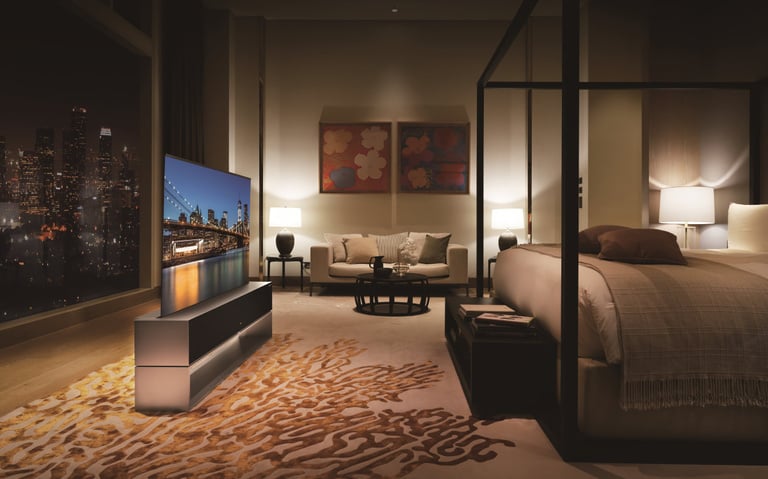 The irony in all of this is undoubtedly the fact that the LG SIGNATURE OLED R isn't even the best LG TV for playing video games. Indeed, although there are many HDMI 2.1 ports to connect the new generation PS5 and Xbox Series consoles, as well as Auto Low Latency Mode (ALLM) technology, AMD's Variable Fresh Rate (VRR) and FreeSync are , for their part, to absent subscribers. Too bad, since they are found on the latest 4K Ultra HD televisions from LG, like the
65 inch LG OLED65G1, much more affordable and perfectly suited for playing video games.
Still, this roll-up TV is a bit of a dream and it sets the tone for what awaits us, in the more or less near future, in our living rooms.
Through akazan, Writing jeuxvideo.com
MP