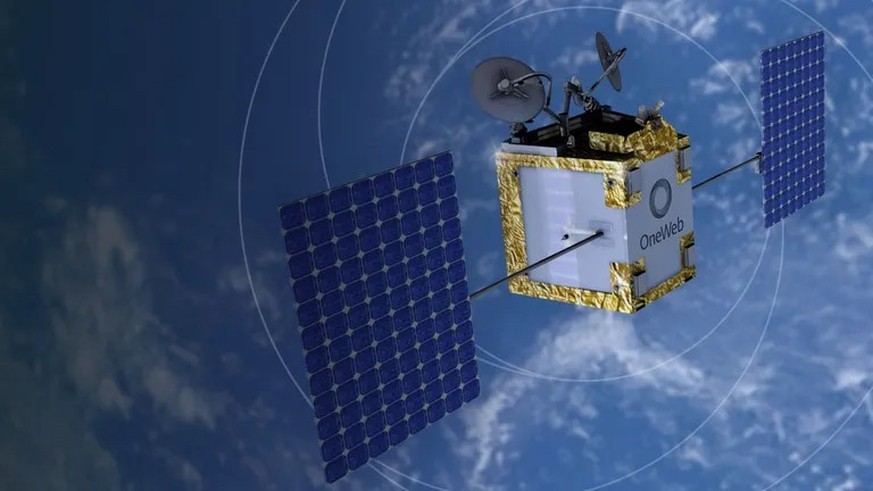 Internet satellite from OneWeb: The British company wants to launch more than 600 such satellites.Image: OneWeb
OneWeb will launch new communications satellites into space tonight. The rocket for this comes from competitor SpaceX.
It's the first big rocket launch in the new year: Elon Musk's space company SpaceX wants to launch 40 new internet satellites into space on Tuesday morning. The satellites come from the London-based telecommunications company OneWeb – a competitor of Musk's Starlink.
The OneWeb satellites are to be launched by a Falcon 9 rocket. The reusable rocket will take off and land at the Cape Canaveral spaceport. The event will be broadcast by SpaceX on the YouTube video service.
Here is the live stream on Tuesday (on YouTube)
OneWeb wants to launch 648 satellites in order to be able to offer a global Internet. Previous satellites from the London company were mainly launched into orbit by Russian Soyuz rockets.
After the outbreak of the Ukraine war, the company had to switch to alternative space providers. The choice fell on SpaceX and the Indian space organization ISRO, which launched 36 satellites into space last September.
Airbus develops the internet satellites
OneWeb is a joint project of the European aerospace and defense group Airbus and the US telecommunications company OneWeb, behind which is internet pioneer Greg Wyler. Airbus is responsible for the development of the satellites.
In 2019, the first satellites were launched into space aboard a Soyuz rocket from the Kourou spaceport in French Guiana. User terminals on Earth communicate with the satellites in space.
In addition to OneWeb, Musk's space company SpaceX also regularly launches new Internet satellites into space under the name Starlink. Because this is improving network coverage worldwide, the company now offers receivers for ships, mobile homes and airplanes.
Sources
This is how Apple's satellite emergency call service for the iPhone works
How to dispose of old satellites in space
Video: srf
You might also be interested in:
The competent supervisory authority FAA is struggling to modernize outdated computer systems of air traffic control.
A damaged database at the US Air Traffic Control Authority caused the massive problems in US air traffic on Wednesday: The reported heise.de on Friday and referred to a message from Federal Aviation Administration (FAA). The authority also assured that there was still no evidence of a cyber attack.