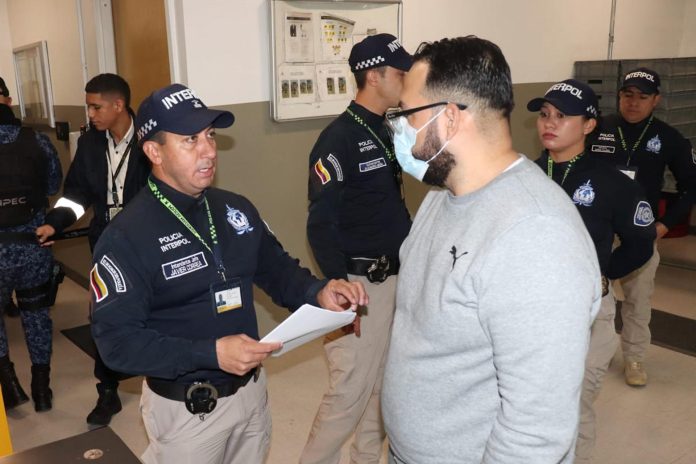 Colombian authorities extradited a citizen of the country to the United States for the first time for distributing fentanyl between 2017 and 2019 in the states of Pennsylvania and New York, the Colombian authorities reported this Monday. Police.
"After exhaustive police cooperation work, the first extradition by the national government of the Colombian citizen Dabinsson Niño Meyer was carried out from the city of Bogotá to the United States," the institution detailed in a statement.
Niño Meyer, along with his organization, were responsible for distributing large quantities of fentanyl for three years in the United States, the country most affected by the appearance of this drug.
The 39-year-old detainee will have to answer in the United States for the crimes of drug trafficking, distribution and possession of fentanyl, which were the tasks carried out by all the members of this organization.
The man was detained for extradition purposes by the Colombian Police last year in a rural area of ​​the municipality of Acacías, in the department of Meta (center).
Fentanyl is a powerful synthetic opioid 50 times stronger than morphine and the cause of the worst drug crisis in the history of the United States, where more than 70,000 people died last year from overdoses of this substance.
Thus, the Administration of US President Joe Biden is seeking greater cooperation with Mexico and China, countries it considers exporters of this drug, to stop its flow.
According to the Biden administration, the Mexican Sinaloa and Jalisco Nueva Generación cartels produce fentanyl in clandestine laboratories using chemicals and cosmetics that they legally acquire from China and then traffic and distribute in the United States.
It is not manufactured in Colombia
During 2022, the Colombian Police seized 1,439 vials of fentanyl throughout the country, and so far in 2023 they have seized 1,281. Of these, only in Medellín has it seized 381 vials, while in the rest of the country it has seized this substance in the departments of Sucre, Risaralda, Antioquia, Bolívar, Valle del Cauca and Norte de Santander.
The Minister of Justice, Néstor Osuna, acknowledged in an interview with EFE that there is fentanyl in Colombia, however, there is no evidence that it is being manufactured in the country, that is, that it is imported.
«To properly dimension the problem, I would tell you the following: from 2012 to 2022, around 27,000 people died in Colombia, in whose autopsies some psychoactive substance was found (24,000 for alcohol, 1,600 for cocaine, 30 for fentanyl). So that gives us the dimension of the problem, we are not going to deny it," he said.
Independent journalism needs the support of its readers to continue and ensure that the uncomfortable news they don't want you to read remains within your reach. Today, with your support, we will continue working hard for censorship-free journalism!