Hello.
The term ecosystem has devalued itself greatly in recent years, companies often include all their products and services under one brand heading. Marketers draw a certain person of the ecosystem, who, on the one hand, is emotional and joyfully chooses their products, on the other hand, is rational and buys them at a discount. Once I got into a conversation with a practicing psychologist, showed a presentation of one of the ecosystem operators, in response I heard something amazing – the image of a buyer asks for the pages of a textbook on psychiatry, there are almost no such people around us, and this pleases.
It is clear that marketing collects the image of the buyer often from the opposite, adjusts it to contradictory products that are created within disparate companies, often living separately and united very conditionally. But that's not even the point here, we've reached a point where the influence of ecosystems has become noticeable and often harmful. This is the collection of a mass of information about a person and his behavior, limiting his capabilities at the request of unnamed persons within the company – the owner of the ecosystem, the lack of feedback and the ability to somehow influence the processes that occur regarding your ability to use even your own information. Corporations take advantage of the absence of external regulation, which is vital, we need the rules of the game – clear, transparent and understandable to everyone. To avoid decisions. made by people on emotions.
Here's an example that describes the problem of ecosystems amazingly. In 2016, the Pixel smartphone from Google was released, it was sold online in the USA, users ordered it from their Google accounts. Some buyers decided to make money and bought the Pixel for themselves, but immediately sent it to New Hampshire, a reseller. The latter, after the sale, transferred part of the profits and, as a result, everyone earned without exception. Google's policies stated that a person buys a smartphone for personal use and not for sale. Of course, here a separate question arises, who wrote such rules – you get a smartphone and get full rights to do whatever you want with it. Break, drown, sell. This is your item!
But some manager at Google, not from a great mind, decided that two hundred people were violating the terms of the user agreement and acted without equivocation – they closed their Google accounts. That is, people lost access to their contacts, mail, photos, files in the cloud and everything else, such as marks on maps.
The story received wide publicity, and thanks to this, Google played everything back, people were able to get their accounts back. But from a legal point of view, a precedent has arisen that looks extremely bad for any user. The company has blocked a range of products to punish people for what it believes to be violations when purchasing a single device. As for me, the punishment looks excessive and does not take into account the severity of the offense. This is a good demonstration that the owners of the ecosystem have a club that they can use at any time.
Let's take a look at another example from Google. Among the variety of products is GMail, the mail client is simple and convenient, many people switch to it without hesitation. There are not so many free places, and at some point Google helpfully says that in order to continue, you need to buy a place in Google Drive. This is a different product from Google, which is distributed to different services, a brick in the same ecosystem.
Let's imagine for a moment that you are buying a car and you are told during the sale that you can fill up your car only at our branded gas stations. Yes, we have excellent gasoline, but by and large it is no different from other gas stations. But the main thing is that when buying our car, you do not have the right to use other gas stations, these are our rules.
Sound crazy enough? But in a digital world where data is the yardstick of everything, we don't mind sticking to just one gas station. I have disk space in different cloud storages – from Google, Microsoft, Yandex. In total, about 6 TB of space, of which 1.5 TB is occupied at most. It turns out that I pay for air, a place that I do not use. But the reason for this misuse is that the companies leave me no choice. It is "profitable" for me to buy a large amount of space – but there is no reason to use it.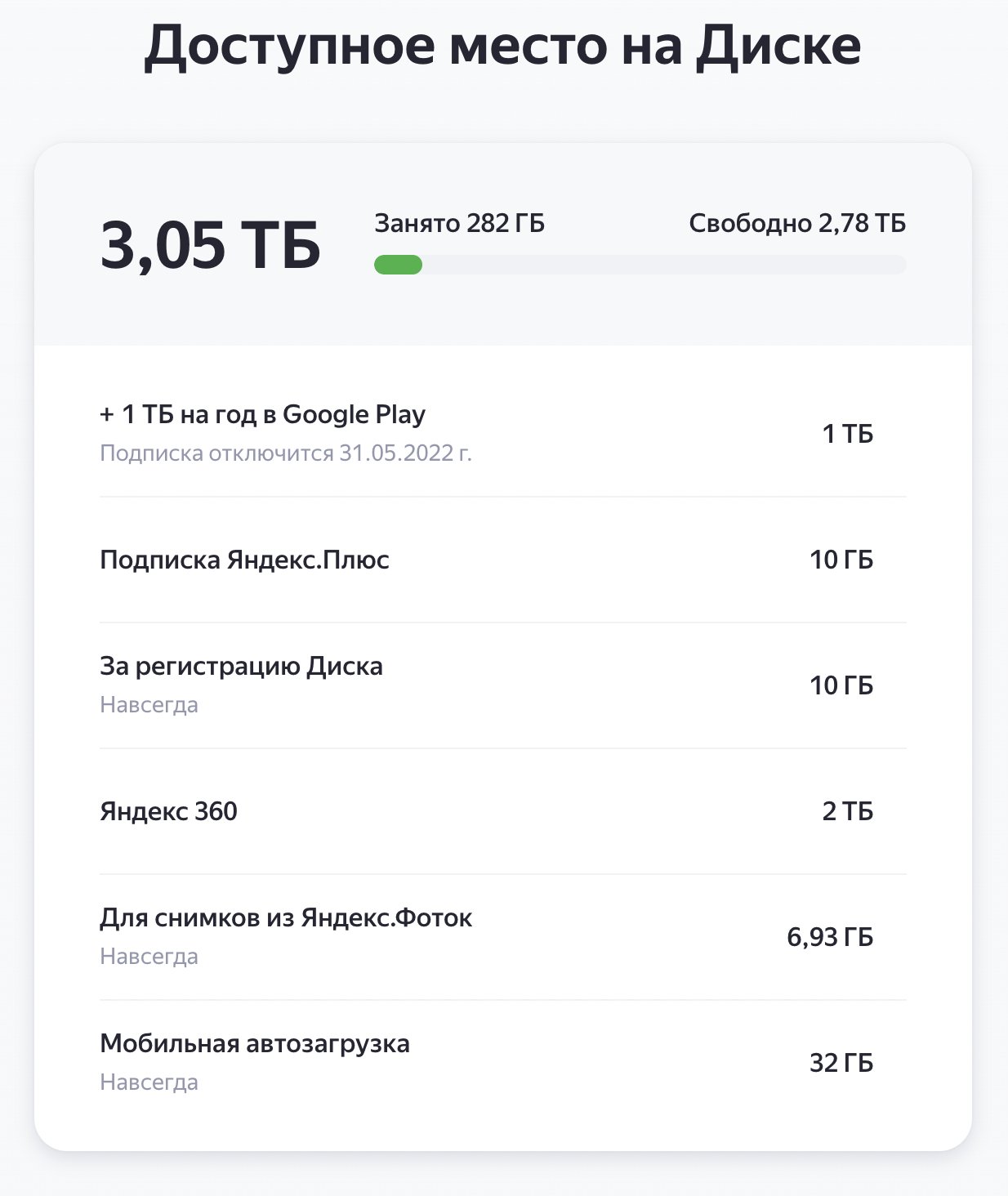 Each company closes all services on itself, lives in its own ecosystem. If you look at small companies that develop software, we will see something amazing, they are not trying to reinvent the wheel, but offer to store data not in their own cloud, but in any of them. You just connect Google Drive or Yandex.Disk and synchronize your data, it's your choice which cloud to use.
For the same Google or Apple, linking a person to their cloud is understandable, so you can pump out more money. But nothing prevents companies from making it possible for any service to save data anywhere. And in this case, there is no responsibility for their safety, there is no need to be responsible for the quality of services – it is clear that it may differ. And it is also clear that there is no need to store service information, only user data.
From the engineers of the same Google, in response to this idea, I often heard phrases like this: "You have crazy ideas, we can't control other people's services, and that's bad!" Involuntarily, people betrayed the most important secret of the worldview of large corporations – they want to keep our data, languish over these gold mines and not give them to anyone else. In fact, they are trying to create their own small monopolies, tie people to themselves and not let go. And then the crown argument – it's not safe, suddenly there will be a data leak, and they will blame us for this?
I have my own argument for such conversations – what to do with mail forwarding from GMail? Many users have set up automatic forwarding to external mailboxes and this does not cause scandals, it is considered the norm. That is, people still take their data somewhere outside and understand that a leak can occur in other mail. But they already do it because it's convenient. The analogy here is obvious and it is very difficult to argue with it.
There is no reason to keep your data only in the company that created the ecosystem. And we need to create legal requirements on the part of states so that ecosystem owners give us the opportunity to choose where we store our own data, we can store it anywhere. It is clear that certification of cloud drives will be needed so that the quality of their work does not suffer. But I am sure that large corporations will willingly go for it, there will be competition in the market, the market itself will become free. Choosing services from Apple, a person will be able to use the cloud from Microsoft, and using Google to store data in iCloud. This is what needs to be done to reduce the impact of the ecosystem on daily life and the extortion of money that is happening today.
For example, in Russia, Google no longer offers its paid services, it has become problematic to pay for a place in the cloud (there are loopholes, but they are not very convenient). As a result, many people are faced with the fact that GMail simply does not receive mail, they are offered to clean up space in the cloud. It is problematic to do this, since Google simply did not create normal tools for the user to parse their files. And this is also an indirect demonstration of the approach to the ecosystem, where the input is a ruble, and the output is a dozen. For people, they create inconvenience in leaving the ecosystem, they do not allow it to be done comfortably. For what? So that you always pay for everything.
And there are dozens of such examples, the ecosystem becomes synonymous with extortion, when you are often sold what you do not need. For example, in MTS they promote their ecosystem simply – they offer a connection for zero rubles, skillfully without mentioning that in a month everything will cost other money. Like, read the link, everything is written there. Read the correspondence with the support service of one of our readers.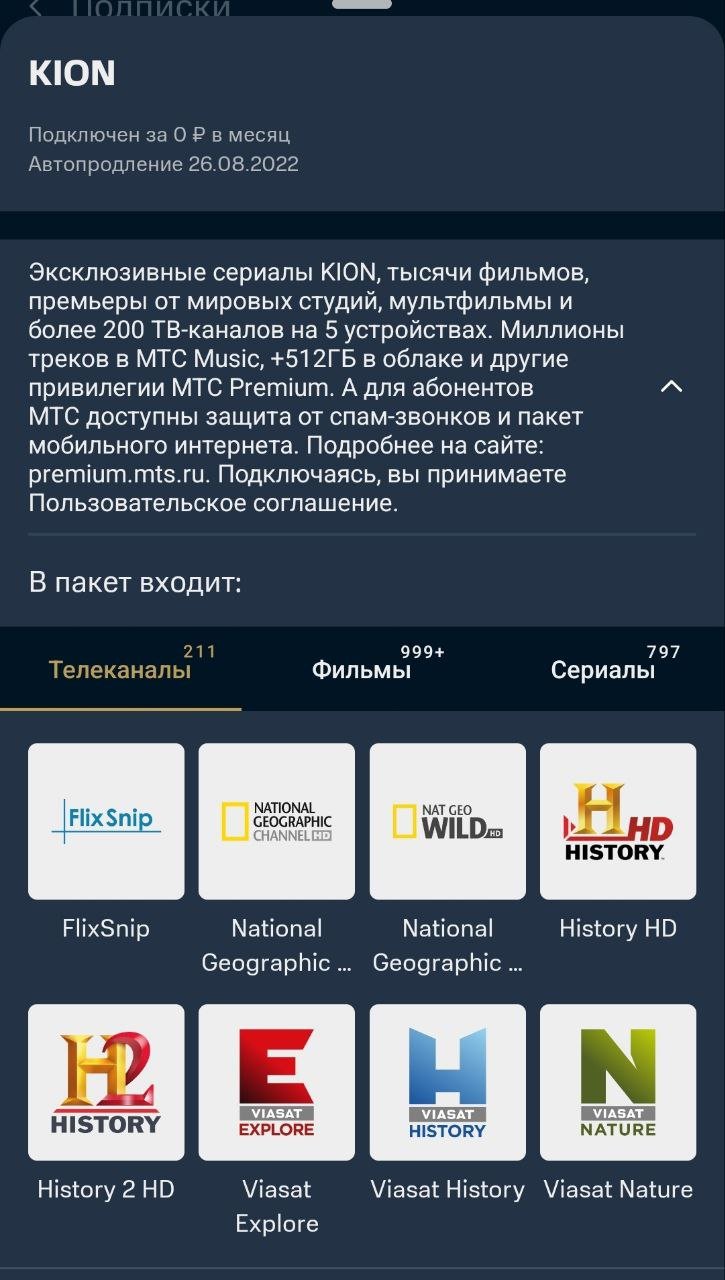 The ecosystem here is an attempt to sell something that most people do not need, and to sell it covertly. And of course it's a bad story. In general, most ecosystems today live by the fact that they are trying to get people hooked on the consumption of services and products that they actually do not need at all. Increase your income at the expense of the person.
I use a MacBook, but I don't use other services from Apple, once a week the laptop reports that iCloud space is over (free 5 GB) and offers to buy something. You cannot remove this warning, there is no such option. Every week I'm being teased to get rid of these ads, and that's how I see it. And the price of 59 rubles a month, which will remove this pop-up window, is not so great. Another thing is that I do not need a place in iCloud, I have a sufficient number of cloud storages.
I am sure that in the coming years there will be pressure on the creators of ecosystems in the legal field, when they will be forced to embroider their products, to make it possible to use one product without the obligatory presence of another. And this is a normal approach that does not limit competition, but, on the contrary, makes companies move.
Many have become people of the ecosystem and cannot imagine their life without it. I realized with surprise that I unconsciously always avoided such an approach, it can be said that I am not tied to any existing ecosystem – I take the best from each, maneuvering wherever possible. In this race, I don't want to bet everything on one horse, I prefer to have my data in different places. And only this approach is able to save my data, make them not so dependent on the whims of specific companies. The loss of one service can be frustrating, but not critical. Another thing is when the owner of the ecosystem closes all its services for you, as was the case with Google, then you will have to be sad. In order not to create such a problem for yourself, you should not store all your eggs in one basket.
The fascination with IT corporations is disappearing, which means that we are ahead of their regulation in those matters that we have given them at their mercy. And at that moment, their ecosystems will stagger, as it turns out that you can fill up the "car" at any gas station. The question is what we call fuel in the digital world.