You can see: The EV6 is a close relative of the Hyundai Ioniq 5 – there is nothing to see. Where the Hyundai shows clear and geometric lines, the Kia is on the road as a playful, hyper-modern mix of station wagon and SUV. In order to lean into the wind as streamlined as possible, the door handles disappear into the outer skin as soon as you start driving.
Space like in a luxury sedan.
Photo: Kia
Can you do: The basic version of the EV6 has a 58 kW battery for a range of almost 400 kilometers. The test model had a capacity of 77.4 kWh and, as an all-wheel drive model, is said to have a range of around 484 kilometers – this was not achieved in everyday use; However, at least the 420 kilometers that were promised with a fully charged battery were relatively easy to do. At least if you have activated the Eco driving mode, which focuses the vehicle on maximum efficiency. The lag-free acceleration can also be guessed at in this rather cheerless mode. Although the EV6 is significantly shorter than the Hyundai Ioniq5, there's ample interior space; in terms of space, especially in the front seats, you feel like you are in a luxury sedan. The storage situation is also described as "lush" still undercooled. The cockpit offers a mix of futuristic design, well-known Kia controls and somewhat dated displays.
Hard to believe: Yes, most of the time I'm sensible, straight and especially in the car. No driving at full throttle, always anticipating and defensively on the road. But in an electric car that draws 325 hp from two electric motors, there has to be a little infantile fun every now and then. Then, when limousines with AMG, M or RS logos stuck to them are waiting at the red traffic light next door and the drivers (always and without exception male, by the way) look at the seemingly undignified road user of Korean origin with undisguised mockery. And who then only get to see the exhaustless rear end, because thanks to the unbridled power of 605 Newton meters it only takes the blink of an eye to get to 50 km/h. Incidentally, drivers generally avoid direct eye contact at the next red traffic light.
Futuristisches Heck.
Photo: Kia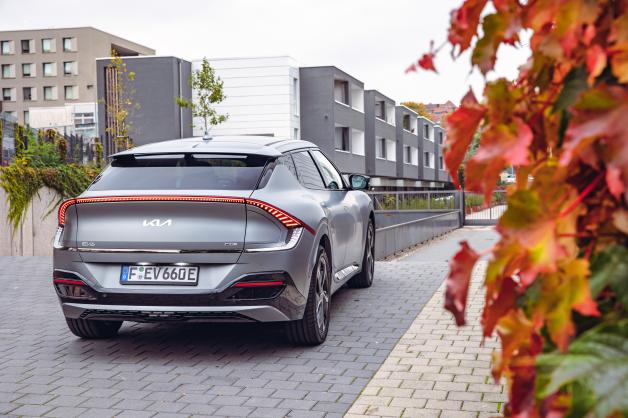 Can you let it be: The operation for the air conditioning and the rest is controlled via a double function bar. A separate button controls which toolbar is currently active. So it can happen that you want to increase the temperature in the vehicle, but instead accidentally increase the volume because the rotary knob is assigned to both functions.
More information:
Motor: 2 electric motors (239 kW/325 hp), max. torque: 605 Nm, efficiency class: A+++, consumption: 18.0 kWh/100 km, CO2: 0 g/km (factory), 0-100 km/h: 5.2 seconds, Vmax: 185 km/h, single-speed gearbox, all-wheel drive.
Dimensions: Length: 4.70 m, curb weight: 2100 kg, gross vehicle weight rating: 2530 kg, trunk volume: 490-1300 l, trailer load (braked): 1600 kg, test consumption: 22.0 kWh/100 km.
Basic price: 44990 euros, driven version: 63790 euros. Insurance type classes (KH/TK/VK): 18/23/26.
Can you pay: The cheapest variant costs 44,990 euros; with a larger battery, all-wheel drive and various gimmicks such as a heat pump that extends the range (1000 euros), the bottom line was 63790 euros – minus the environmental bonus.