IInvestors who could have bought tech stocks in a "melt-up" only because they rose with momentum could now have found a new market in gold. The gold price rises to a new all-time high and with momentum. We are now in unpopulated terrain in gold, which investors consider to be a safe haven in uncertain economic times.
The disappointment of many investors that the recent quarterly figures could not bring the hoped-for new impetus on the stock market also resonates somewhat in the gold price increase. Rather, there was a sale of the good news that the results were less bad than feared. While this is a consolation, it is probably no longer enough to impress investors.
Everything falls in tandem?
The great fear of many investors is that the tech stocks that previously rose in tandem could also drop together if all investors came up with the idea of ​​selling at the same time as they had before. The past shows again and again that this danger is real:
Excessively high prices are prone to abrupt, quick corrections. Whether this will be the case this time is open. The fact is that we are now dealing with active top patterns from the point of view of chart technology in the Nasdaq, Dow and DAX. The signs point to a correction for stocks.
Gold at a new all-time high
New riots and social unrest with dead people in the USA and the pandemic that is not under control in many parts of the world are showing a rocky road that the ongoing economic recovery could face. The investors jumped on the bandwagon, but at the same time bought everything possible to be prepared if the day of settlement came. This can be seen primarily in the rising gold price.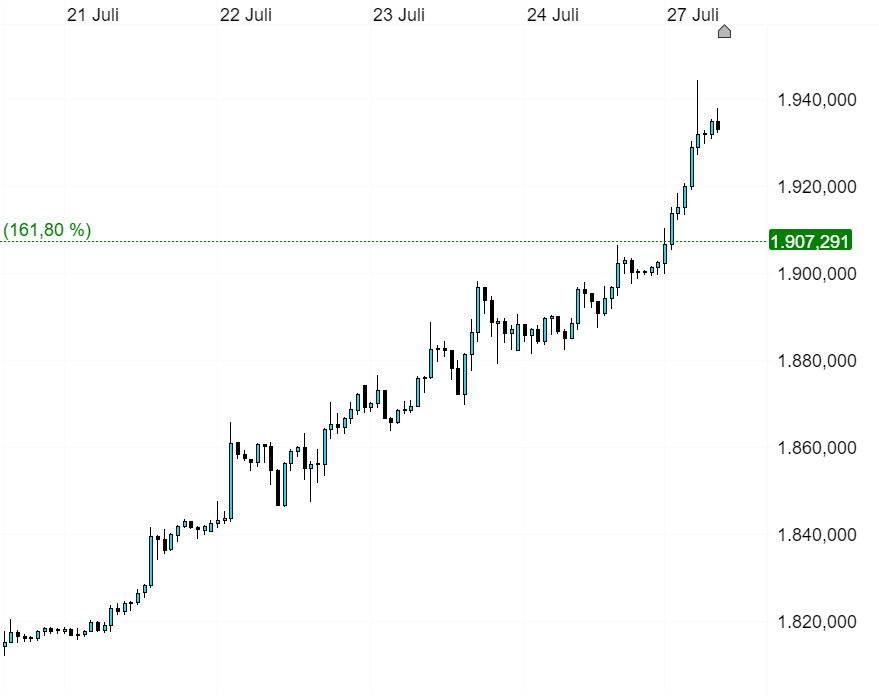 Source of the chart: CMC Markets, Gold Cash CFD every hour
But it can also be seen from the weak dollar. Many investors believe that the costly government bailout of the US economy with expansionary monetary policy could further weaken the dollar. The raw materials traded in dollars benefit from this. Today, the US government is going to mess with the follow-up funding to expand unemployment benefits – the cost is expected to be $ 1,000 billion. EUR / USD rises to its highest level since September 2018 and is trading above USD 1.14.
Today's trading events
The ifo index comes today at 10 a.m., which could cause volatility in the morning in the Germany 30 Cash Index. At 2:30 p.m., data on durable goods appears, i.e. how many refrigerators and other major purchases American households have made in the past month. Please note that at this time Germany 30 Cash may tend to be more volatile if there is too much of a difference between the expected and the reported data.
Germany 30: Technical chart outlook
The Germany 30 Cash Index shows an intact upward trend in the daily candle interval. There are no 123 trend reversal patterns on the top, i.e. no tops, visible in the day candle chart. The Germany 30 Cash is trading above the high of early June at 12933 points, which could enable a subsequent rise to the next higher Fibonacci price increase at 13664 points. Falling below 12319 points could bring the price down to 11487 points. The upward trend in the daily chart is intact.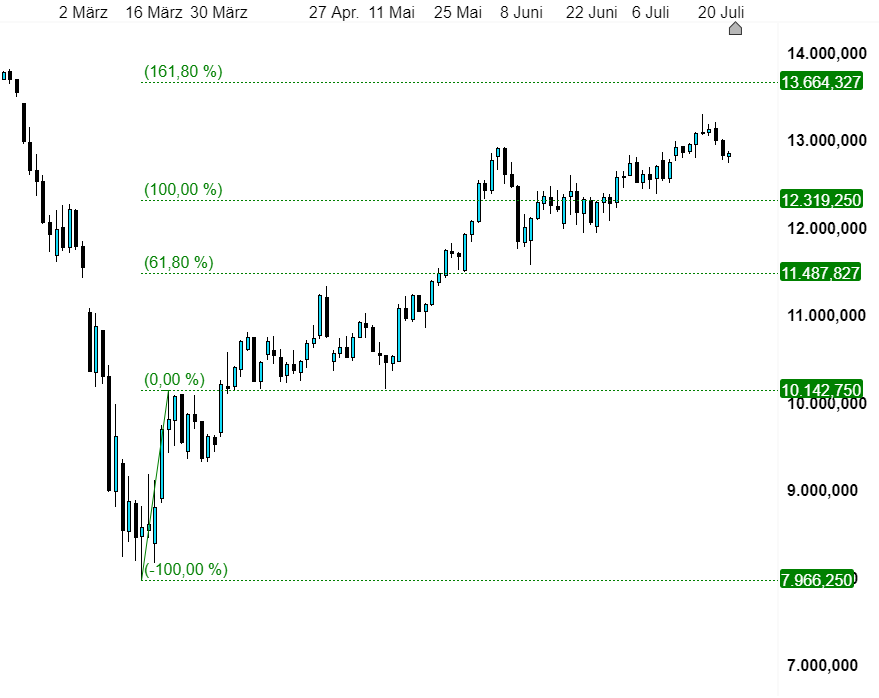 Quelle des Charts: Germany 30 Cash CFD, CMC Markets
Germany 30 four-hour chart: a new 123 top
A new 123-Top has formed in the four-hour candle interval. The punk 1 of this 123 top is 13075 points and could not be defended yesterday despite two successful tests. At the same time, the Germany 30 slipped below 13072 points last week, signaling a possible reset to 12788 points. This mark has been reached. A four-hour closing price with a signal for a correction continuation, possibly up to 12330 points, could be avoided, so that a retest of 13072/13075 points could be possible. Exceeding 13072/13075, on the other hand, could result in a test of resistance at 13200 points and the rally high.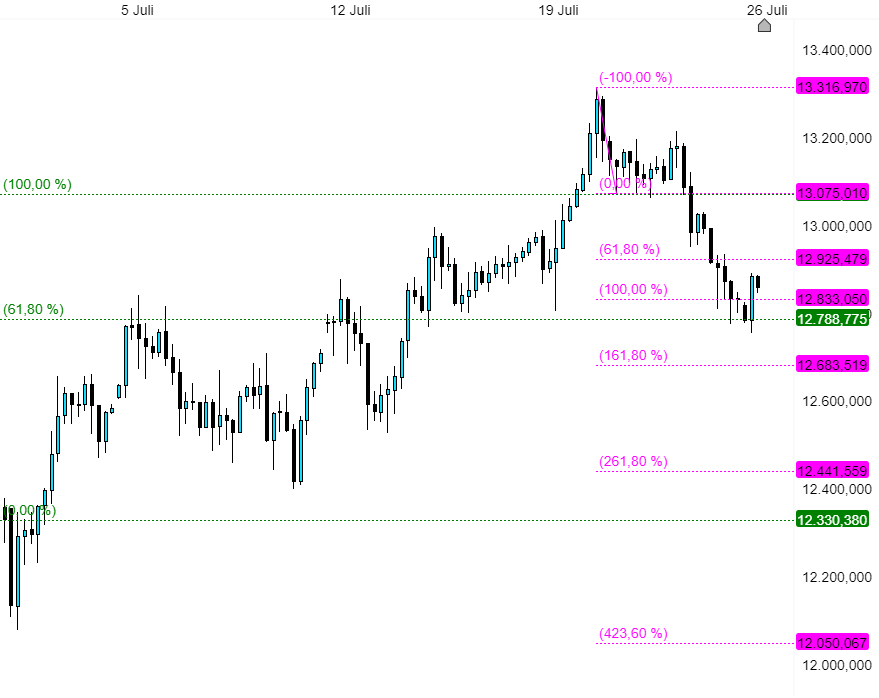 Quelle des Charts: Germany 30 Cash CFD, CMC Markets
These possible supports can be set as price alerts to monitor possible reactions:
12833 + 12788 + 12683 + 12441
as well as these possible resistances:
12925 + 13072 / 13075 + 13200
We wish you a successful trading day. We cordially invite you to our live discussion of the day view. You can start the livestream "Börsenbuffet" here.
Would you like to try out your trading idea on a live chart?
Take the opportunity now on our innovative trading platform with a free and risk-free demo account.
Open a demo account now
Here you can see the spreads, the leverage, the information as to whether the product can also be traded short and the trading hours for our index CFDs, such as the Germany 30, US 30, US NDAQ 100 and US SPX 500.
product
Spread
Lever from *
Short?**
Trading hours
Germany 30
1
20:1
✓
So 00: 05-Fr 22:00
Breaks 22: 15-22: 30, 23: 00-00: 00, 02: 00-02: 15
US 30
1,6
20:1
✓
So 00: 00-Fr 22:00
Breaks 22: 15-22: 30, 23: 00-00: 00
US NDAQ 100
1,0
20:1
✓
Daily 00: 00-22: 15 and 22: 30-23: 00
US SPX 500
5,0
20:1
✓
Daily 00: 00-22: 15 and 22: 30-23: 00
UK 100
1
20:1
✓
So 00: 05-Fr 22:00
Breaks 22: 15-22: 30, 23: 00-00: 00
Euro 50
1,6
20:1
✓
So 00: 05-Fr 22:00
Breaks 22: 15-22: 30, 23: 00-00: 00, 01: 00-01: 15
Europe 600
3,0
10:1
✓
Mo-Fr 08: 00-22: 00
France 40
1,0
20:1
✓
Mo-Fr 08: 00-22: 00
Germany Mid 50
10,0
10:1
✓
Mo-Fr 09: 00-17: 30
Germany Tech 30
3,0
10:1
✓
Mo-Fr 09: 00-17: 30
US Fang Plus – Forward
2
10:1
✓
Mo-Fr 15: 30-22: 00
US Small Cap 2000
3,0
10:1
✓
Daily 00:00 to 23:00
Pause 22:15-22:30
US SPX Midcap 400
5,0
10:1
✓
So 00: 00-Fr 23:00
Breaks 22: 15-22: 30, 23: 00-00: 00
* The lever increases profits and losses equally.
** Please note that we can limit your ability to go long or short at our own discretion.
Disclaimer: The content of this market comment is for general information only. They do not constitute an independent financial analysis and no financial or investment advice. They should not be used as a decisive basis for making an investment decision. The content is never to be understood in such a way that CMC Markets recommends or believes the acquisition or sale of certain financial instruments, a specific time for an investment decision or a specific investment strategy for a specific person. In particular, the content does not take into account the individual investment objectives or financial circumstances of the individual investor. The ratings, estimates and forecasts reproduced in the content reflect the subjective opinion of the respective author or the source cited, may be subject to change at any time and are not guaranteed. In any case, CMC Markets is not liable for losses that you suffer directly or indirectly through an investment decision that you have made based on the content.