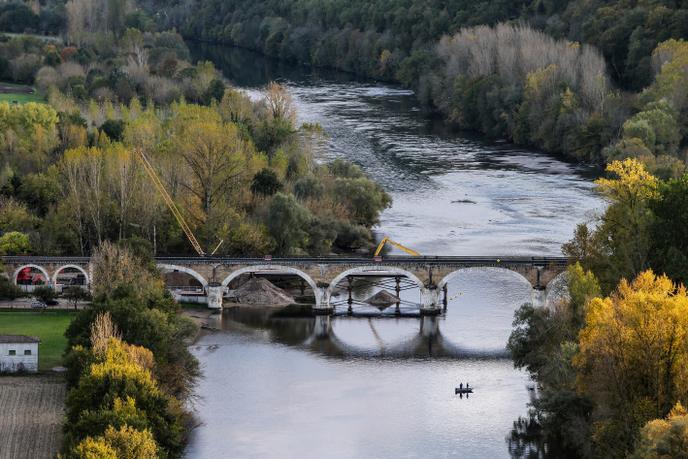 The Council of State ended, Monday, June 29, the legal saga of the bypass of Beynac-et-Cazenac, village of Dordogne, by ruling inadmissible the appeal of the department, promoter of this project more than thirty years old and partially built.
The highest administrative court ruled that the arguments put forward by the department and its president, Germinal Peiro (Socialist Party), were not admissible, sealing the victory of their opponents. The latter, defenders of the environment and heritage, had mobilized against this project accused of distorting one of the most beautiful villages in France and protected sites.
Read also
Mobilization in the Dordogne in favor of the bypass of Beynac
As decided in 2019 by the administrative justice, which had canceled a 2018 decree authorizing the works, the already built parts of this project that have been stopped since 2018 will therefore have to be demolished. The administrative court of appeal had estimated, in December, that the project did not answer a "Imperative reason of major public interest" and could not derogate from the prohibition to harm protected species and their habitat, also judging that road works carried out in 2017 in Beynac made the deviation "Less useful".
Habitat of more than 120 species
This 3.2 km bypass project, at a cost of 32 million euros, was expected, according to its promoters, to reduce road traffic in a tourist village of 550 people, very busy in summer and located in the foot of a listed fortress of the XIIe century, along the Dordogne valley and on the Bergerac-Sarlat axis.
Article reserved for our subscribers

Read also
In the Dordogne, the disputed Beynac bypass project, classified as "the most beautiful village in France"
For its detractors, this project notably damaged, in a site classified Natura 2000 and "biosphere reserve", the habitat of more than 120 species – bats, semi-aquatic mammals, reptiles or amphibians -, some of which are protected .
They also deplored the visual impact of this project on a valley dotted with castles, which won opponents the remarkable support of radio and television host Stéphane Bern.
"This outcome is a victory for the population who, for thirty years, have refused to see the Dordogne valley disfigured by road traffic. This is also excellent news for the tourist economy of Périgord ", rejoiced Kléber Rossillon, one of the main opponents, local châtelain and honorary president of the Association Patrimoine Environnement.
In December, Germinal Peiro estimated that the demolition would add 15 million euros of additional cost to a project completed at 60% and would harm the environment.