Jeollanam-do held the 68th Memorial Day Ceremony at the Haenam Hyeonchungtap on the 6th and honored the noble spirit of sacrifice of the martyrs and patriots.
About 500 people, including Jeonnam Governor Kim Young-rok, member of the National Assembly Yoon Jae-gap, Haenam County Mayor Myung Hyeon-gwan, and veterans' organizations, attended the ceremony held under the theme of "We remember your sacrifices in protecting Korea."
The ceremony was held at 10:00 a.m. with the sound of sirens, followed by laying flowers and burning incense, commendation from the provincial governor, memorial speech, reading of memorial letters and memorial performances, and singing of songs on Memorial Day.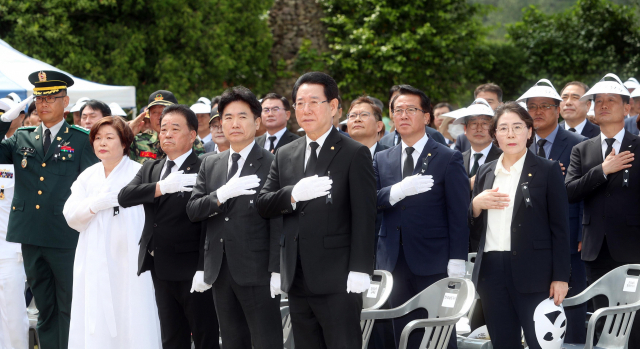 Governor Kim Yeong-rok said in his memorial address, "I give my heart of respect and remembrance to the martyrdoms and patriotic spirits who fought bravely for the country and nation."
"We will make this precious land, which our ancestors sacrificed their lives to protect, into a 'warm and happy community' where democracy and peace bloom, and 'the best Jeonnam, the land of life' where everyone can live."
Jeollanam-do holds various events honoring love for the country and spirit of sacrifice, such as the 73rd anniversary of the Korean War in June, the National Patriotic Culture Festival with the 3rd Navy, and a security photo exhibition. In addition, for the month of June, a large banner with the phrase 'Great dedication, forever in the heart' is hung on the outer wall of the Jeonnam-do government building to commemorate Patriots and Patriots Month.
In addition, it is promoting the restoration of honor by discovering those who died in the independence movement. As a result of the 1st stage of the project to discover those who have been honored in the independence movement, the honors of 16 people have been confirmed so far.
From 1895 to 1945, through the 2nd stage of the project to discover independence activists, 1263 people who have been honored have been discovered so far.
I would like to pay a subscription fee for this article.
Add +1,000 won
Add +10,000 won
-Add 1,000 won
-Add 10,000 won
Payment may not proceed smoothly in some Internet environments.

343601-04-082252 [예금주 프레시안협동조합(후원금)]Account transfer is also possible.