With its wacky and colorful universe, we already knew that OlliOlli World was on another planet. But with the Void Riders DLC, it's heading for the stratosphere! Aliens land in Radlandia with the firm intention of finding valuable specimens. But of course, since it's not going well in your head – that's what being a skateboarder is – you're going to lend a hand. The opportunity to take up new challenges in new areas. Come on, time for the verdict.
Test performed on PS5. OlliOlli World Void Riders is available on PC, Xbox, PlayStation and Switch.
Arrived at top speed earlier this year, OlliOlli World marked a culmination for the eponymous series and its studio Roll 7. A lightning-fast side-scrolling skate game that once and for all affirmed its love of platforming, putting aside the requirement that had nevertheless been its strength in the past. On this third episode, OlliOlli has therefore taken a really mainstream turn: more accessible gameplay, more identifiable / colorful universe, improved online mode, lots of elements to personalize the avatar. But the team also took the opportunity to add a host of new features, including secondary roads and stepping stones to ride in the other direction, from right to left. The DLC Void Riders therefore has the difficult task of extending the field of possibilities on that side.
Void Riders, where is it?
To enjoy the Void Riders DLC in OlliOlli World, you must go to the "Burntock" area – the third in the game – and have completed the "Route 666" mission. From there, a UFO will crash into the desert nearby. This will be the starting point of your new skateboarding adventure.
On another planet
So we start with the most important, the new gameplay. Or rather the novelty! In Void Riders, OlliOlli welcomes the "Rayons Tracteurs", beams of energy that allow your skater to gain height. To activate their precious power, it is imperative to perform a Grab when you cross their light (the mysteries of technology). The hero will then gain altitude without losing combo/speed. In other words, it is quite possible to chain lunar rotations with this mechanism. A very good point. Especially since the Grab depends on the right stick while 90% of the tricks are attached to the left one. Concretely, the whole thing gives rise to interesting interactions thanks to an always excellent basic gameplay.
And besides, Tractor Rays don't come out of nowhere. Because yes, in Void Riders, aliens have invaded the lands of Radlandia in search of skate experts. During levels, it is therefore not uncommon to see them suck up a whole bunch of objects, forcing you to blaze a trail as the debris floats through the air. A welcome detail which clearly does not upset the formula but which brings a significant breath of fresh air. Certain levels of Void Riders are thus frankly successful, in particular the final zones which set their scene on the planet of the aliens. We won't tell you more, but we got hooked on the artistic direction of the place (hello Morbius fans) with the added bonus of some good design ideas. Same thing for the new characters, who are always so original, funny, colorful.
OlliOlli World Void Riders – Session among UFOs (Gameplay)
From weightlessness to crash
While we're talking about levels, know that Void Riders embarque 18 levels dont 4 "boss", like what the main adventure offers. As usual, the standard courses are validated as soon as you cross the finish line, with challenges to be completed on the way to earn something to personalize your avatar (70 new objects are included). Courses that are not all mandatory to progress in the story, again like the basic OlliOlli World. But this is not the case with the bosses, who will put you in front of four challenges made quite difficult by the absence of a checkpoint. So yes, a test never hurts, but twice – a race against an alien and the grand finale – the pleasure of the game gave way to frustration because of a level design too much demanding. You have to hang on despite everything: these levels are compulsory.
All in all, these bad times spoil the party a bit. Because even if it's a real pleasure to find OlliOlli World, whose sensations and speed are still exhilarating, we wouldn't have said no to more content. Especially since the Void levels have not been integrated into the Gnarvana Portal, a system that generates courses on command, and the adventure is completed in about 2 hours in a straight line (double for a 100%). To be satiated, we will have to wait for the second addition of OlliOlli World which has no release date for the moment. But to be patient, let's not spoil our pleasure. Void Riders is a more than enjoyable DLC. On your marks ? Ready? Skate!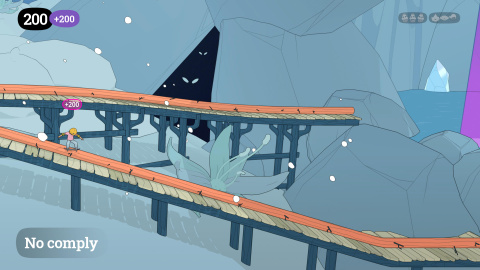 Conclusion

Points forts
Still solid gameplay
Tractor beam, a good idea
Some very good levels
A universe always apart
Weak points
Really frustrating sometimes
A lack of content
Despite two compulsory levels with a bit too much difficulty and a slight lack of content, Void Riders marks a solid addition to the colorful and still crazy universe of OlliOlli World. It's simple, the gameplay still holds up just as much and the new features that come to embellish it are a pleasure to see. Fans of the base game, you can go there!
Readers' opinion

Give your opinion on the game!