His gesture against Alcaraz is not accepted in Indian Wells. In 1989 it was the culmination of a game that went down in history, in which Lendl lost his mind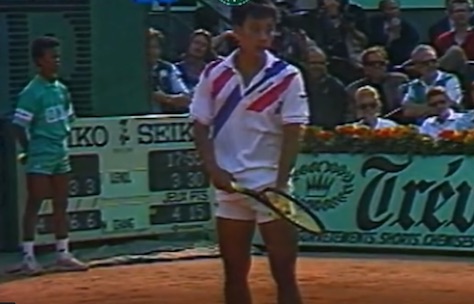 There is service from below and service from below. The other night, in Indian Wells, Andy Murray repeated the gesture during the match with the Spaniard Alcaraz. The public did not like it, neither in the stands (it rumbled) nor on social networks. He considered it a mocking, unsportsmanlike gesture. In the post-match (won by Murray), the Scotsman had to explain his choice.
"On my first serve Alcaraz always responded very far from the baseline. After the first set, he further backed off his position on my serve. It was getting harder and harder for me to get direct points with my serve. So I said to myself: why not try and see if maybe I can make him come a little further? ». The ace also served to further destabilize his opponent already confused about his own business.
The reaction was quite different thirty-two years ago, in Paris, in one of the most famous matches in the history of tennis today. Round of 16. A match that Ivan Lendl was conducting rather quietly before falling victim to the opponent's mind games. Chang entangled him psychologically with a series of gimmicks that made the then world number one go on a rampage. The American of Chinese origin replied on the halfway line, slowed down the game with amateur lobs, his seraphic way of eating banana remained famous at the change. Fio, in fact, to the decision to serve from below. It was only a psychological gimmick. Unlike Murray, Chang served in a completely harmless way, Lendl rushed like a fury on that ball and then was passed by Chang. Roland Garros went crazy, the public understood that it was experiencing an unrepeatable moment and sided with the weakest. A match that is still talked about today. Chang then won that tournament: the only Grand Slam of his career.
Even Kyrgios has more than once pulled out his serve from below, once at Wimbledon he scored an ace against an annoyed Nadal. Medvedev did so against Zverev at the ATP Finals last year.
Napolista
ilnapolista © all rights reserved