RTL.de>
July 17, 2021 – 11:02 am Clock
A teenager is admitted to a special hospital with severe pain. His jaw was way too big and deformed. After the X-rays, the doctors can hardly believe their eyes. What they discover there, they have never seen before!
The whole mouth is full of teeth
Nitish Kumar can barely close his mouth. His jaw is swollen below the ears and protrudes sharply from under his cheeks. The entire face of the 17-year-old Indian is disfigured, or at least severely deformed. The teenager has had a tumor for five years – and no one can help him. He is in severe pain and in desperation goes to the Indira Gandhi Institute of Medical Sciences in Bihar, a hospital with specialist doctors.
And they hardly believe their eyes when they look into Nitish's mouth. Teeth, teeth everywhere! To get an accurate diagnosis, they slide Nitish to the X-ray. And now see the full extent of the tumor.
Reading tip: Jürgen Milski was also shock diagnosed with a jaw tumor! Read here how he discovered it.
First the shock – then the operation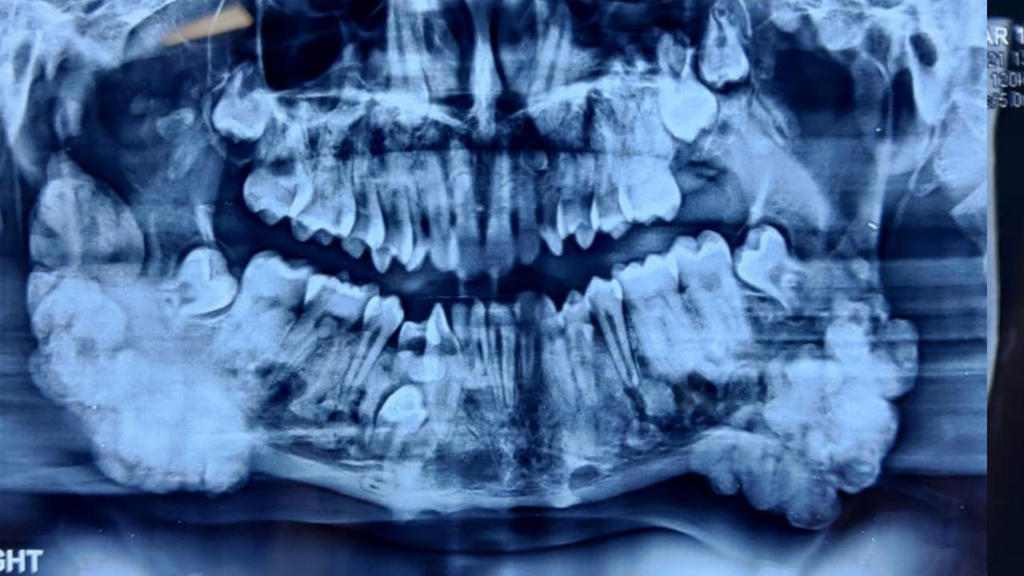 They count 82 teeth in the teenager's mouth. For comparison: adults normally have 32 teeth. 16 teeth in the upper jaw and 16 teeth in the lower jaw. And there are even 4 wisdom teeth included.
So poor Nitish has 82 teeth, almost three times as many pearly whites as the average adult!
The diagnosis: complex odontoma. Odontomas are tumor-like malformations that can consist of tooth enamel, in which teeth grow. Since odontomas do not cause discomfort, they are discovered more by chance. They grow slowly and painlessly – until at some point there is not enough space in the jaw. As in the case of Nitish.
But how does a complex odontoma arise and how often does it happen? We have discussed this with the oral surgeon Dr. med. Dr. med. dent. Philipp Scherer spoke.
In a three-hour operation, the doctors at the special clinic remove Nitish's teeth and his tumor at the same time. "Just because he wasn't treated properly for so many years could it get this bad at all," says his doctor, Dr. Manish mandal.
Now, after the operation, Nitish can finally open and close his mouth again without pain. And hopefully this tumor will never come back.
.