The text was kept in one of the 59 sarcophagi discovered in September in the necropolis of the city of Memphis, south of Cairo.
By Le Figaro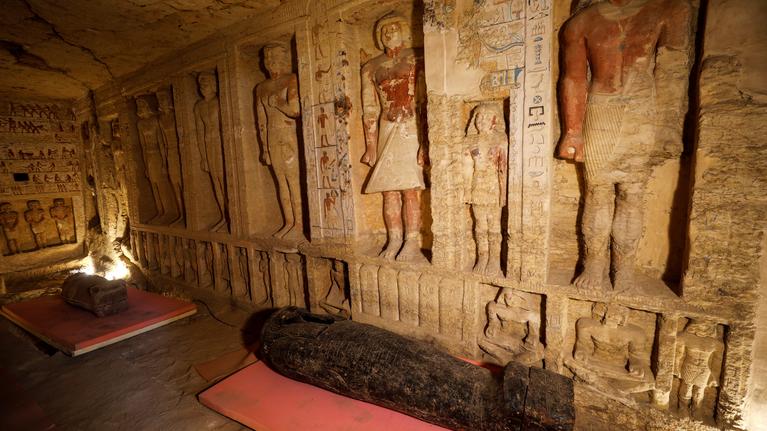 The necropolis of Saqqarah has just delivered a new treasure. In early October, nearly sixty sarcophagi in perfect condition were discovered on this Egyptian site, near the city of Memphis, where they had been buried over 2,500 years ago.
A big surprise awaited Egyptian archaeologists. One of the sarcophagi has revealed a mummy wrapped in funerary cloth adorned with brightly colored hieroglyphics, reports the site of the Daily Express . According to the English daily, the writings match the text The paths, or Paths, an introduction to one of the most important Egyptian funerary texts, known as the Book of the dead. This 4,000-year-old version might be the oldest copy ever to be found, offering an interesting glimpse into the spirit of the ancient civilization, obsessed with the afterlife.
Confront the afterlife
The ancient Egyptian believed in the resurrection. Book of the dead accompanies the deceased to secure their journey to the next world. It contains a wide range of magical spells written by many priests. The work also contains praises to the deities, songs and prayers. Personal belongings of the deceased, along with food, jewelry, and everything he loved in his life, were also buried with him to face the obstacles of his journey to the next world.
Listed as a UNESCO World Heritage Site, the Saqqarah site has unearthed archaeological treasures in recent years as well as many mummified animals (snakes, birds, beetles, etc.). Egypt hopes that all these finds and its new museum will revitalize tourism undermined by political instability and the attacks after the 2011 revolution that ousted Hosni Mubarak from power, and by the pandemic.
.