Responding to the refugee statement of Greek Prime Minister Mitsotakis, President Erdogan said, "To say that the refugee crisis is caused by Turkey is truly ingratitude."
Greek Prime Minister Kiriakos Mitsotakis said in a recent statement that the refugee crisis was caused by Turkey.
Answering the related question President Recep Tayyip Erdoğan criticized Miçotakis with harsh words.
"IT'S GRATEFUL"
"To say that the refugee crisis is caused by Turkey is truly ingratitude." President Erdoğan continued his words as follows:
"I DON'T KNOW WHAT GREECE WILL DO IF WE OPEN THE DOORS"
"We are currently hosting a total of 5 million refugees in Turkey. Nearly 4 million of them are only Syrians. It is ungrateful to say that the refugee problem in a country that hosts nearly 5 million refugees is caused by Turkey. I don't know what Greece will do if we open the doors.
"THE GREECE IS WHO BLASTED THE REFUGEES' BOATS AND SENSE THEM TO DEATH"
Above all, it is Greece that skewered refugees' boots in the Aegean and the Mediterranean, condemning them to death. It is Greece that sentenced them to death by skewering those boats without saying that they were children, sometimes by sinking those boats with the shore safety. Mitsotakis and his followers spend the day lying, they are not being honest. We have all the video recordings."
President Erdogan's harsh response to Mitsotakis' refugee statement VIDEO
"GREECE HAS BECOME A BASE OF THE USA"
President Erdoğan also used the following statements regarding the US military dispatch to Alexandroupoli:
"Only Alexandroupoli is not a base. Greece itself has become a base of the USA. Currently, I cannot count the number of US bases in Greece. When we put them all together, a picture emerges that Greece itself almost belongs to the USA. They give evasive answers when we ask, they don't act honestly. The neighbor they choose for themselves is the wrong neighbor.
This attitude they hold on to with Greece is not correct. We, the USA and Greece are NATO members. As NATO members, why do we fall for each other? In terms of military and financial support within NATO, Turkey is the country that ranks first after the USA. Greece is far behind. We believe in ourselves, we trust. We are the insurance of this region."

On the other hand, President Erdoğan, who received Hungarian Prime Minister Viktor Orban, signed the agreements between Turkey and Hungary. President Erdoğan and Hungarian Prime Minister Viktor Orban made statements at the joint press conference following the signing of the signatures.
"WE WILL CELEBRATE 2024 AS THE 'YEAR OF TURKEY-HUNGARY CULTURE'"
"We will celebrate 2024 as the 'Turkey-Hungary Cultural Year'." President Erdogan continued his words as follows:
"WE ARE TARGETING 6 BILLION DOLLARS IN TRADE"
"We discussed the relations between Turkey and Hungary comprehensively. We exchanged views on international and regional issues. Our economic and trade relations are developing day by day. We evaluated the joint steps we can take today with the Prime Minister in detail. We aim to reach 6 billion dollars in trade.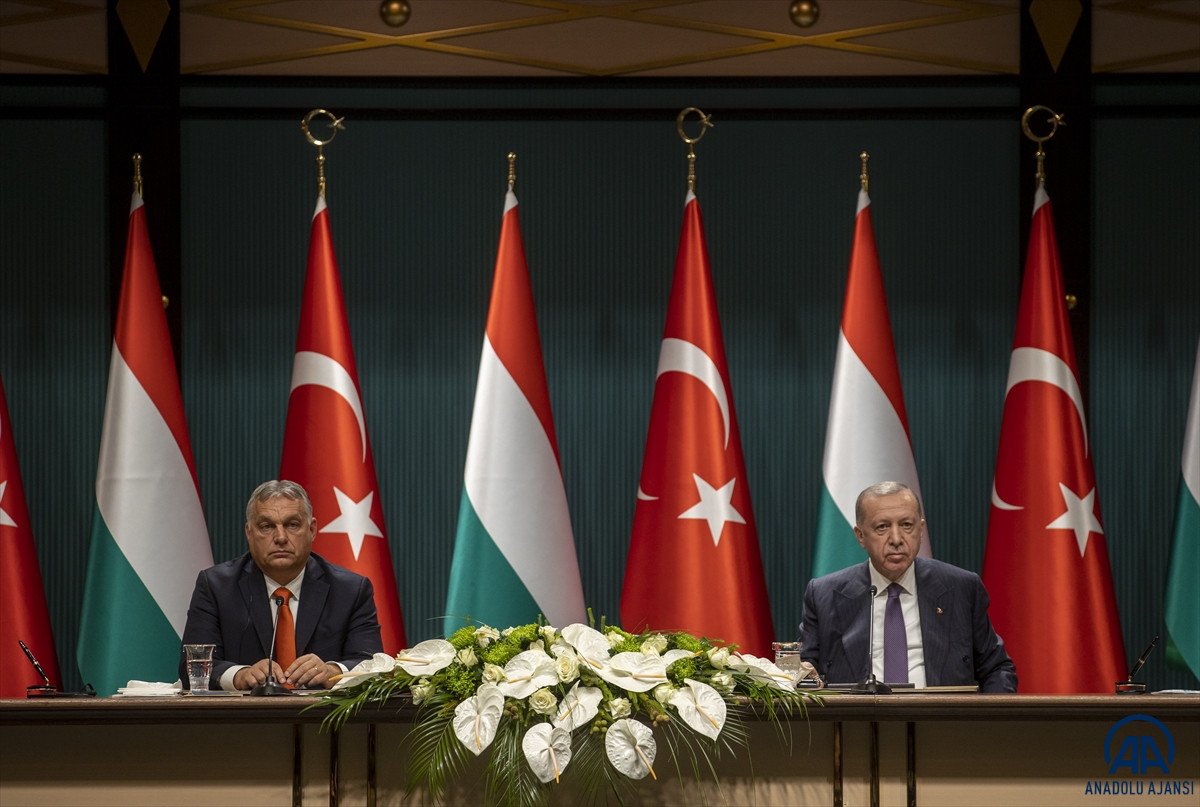 "WE WILL PROVIDE ALL KIND OF SUPPORT"
500 companies operate in Hungary. There are 700 million dollars of Turkish assets in the country. We will give all kinds of support to Hungarian investors. Our council meeting was also effective in bringing 101 pieces of historical artifacts back to Turkey in Hungary in 2016. On behalf of myself and my nation, I would like to thank the Hungarian authorities for their sensitivity.
We are determined to take our cooperation and solidarity with our strategic partner Hungary on regional and international platforms to a higher level. I hope that their contributions will continue to get stronger."