Rodrigo Lussich Y Adrian Pallares took a few minutes in mid-air of Intruders to respond to the onslaught of Calu Y Marou Rivero, who destroyed them after they told in the program that a supermarket employee accused the sister of Digntiy to steal in the establishment.
"When you tell a story you don't need the celebrity's confirmation"Lussich started looking at the camera. "The famous person can confirm or deny. If he confirms, it becomes news and if he denies, it remains a chimento. With this basis, with which we work and believe, we have Monday a confusing episode that took place in a Chinese supermarket in the San Telmo neighborhood where the sister of a famous woman was discovered in a suspicious situation"he added.
After that introduction, Lussich said that "something happened" because Marou Rivero, after transcending the information, "requested legal advice for fear of a specific complaint since the security cameras of that business have recorded the images of the situation that happened"explained the driver of Intruders
Directly referring to the furious reply they received, he stated: "He put forward issues related to machismo, patriarchy, some things that had nothing to do with what was discussed here (…) Asking us questions related to machismo, patriarchy since we have to cancel ourselves, as you requested, Calu Rivero, ends up being the same as you are trying to fight"said the Uruguayan journalist, pointing to the theory of cancellation that is used in social networks to" lower "a character, program or situation.
"You ask that they cancel us, that they stop us, and what we did was a great humor a fact that happened"He insisted." It is recorded and recorded with security cameras. And we omit some details so as not to go so deep in a situation that is less. "
At another time, Lussich said that he had met Ricardo Darín in a supermarket, and took advantage of the anecdote to throw a stick at the Rivero sisters by renaming them as "Dignity y Afanity". "I met Ricardo Darín in Chinese, but it was not that of Calu Rivero's sister, it was someone else. It was not Chinese. It was not the supermarket of Dignity and Afanity, the macana sisters, it was another super ", he said, remembering the classic characters of The crazy cars.
The fury of Adrián Pallares with Calu Rivero and his sister Marou
Adrian Pallares He also fell on the harsh statements of Calu rivero, and reminded him that "if there was a program that opened the doors, it was Intruders", said in reference to the times that the actress needed her voice to be heard when she denounced Juan Darthés." Treat this program the way it treats us Calu rivero It is ungrateful", he sentenced.
The Intrusos driver added that last Monday he contacted Marou Rivero to inform him that they had the exact data on the event and that they knew that the people of the business had not wanted to make the formal complaint. "They made her open her wallet, she was with a friend, they made her take her things out and she had to return them", he listed. "All that happened, it's not that we sit down at night to see what we can invent," said Pallares, visibly upset.
"With all that long post in which they mix many things and all they do is trivialize a fight that is true against patriarchy, machismo and violence. If not, you will not be able to tell anything about anyone, and in the middle they involve our colleagues, "said Adrián, giving the Intruders panelists a chance to demonstrate.
Intruders panelists responded to Calu and Marou Rivero
"I was ashamed that it continues to be banalized That, because you took a bottle from a supermarket, they get into machismo or feminism. Especially when there is so much to learn on that subject. I am ashamed that they have led him to that side. I trust widely the information that all my colleagues bring, "he said. Paula Varela looking at camera. And he added: "This is not a circus, it is a television program that, luckily, makes people happy and accompanies, especially in these times."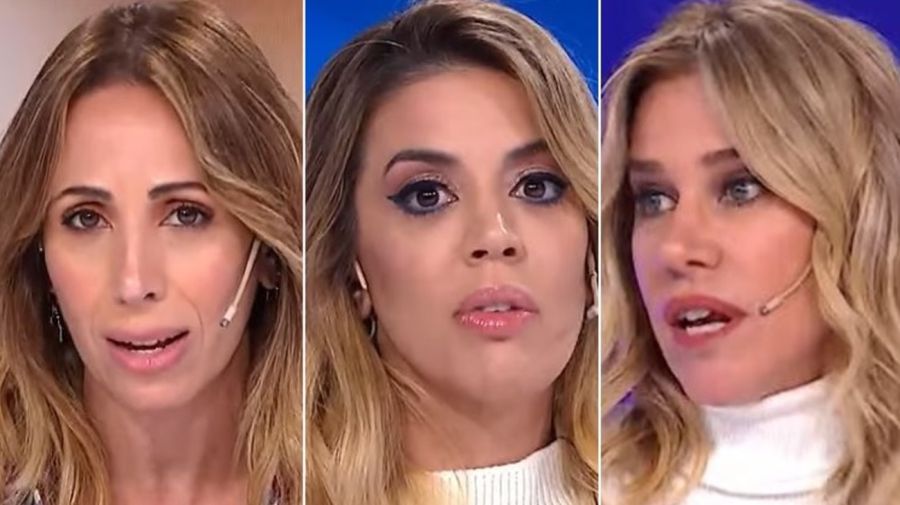 Varela, in addition, demanded an apology from the Rivero sisters, and reiterated her anger at the trivialization of feminism in a situation that had nothing to do with it.
Virginia Gallardo, for his part, he stressed that Marou Rivero "put an emotional burden on his mental health" that does not represent it one bit, he said. "We are here working. All the questions were genuine. If she felt offended I understand, but eThey are exerting a violence that we did not exert", He said.
"When you're cool, this doesn't happen to you. If this had happened to a more popular character, they would all be talking about it, but since they're cool, there are marks in the middle …" Marcela Banos.
L.M
Image gallery

.